Fans make up for missing beneficiaries at Pawan Kalyan's Gunkalam protest
Pawan Kalyan visit to Gunkalam in Vizianagaram district to inspect Jagananna Colony as part of his party's 'Jagananna Illu Pedalandariki Kannillu'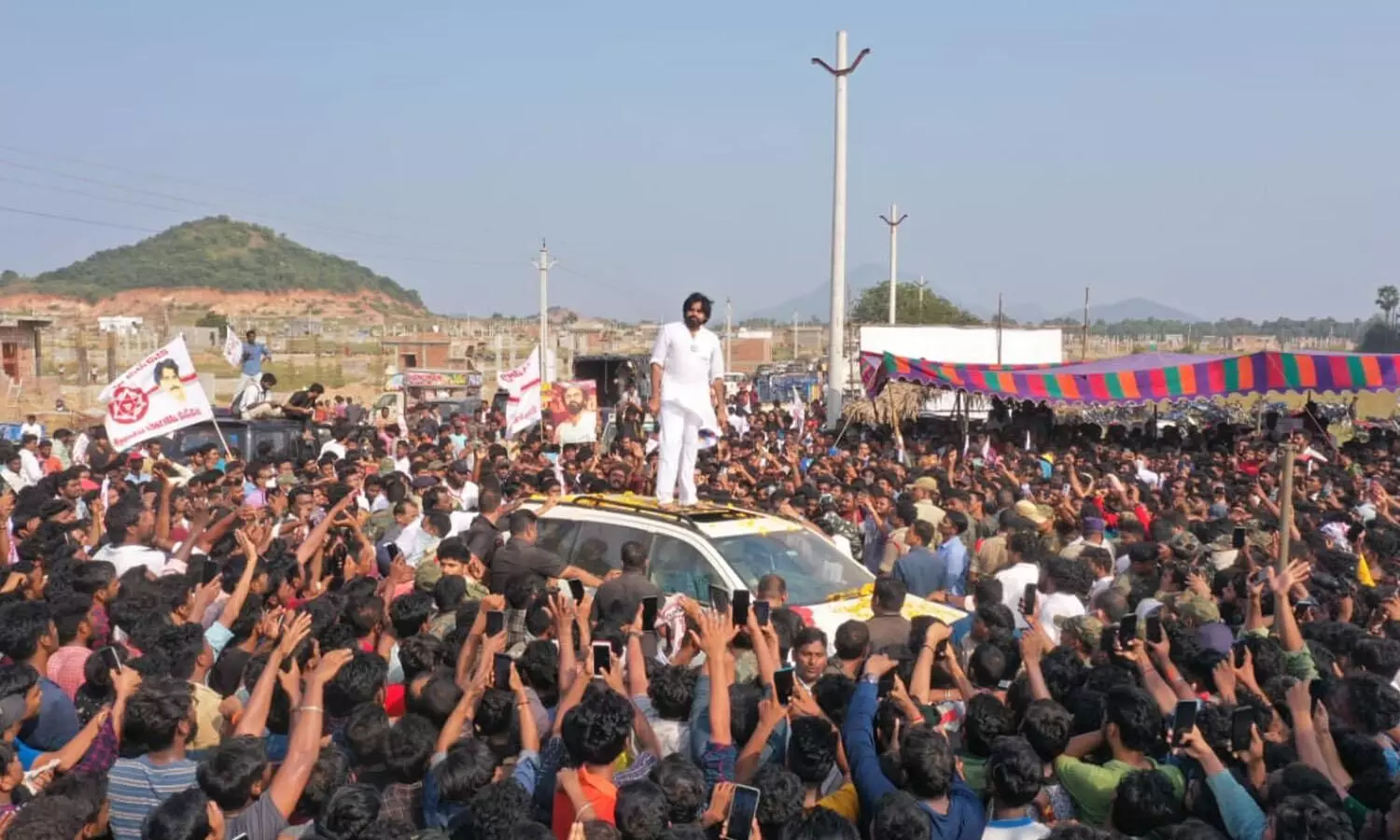 VIZIANAGARAM: Jana Sena chief Pawan Kalyan's visit to Gunkalam in Vizianagaram district on Sunday to inspect Jagananna Colony as part of his party's 'Jagananna Illu Pedalandariki Kannillu' protest drew his fans in hordes but flopped when it came to evoking favourable response from the beneficiaries.
It is known that the Jana Sena leaders have launched a statewide agitation in the name of 'Jagananna Illu Pedalandariki Kannillu' in an attempt to 'expose' the YSRCP Government over alleged irregularities in the housing scheme. Pawan Kalyan headed to Vizianagaram from Visakhapatnam on Sunday amid much fanfare and accompanied by a large number of his fans and Jana Sena activists. As per the original plan, he was supposed to interact with the beneficiaries of the housing scheme and elicit their opinion about the efficacy of the initiative.
But the tables seemed to have turned after the Jana Sena chief reached the housing colony. There was a heavy presence of boisterously cheering fans of his but the Jagananna Colony beneficiaries were conspicuous by their absence. It is learnt that, barring one or two, the beneficiaries were largely reluctant to join the protest and criticise the YS Jaganmohan Reddy government, which was the intended purpose of the Jana Sena agitation.
It is reported that, when persuaded to join Pawan Kalyan, the beneficiaries bluntly turned down the Jana Sena leaders' requests and kept a safe distance from the event. Effectively, there was none really to complain to Pawan Kalyan about the much-hyped irregularities in the scheme, leaving the Jana Sena leaders red-faced. Stung by this unexpected cold response, Pawan Kalyan reportedly refrained from reaching the stage for the protest and instead addressed his followers from a distance and standing atop his vehicle.
It is also alleged that the Jana Sena leaders made desperate attempts in the last three days to instigate the beneficiaries to speak against the State Government. Pawan Kalyan was also learnt to have expressed his unhappiness and frustration at the Jana Sena leaders misleading him with false information about the actual mood on the ground.
First Published: &nbsp 13 Nov 2022 1:23 PM GMT