Pawan Kalyan visits Ippatam over demolitions, villagers hit back
Tension gripped Ippatam village in Tadepalli mandal of Guntur district following a visit of Jana Sena chief Pawan Kalyan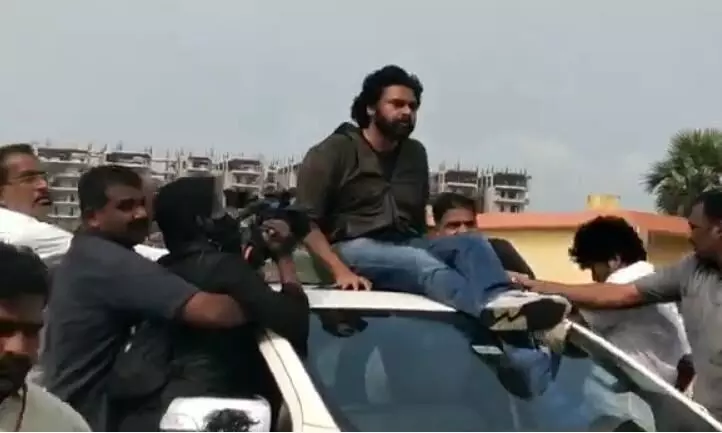 AMARAVATI: Tension gripped Ippatam village in Tadepalli mandal of Guntur district on Saturday following a visit of Jana Sena chief Pawan Kalyan. Despite efforts by the police to restrain him, he went ahead with his visit and inspected demolitions in the village amid strong criticism from the villagers that the actor-turned-politician was merely politicising the issue for no valid reason.
The State Government authorities have been demolishing encroached structures to facilitate road-widening works in Ippatam. But the issue assumed political colour after Pawan Kalyan announced his decision to visit the village, alleging that the YSRCP government was pursuing politics of vendetta against the villagers. Pawan Kalyan claimed that the villagers were being targetted by the YSRCP government since they had allowed the Jana Sena earlier to organise a public meeting in their lands.
Pawan Kalyan, who arrived in Vijayawada on Saturday morning and proceeded to Ippatam, was initially resisted by a heavy posse of policemen at the Jana Sena party office near here. Tension prevailed for a while before the Jana Sena chief, accompanied by his party workers, went to the village by foot and inspected the demolition sites.
Speaking on the occasion, the actor-turned-politician alleged that the State Government demolished houses out of grudge. He claimed that it was done as the villagers had allowed the Jana Sena to hold its public meeting in their lands. In his typical style, he warned that his partymen would expand the road even in Idupulapaya.
"A sacred Nandi statue and a PV Narasimha Rao statue were demolished but why was the statue of YS Rajasekhar Reddy not touched?" he questioned.
Villagers condemn Pawan Kalyan for playing politics
However, as a section of the media highlighted, Pawan Kalyan's visit to Ippatam also drew sharp criticism on the flipside from villagers, whose structures were also demolished. Speaking to a few news television channels, they said the demolitions were being carried out in a legal manner and in complete adherence to procedures. They criticised Pawan Kalyan for merely trying to politicise the issue for no rhyme or reason.
According to them, the demolitions of encroached structures became a necessary prerequisite to carry out the road-widening works. The government had diligently given notices in advance and they too consented willingly as they realised the grave need of road-widening works. "We don't have a bus service because the existing road is too narrow due to illegal structures. We, ourselves, have asked the authorities to expedite the road-widening works and there was absolutely nothing wrong with this," the villagers said.
First Published: &nbsp 5 Nov 2022 7:32 AM GMT