Top CEOs, investors endorse AP's policies; hail business-friendly climate
The Tuesday initiative was part of the preparations for the Global Investors Summit, which will take place on March 3 and 4 in Visakhapatnam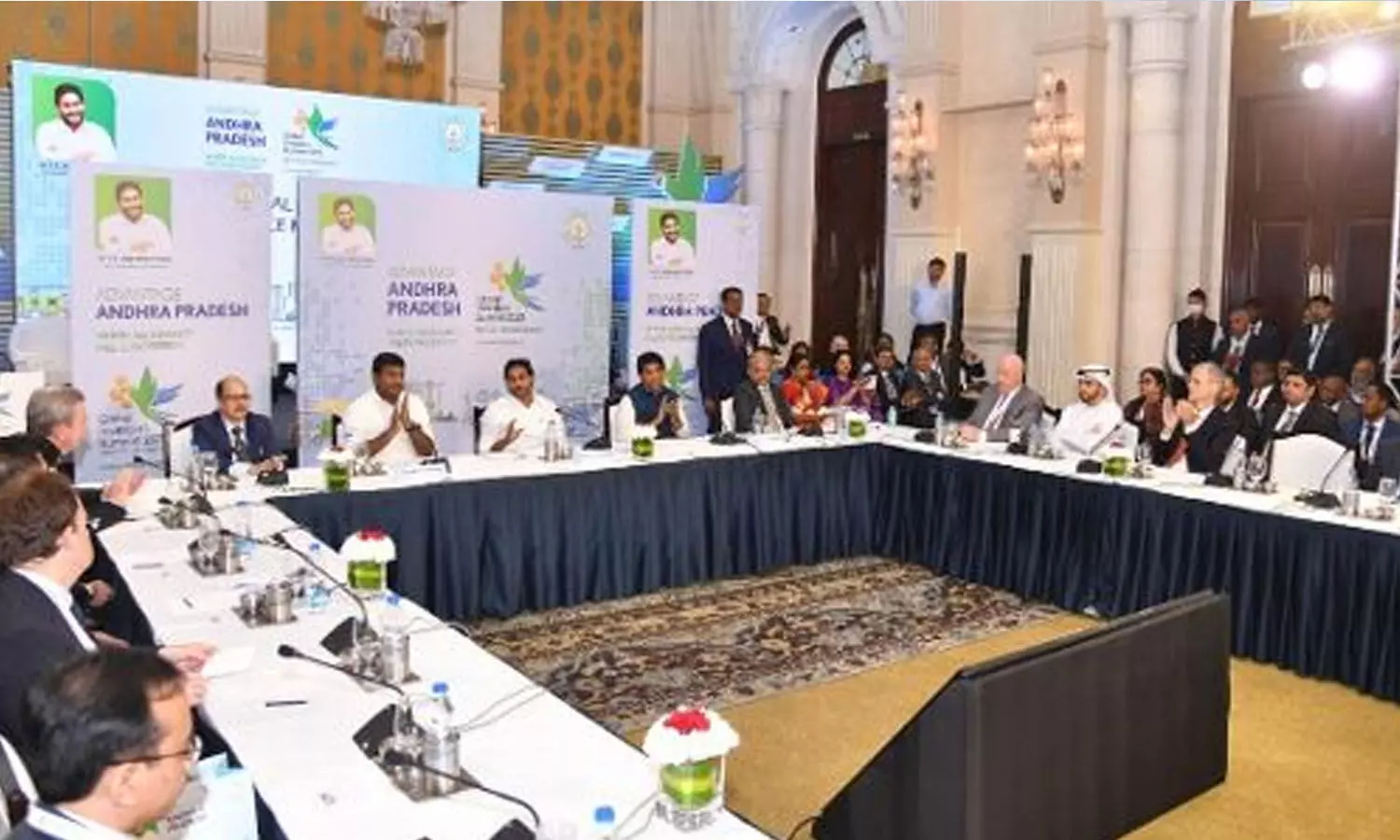 NEW DELHI: The Andhra Pradesh Government on Tuesday received a shot in the arm in its investment outreach as top honchos of reputed firms endorsed its business-friendly policies and climate. Promoters and CEOs of several companies, who have already set their shop in the coastal state, came up with their observations during the curtain-raiser round-table organised by the State Government in the run-up to the AP Global Investors Summit.
Addressing the International Diplomatic Alliance meeting in Delhi, Cadbury India President Deepak Dharmarajan Iyer expressed his company's eagerness to invest more in Andhra Pradesh. He said that he would not be able to explain in words the support and cooperation extended by the YS Jaganmohan Reddy Government during the testing times of COVID-19 pandemic. "We do business around the country but Andhra Pradesh is one of the best," he said.
Deepak Dharmarajan said that their company was proud of its Andhra Pradesh partners, who, he said, were very proactive and supportive of their business units in Sri City from the beginning. "We had spent over Rs 2,500 crores and established over 6,000 direct jobs as well as several thousand indirect ones in transportation and distribution."
He said, "Apart from manufacturing, we also grow cocoa in numerous districts of Andhra Pradesh. We engage 3,000-4,000 farmers in Cocoa production, and we have six operational units with another one in the pipeline. Our heartfelt thanks go to the government of Andhra Pradesh for implementing one of the greatest single-window clearance systems in the country ".
The Tuesday initiative was part of the preparations for the Global Investors Summit, which will take place on March 3 and 4 in Visakhapatnam. The meeting was attended by a number of prominent CEOs and business executives. The CEOs and representatives indicated that the state government was very supportive to them in the context of COVID-19 in terms of infrastructure and issuance of licences.
Tae Jin Park, MD & CEO, KIA Motors, Korea, said that the Andhra Pradesh government had taken several critical measures in building and nurturing the automotive belt chain by providing resources to set up enterprises in the state. The government also assisted them in constructing a world-class automobile facility that includes Executive Business Services(EBs), he added.
"The ease of connection, particularly proximity to major ports such as Krishnapatnam and Chennai, enables us to sell our automobiles not just across India, but across 95 countries worldwide. We are tremendously grateful to the Government of Andhra Pradesh for assisting us in securely manufacturing cars throughout the previous few years," he said.
Yamaguchi, MD and CEO of Toray Industries in Japan, said, "We have received tremendous assistance from the Andhra Pradesh government since April 2019. We invested Rs 1,000 crore in the State and launched two businesses but then COVID-19 happened. We restarted production in June 2020 with the help of the State government. Our business plan is to invest more than twice as much as we do now by 2030. We anticipate the AP government's assistance for collaborative growth."
According to Roshan Gunawardhana, Director of Everton Tea India Pvt Ltd in Italy, "Andhra Pradesh has seen substantial growth. Though AP is not a tea-producing state, we have placed our trust in it, and it has been amply justified. The ease of conducting business was a positive feature in AP, and the government assistance we received aided us in establishing the operations here. 99 percent of the workforce are from the surrounding area. We are grateful to the officials and authorities for their assistance during COVID19. We are also looking forward to developing in Andhra Pradesh and anticipating government help."
Sergio Lee, the Director of Apache and Hilltop Group in Taiwan, said, "We began manufacturing shoes in 2006 with the intention of exporting them entirely. We negotiated an MOU and began manufacturing in 9 months. The company's success would not have been feasible without AP government's assistance. It was signed by the former Chief Minister YS Rajashekhar Reddy. We are currently collaborating on the Apache India 2 project".
"This project will be completed utilising Apache's 30 years of experience. The facility will be built using cutting-edge technologies and a green energy philosophy. We are excited to work together to contribute to economic progress in the state of Andhra Pradesh", he added.
Phani Kunar, CMD, Saint-Gobain Industries India Pvt Ltd from France said, "We have invested over Rs 12,000 crores in two decades in India. Over the last few years, we have invested in AP and started the factory during covid. The extraordinary support from the authorities is the reason why it is the most prosperous unit we have inaugurated recently. In years' time, it will become sustainable. AP is good with an abundance of people talent, and talent provided administration is extraordinary. We have witnessed it during covid regarding the support from the administration".
"There is also a significant commitment on the part of bureaucracy and political leadership to ensure success. The Andhra Pradesh government has proved itself when it comes to delivering physical incentives at the right time. We genuinely want flourishing business in a state that is continually growing in ease of doing business, and I believe AP government provides a wealth of skill. If you want to invest in the country, AP could be the best option. We want to continue the story we began three years ago", he added.
First Published: &nbsp 31 Jan 2023 11:13 AM GMT