Visakha Garjana reflected aspirations of North Coastal AP: Botsa Satyanarayana
AP Minister for Education Botsa Satyanarayana fumed at the opposition parties in general and Jana Sena president Pawan Kalyan for creating hurdles to the three capitals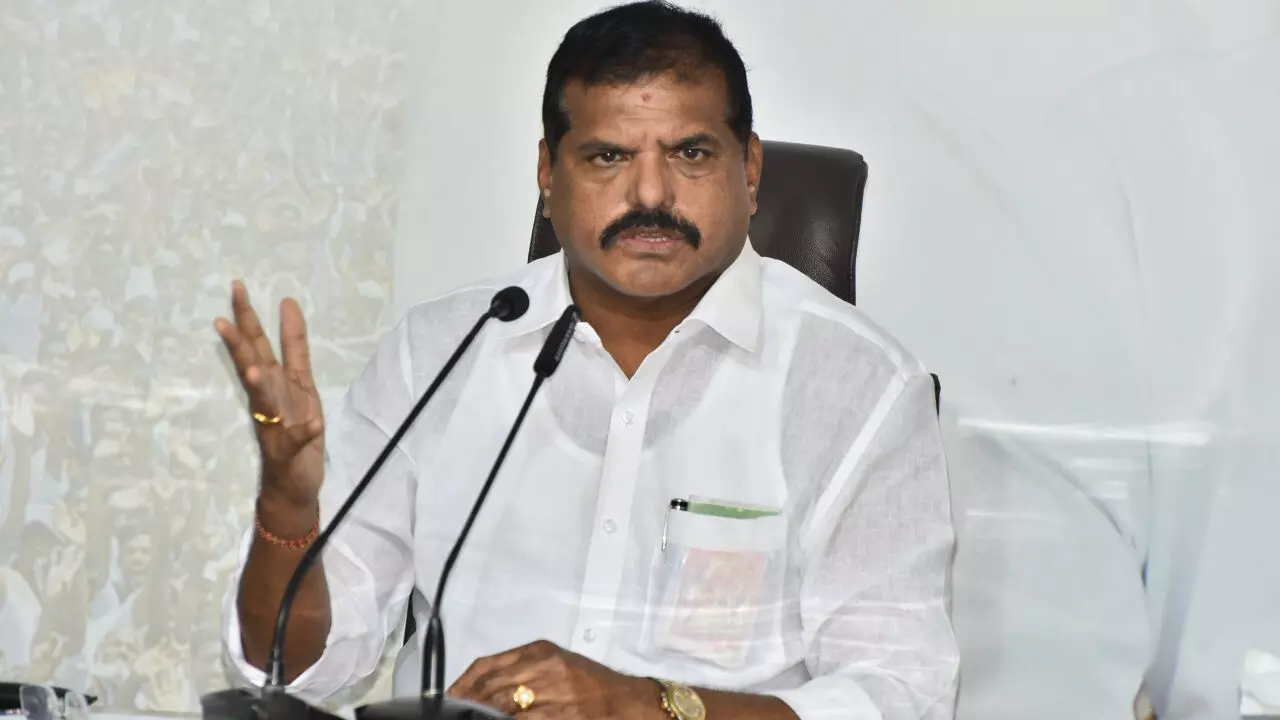 VISAKHAPATNAM: Andhra Pradesh Minister for Education Botsa Satyanarayana on Sunday fumed at the opposition parties in general and Jana Sena president Pawan Kalyan for creating hurdles to the three capitals. He said that the Visakha Garjana program held at the auspices of the YSRCP on Saturday reflected the aspirations of the north coastal Andhra people. He said people in large numbers participated in the program and showed their strength in support of the decentralisation of development and asserted that it would change the mindset of the people who were against the three capitals.
Stating that the opposition parties' demands would not be fulfilled, Botsa said that the TDP, Jana Sena, and other sections who were against the three capitals should change their attitude and meet the people to know their aspirations.
Botsa Satyanarayana took a dig at Pawan Kalyan saying that the latter had to blame Chandrababu instead of the government for the incidents at Visakhapatnam airport. Botsa Satyanarayana questioned why Chandrababu, who wrote a letter on every occasion, was not condemning the attack on the ministers.
Botsa Satyanarayana urged people to think whether they needed the TDP and the Jana Sena who were opposing the executive capital at Visakhapatnam and wanted them to revolt against the two parties. He said that Jana Sena Party had no specific policy and was a celebrity party that would act at the behest of one person who wanted to destroy the North Andhra region. Botsa asked why Pawan Kalyan was opposing three capitals, despite he contesting the election from Gajuwaka.
Taking potshots at Amaravati farmers Maha Padayatra seeking to retain Amaravati as the capital of Andhra Pradesh, Botsa said that it was not the farmers who were participating in Maha Padayatra. Although criticising Maha Padayatra, Botsa said they were not against Amaravati and asserted that it was not good to spend lakhs of crores in 29 villages of Amaravati. He said that it only required Rs. 10,000 crores for the development of the capital city at Visakhapatnam as it had rail, Air, sea and road connectivity. He said Visakhapatnam would be made executive capital at any cost and governance would soon start from there.
On the other hand, Minister Gudivada Amarnath thanked the people for making Visakha Garjana successful despite the heavy rain. He said people from all walks of life participated and voiced their aspirations strongly. "We will discuss and announce the next course of action under the auspices of the Joint Action Committee to intensify the movement further in the coming days," he said.
First Published: &nbsp 16 Oct 2022 12:38 PM GMT