YS Jagan says Chandrababu Naidu masterminded Skill scam, flays Pawan Kalyan, friendly media
YS Jagan alleged that for the last four decades Naidu had been shielded by a "gang of thieves" and friendly media even though he resorted to backstabbing and irregularities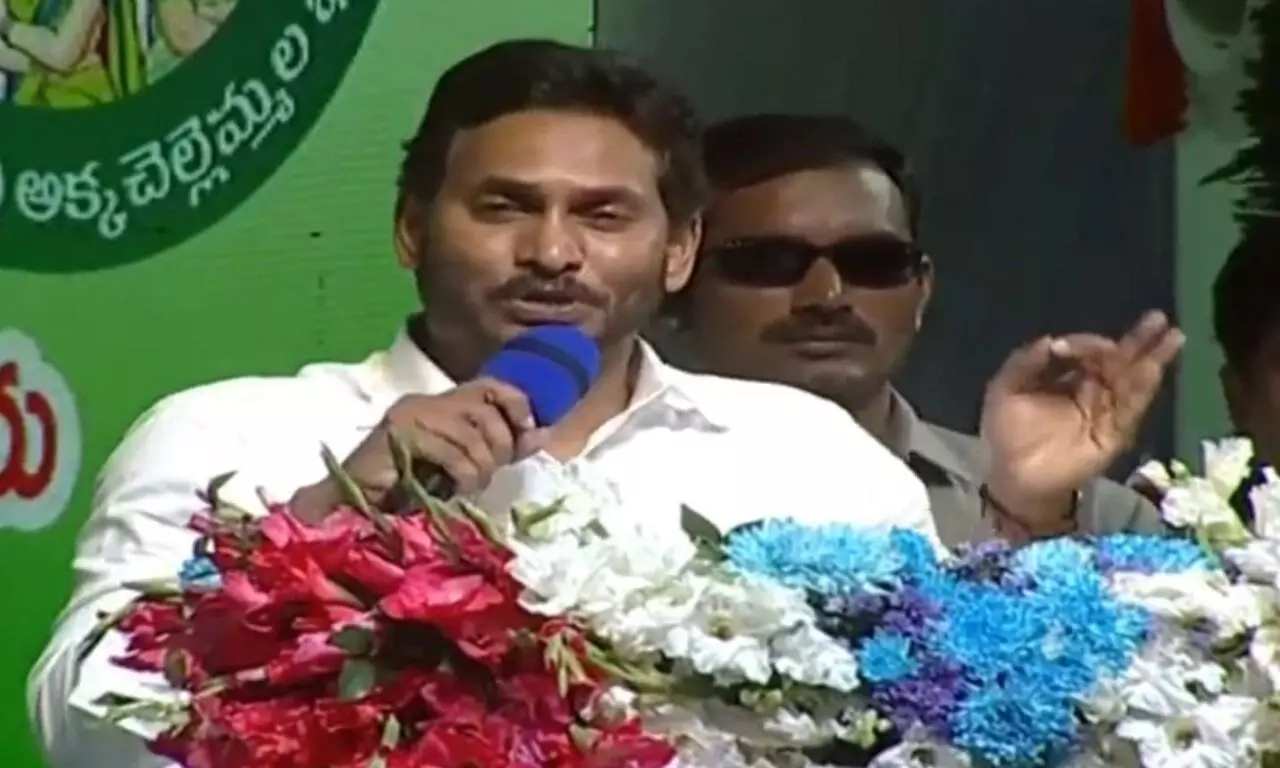 RAJAMAHENDRAVARAM: Andhra Pradesh Chief Minister YS Jagan Mohan Reddy has launched a blistering attack on TDP president N Chandrababu Naidu and his friendly media for their malicious propaganda being carried out on the YSR Congress Party (YSRCP) Government for arresting Naidu with proper evidence in the Andhra Pradesh State Skill Development Corporation (APSSDC) scam.
YS Jagan on Saturday disbursed Rs 536.77 crore into the accounts of 3,57,844 women beneficiaries of the YSR Kapu Nestham at a programme held at Nidadavolu in East Godavari district. Addressing a mammoth public gathering at Nidadavolu, the Chief Minister alleged that for the last four decades Naidu had been shielded by a "gang of thieves" and friendly media even though he resorted to backstabbing and was caught red-handed in the cash-for-vote scam.
"All these years, no one dared to tell Naidu that the law is equal for all. Everyone has to face the law if they are found guilty whether he is in ruling or opposition. The time has come for Naidu to say the law is equal for all. Even after he was caught red-handed in the cash-for-vote scam with audio and video tapes, the friendly media and partners in crime have raised their voice and defended him," YS Jagan said, and added that Jana Sena Party president Pawan Kalyan, who kept on boasting that he was their to question, remained mum.
The Chief Minister alleged that Chandrababu Naidu was the mastermind in the Skill scam and diverted the amount to his shell companies by creating a fake agreement violating the norms. Siemens Company representatives asserted that they were neither a party to the agreement nor did they receive any money. "Even though the Enforcement Directorate has arrested those involved in the fake agreement in the Skill scam, there is evidence that Naidu is the mastermind behind it. The former Chief Minister ignored the advise of officials and appended signatures on 13 documents related to the scam. Also arrested some of those accused in the Skill scam," YS Jagan said.
He said that Naidu's personal assistant (PA) Srinivas was also caught in a mobile phone chat and email conversation in the Skill scam. The Income Tax department also issued a show-cause notice to Naidu, asking why an amount of Rs 118 crore, allegedly received by him as kickbacks from some infrastructure companies. The court, after hearing arguments from both parties, sent Naidu to judicial remand. The friendly media of Naidu and his ''foster son'' did not raise their voice questioning the scam, instead launched malicious propaganda against the YSRCP Government, YS Jagan said.
Reacting to the 'mulaqat' of Pawan Kalyan with Naidu, the Chief Minister said that Pawan Kalyan, who had said he was there to question, turned his 'mulaqat' with Naidu as 'milakhat' for his personal benefits.
First Published: &nbsp 16 Sep 2023 8:41 AM GMT