Jagan promises 'ministry' to Kuppam, if Bharat is elected MLA
Andhra Pradesh Chief Minister YS Jagan Mohan Reddy on Thursday said he would gift "Minister Bharat" to Kuppam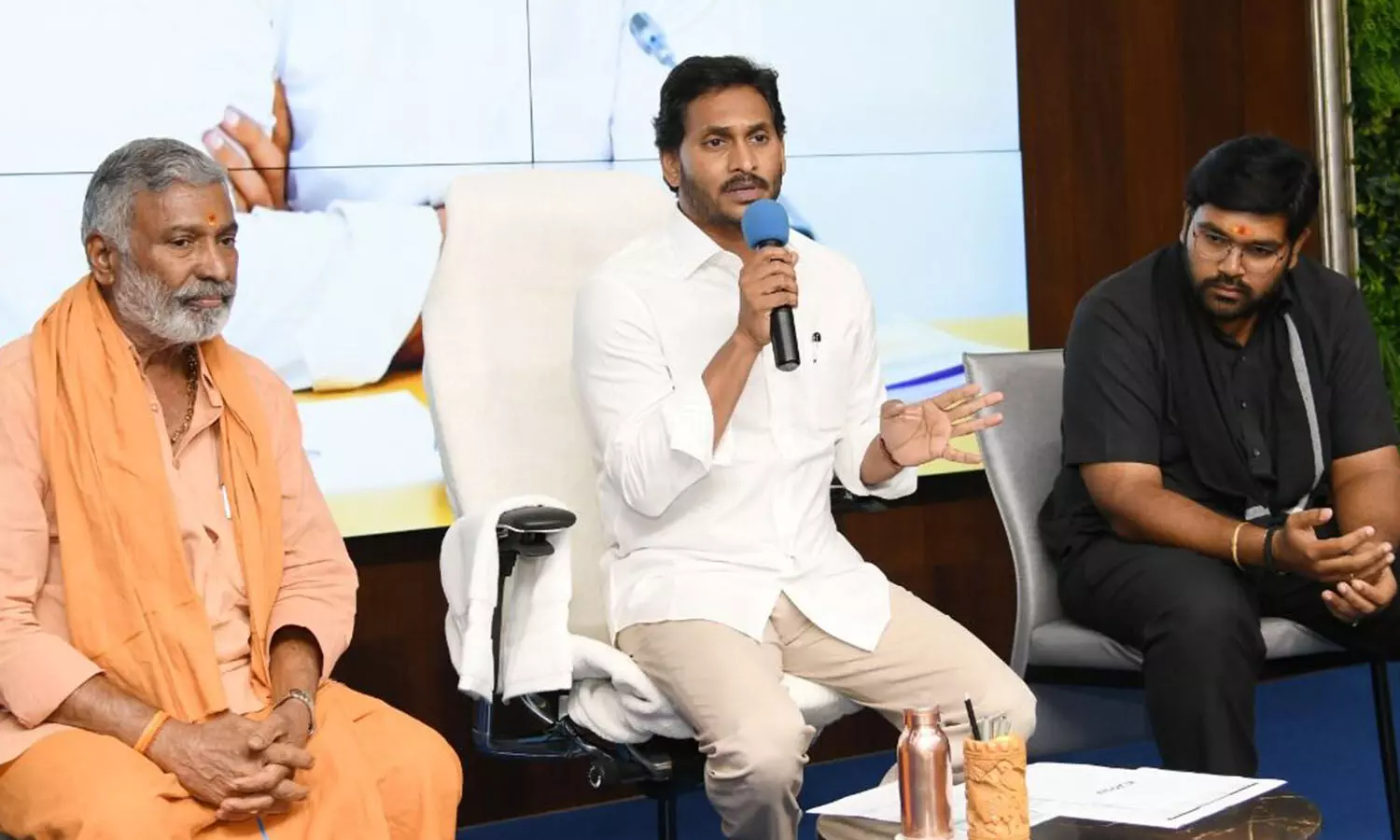 Kuppam: Andhra Pradesh Chief Minister YS Jagan Mohan Reddy on Thursday said he would gift "Minister Bharat" to Kuppam if the constituency elected him the MLA in the next elections. Jagan met
YSRCP leaders of the Kuppam constituency, represented by TDP supremo N Chandrababu Naidu, to kick off his constituency-based programme of party cadre interaction.
During the meeting, the Chief Minister promised to develop Kuppam and support it in any way he could, comparing it to his own constituency of Pulivendula in Kadapa. He claimed that the YSRCP government had taken care of Kuppam's development over the last three years as opposed to Chandrababu Naidu's decades-long efforts, and he approved Rs 65 crore for Kuppam municipality for a variety of development projects.
Speaking at the event, he said that while a majority of people believed Kuppam to be a stronghold of the TDP, which had consistently backed Chandrababu, the constituency actually had a higher percentage of BCs, and the YSRCP could win Kuppam by making welfare programmes more accessible to BCs.

He claimed that after Chandramouli, a retired IAS officer, passed away, his son Bharat was chosen to run in the upcoming elections. The YSRCP had fielded Chandramouli in the previous elections. He urged the cadre to back Bharat, saying that he had been doing fantastic work for the party in the district and had been a key factor in the party's success in the local body and municipal elections.
He instructed the cadre to concentrate on winning the Kuppam seat and dispel the false impression that Chandrababu Naidu had given a lot to the populace so that they would stop supporting the TDP or Chandrababu Naidu.
He claimed that the current administration had already given Kuppam priority and carried out more development than under Naidu. Programs like Nadu-Nedu, village clinics, RBKs, and village/ward secretariats have brought transparent governance to the village level.
The Chief Minister pledged support to the party in Kuppam by all means in order to ensure victory, similar to the triumphs in the Panchayat, ZPTC, MPTC, and Municipal elections.
He urged the cadre to work assiduously and set a goal of winning 175 of the 175 seats, beginning with Kuppam.
First Published: &nbsp 4 Aug 2022 5:06 PM GMT