Post-bifurcation AP turns agrarian state: Jagan at NITI Aayog meet
Andhra Pradesh Chief Minister YS Jagan Mohan Reddy has provided a clear overview of the initiatives being taken by the state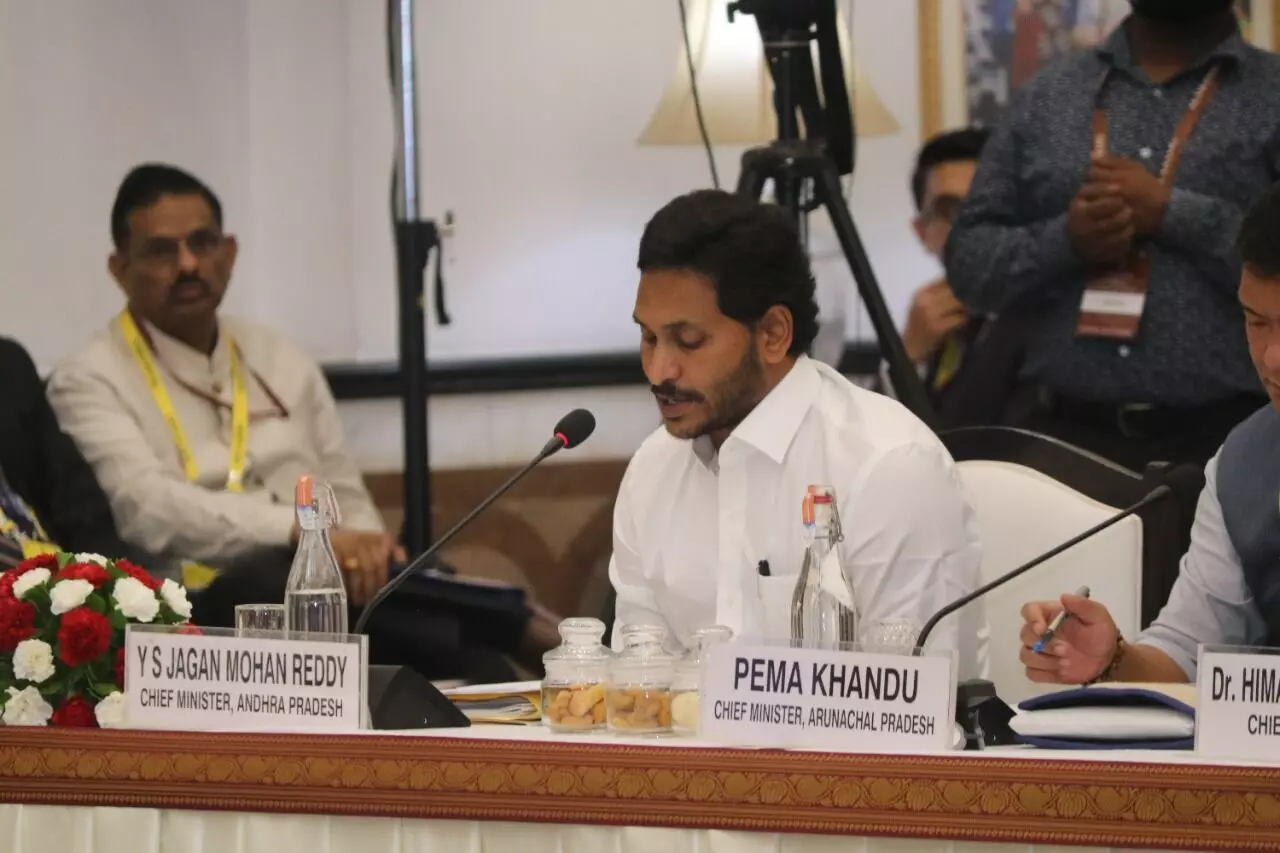 NEW DELHI: Andhra Pradesh Chief Minister YS Jagan Mohan Reddy has provided a clear overview of the initiatives being taken by the state in the areas of agriculture and education, in addition to governance, at the NITI Aayog Governing Council meeting on Sunday.
Speaking at the meeting held at the Cultural Centre of Rashtrapati Bhavan, the AP Chief Minister stated that the state had become an agrarian one following bifurcation, and priority was being given to agriculture, which accounted for 35 percent of the state's GDP and employed 62 percent of the population.

The Chief Minister listed a number of welfare programmes for farmers, including YSR Rythu Bharosa-PM Kisan, free crop insurance, nine hours of free electricity, and the establishment of 10,778 Rythu Bharosa Kendaras (RBKs), which acted as one-stop shops for all of a farmer's agricultural needs, providing everything from seeds to fertiliser, pesticides, input subsidies, and guidance up until the sale of produce.

He added that e-cropping was also done at RBKs, which had kiosks, and farmers can order online for the items they need, which would be delivered to their doorsteps. "Making use of digital technology, we have also created the CM App, which tracks the crop purchase and, where necessary, the government itself buys the produce to help farmers.
"The provision of information, the resolution of questions, and raising farmers' awareness of agricultural issues are all supported by an integrated call centre. By encouraging a change in crop pattern and using millets, we are also working to encourage farmers to go organic," he added.
In terms of education, Jagan said that they were firm about the right to education and making serious efforts to reduce the dropout rate and raise the GER ratio, which was currently at 84.48 percent compared to the national average of 99.21 percent for primary education. According to the Center's data, the situation was still worse in 2018, and we were making good progress in the sector of education by working in its most important areas.

"With a budget of Rs 17,900 crore, we are modernising 55,555 schools as part of the Nadu Nedu programme, including installing running water, toilets, drinking water, painting, electricity, fans, tube lights, furniture, green chalkboards, English labs, compound walls, kitchen sheds, additional class rooms, and digital classrooms. We are also undertaking any necessary maintenance tasks. The programme will be completed in three phases, with the first phase modernising 15,715 schools and adding digital classes,"he added.

In the last three years, 21.56 lakh students had benefited from our full fee reimbursement programme for higher education. Microsoft offered to provide 1.6 million students with skill-development training. "Despite COVID, we were able to produce positive results; in 2018–19, there were 37,000 campus recruitments, and the following year, there were 69,000."

The Chief Minister also gave a presentation on governance, highlighting the village and ward secretariats as well as the volunteer system, which is bringing governance to the doorstep and reflects a governance that is free of corruption and operates transparently.

First Published: &nbsp 7 Aug 2022 3:40 PM GMT