Award winning Burmese restaurant 'Burma-Burma' now arrives in Hyderabad
Established in 2014, Burma Burma (Hunger Pangs Pvt. Ltd.), is the brainchild of restaurateurs and childhood friends, Chirag Chhajer and Ankit Gupta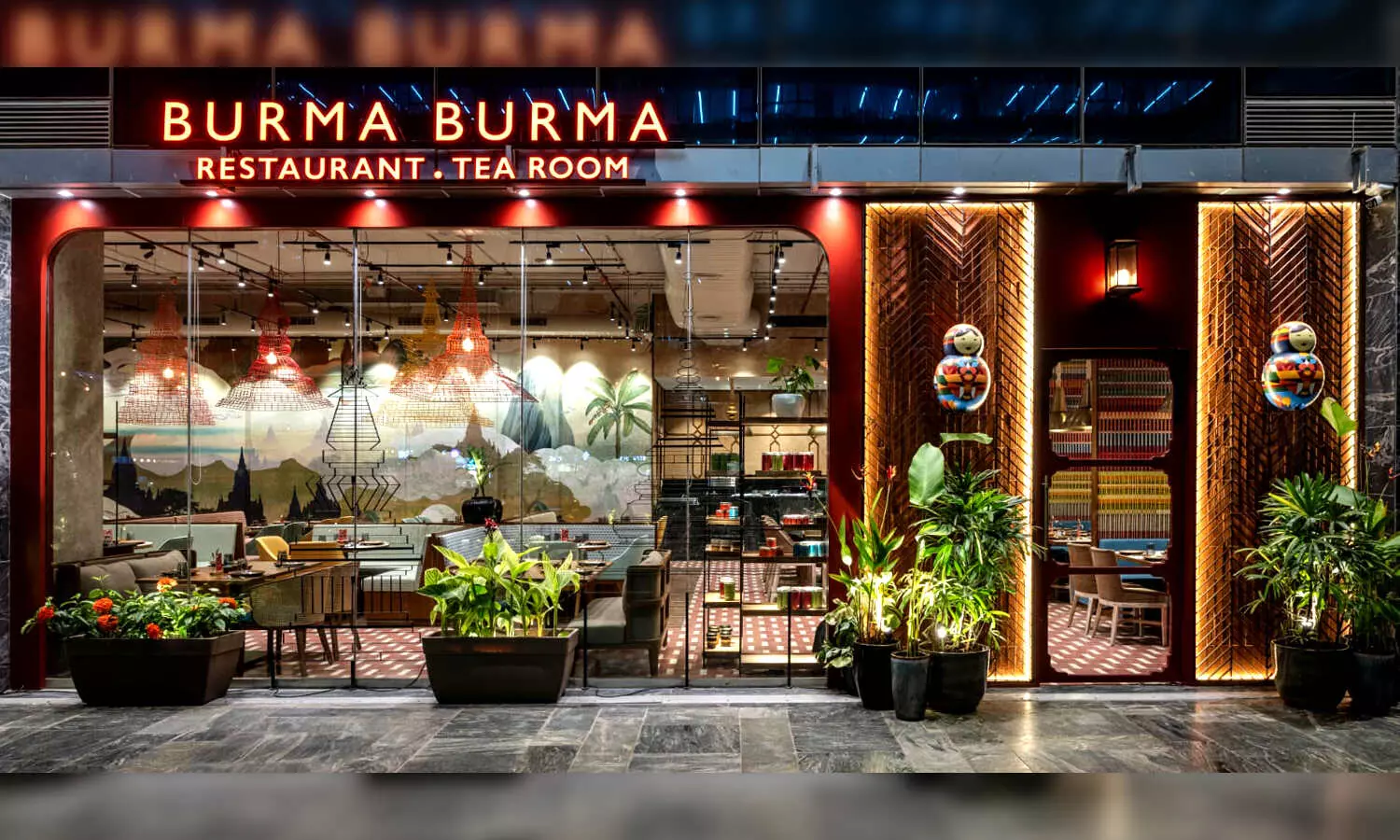 HYDERABAD: Burma Burma, the award-winning restaurant that has made waves across the country with its extensive beverages menu and unique, delicious dishes inspired by the streets and homes of Burma, has now arrived in Hyderabad with its authentic Burmese food and deep-rooted ambience.
Burma Burma, an exclusive Burmese restaurant, which launched its first outlet in Mumbai's Kala Ghoda area in 2014, inaugurated its tenth branch in Hyderabad on November 1, 2023.
Celebrating the culture, cuisine, and cooking styles of this fascinating and largely unexplored country, India's first and one-of-its-kind Burmese specialty restaurant and tea room, Burma Burma, opened its doors at Knowledge City, in HITECH City, Hyderabad on Wednesday.
(Co-Founders Chirag Chhajer & Ankit Gupta) 
Established in 2014, Burma Burma (Hunger Pangs Pvt. Ltd.), is the brainchild of restaurateurs and childhood friends, Chirag Chhajer and Ankit Gupta, with a total of 10 restaurants and delivery kitchens across Bangalore, Delhi NCR, Mumbai, Ahmedabad, and Kolkata, bringing Burmese culture to life in a way that has never been done before
Ankit Gupta, who studied hotel management, was inspired to open a Burmese restaurant by his Burmese roots. His mother and her family's upbringing in Bumra had a significant influence on expanding the restaurant's food menu with heady flavours of Burmese cuisine.
(Burma-Burma founder with his mother Urmila Gupta)
The brand combines the two most powerful forces in Ankit's life: his father's lineage of restaurateurs and the treasured family recipes from his mother's heritage. Armed with the concept and design, he approached his friend Chirag Chhajer, a food enthusiast and avid traveller, about bringing Burmese food to Indian tables, and the duo founded the restaurant.
Burma Burma, a food chain that serves authentic Burmese dishes made with a unique blend of spices, native ingredients, and the aromatic essence of Burmese cuisines, offers a comprehensive dining experience that goes beyond mere food and beverage offerings, encompassing Burma's rich food culture and vibrant lifestyle.
With contemporary and minimalist design aesthetics that pay tribute to both Burma's old-world charm and its fascinating textile heritage, the all-new 120-seater restaurant and tea-room is a wonderful addition to Hyderabad's growing international cuisine offering. Blending the best of traditional Burmese recipes with fresh ingredients and unique flavours, Burma Burma's menu offering in Hyderabad includes signature dishes based on heirloom recipes from co-founder Ankit Gupta's mother as well dishes from the culinary team's frequent research trips across Burma over the years.
Burma Burma presents Burma's authentic culinary traditions with contemporary flair along with the finest selection of artisanal teas, in a space designed with traditional Burmese accents and modern touches.
An Experience Of Burmese Food & Culture
Burma Burma, an ode to the people and culture of Burma, is an introduction to its cuisine in a modern and eclectic way, amalgamating traditional flavours with contemporary interpretations. Dive in and discover an array of small plates, moreish mains, refreshing beverages and decadent desserts.
The medium-spicy fare ranges from steamed buns (paukse) to parathas (palathas) and salads (thoke) with fermented tea leaves and even a Samuza Soup! The cuisine is characterised by sour, spicy and robust flavours with kaffir limes, balachaung peppers, sunflower seeds and laphet, carefully infused into dishes, to create a whole new world of culinary delights. Indigenous Burmese ingredients, typical of their local household cooking like Bandel cheese, Pickled Plum, Balachaung peppers and Laphet, that are sourced from Burma and promise to transport you to the streets of Yangon with every bite.
Samosa Soup, Tea Leaf Salad, Tohu Mash with Paratha, Sticky Rice with Coconut Cream, Mekong Curry, Burmese Falooda, Saffron and Samosa Cheesecake and the immensely popular Khowsuey - a wide repertoire of delightful Burmese dishes await at Burma Burma's largest restaurant in India that opens in Hyderabad.
Bestsellers include Mango Salad, Spicy Tea Leaf & Avocado Salad, Lotus Root Chips, Samosa Soup, Steamed Buns with Brown Onion and Roasted Chilli, Burmese Falafel, Mandalay Noodle Bowl, Mekong Curry, Rangoon Baked Milk among a plethora of soul-satisfying dishes.
The ever-evolving menu comprises dishes and beverages borrowed and replicated from its street food, as well as tribal and heirloom recipes passed down through generations. Enhanced with big, bold flavours that appeal to Indian palates and preferences, come discover a selection of delicious small plates, refreshing salads, hearty mains, thirst-quenching coolers, mocktails and chilled bubble teas, decadent desserts, and artisanal, small batch nostalgia-laced artisanal ice creams at Burma Burma in Knowledge City, HITECH City, Hyderabad.
Bringing Burmese flavours to your home kitchen
The cupboard filled with magical ingredients at our restaurant promises to add a delicious piece of Burma to your home kitchen. Shop Burma Burma retail range with eclectic Burmese flavours is a must-have in every foodie's larder. The selection includes mouth-watering spice mixes, crunchy nuts and toppings, and essential sauces to level up your stir-fries, rice, and noodle dishes in a matter of minutes.
Khowsuey Curry Paste, Spicy Laphet Paste, Malar Stir Fry Sauce and Balachaung, make traditional Burmese dishes like the Oh No Khowsuey, Thokes, Noodle Bowls or become a flavourful addition to any international meal you cook up. Also available are the irresistible Lotus Stem Chips, signature exotic tea blends and artisanal ice creams. An amalgamation of forgotten recipes, fond memories, distinct flavours, and a coveted culture, the Burma Burma retail offering brings Burma to your home.
Celebrating the vibrant textiles of Burma at a stunning new space in Hyderabad
Burma Burma Restaurant and Tea room launched in Hyderabad, inside one of India's biggest IT and fintech hubs, with its largest outlet yet, spread over 4000 sq. ft. But the expansive space is not the restaurant's only USP. This is one of the first Burma Burma restaurants which is a design-forward space. Immediately noticeable are the unique aspects of its origin country woven into its interior design.
Like the large wire-work pagoda installations placed throughout the restaurant which also act as a light source. The standout feature in the restaurant are the colourful booth-backs created by the basket weaves unique to Burma that act as seating backdrops. While creating a sense of privacy, these booths also add a burst of colour to the largely earthy-neutral colour theme of the restaurant. A large printed canvas wall panel spread over 30 ft, depicting the skyline of Bagan, Burma's ancient city, is an eye-catching backdrop that anchors the space.
Smaller design surprises are scattered through the restaurant inviting you on a design treasure hunt. Like the table tops that are hand-painted with tropical foliage and Burmese script. Look up at the ceiling in the deep blue wall papered private dining room. You'll find hand-painted floral art on the suspended wooden grid. Burma Burma is a festival of browns. And no it's not dull and boring. On the contrary you'll find the full spectrum - from a deep reddish brown to mahogany, teak, and muted browns. Walls, floors, wall elements like the basket weave in beige, straw, milky chocolate, all present a stunning contrast to the brown-maroon colour story.
The floor plan of the restaurant is divided into distinct zones, each with a variety of seating options - central area sofa seating, corner booth seating and seating by the façade. Pagoda shaped brass lamps are suspended above each table. The library showcases artefacts handpicked from Burma. Every design element used in the restaurant acts in tandem with the ingredients in the dishes for a truly unforgettable experience. It's not just Burma in a plate but Burma in a space.
First Published: &nbsp 31 Oct 2023 5:14 PM GMT