Cyberabad police bust interstate fake seeds racket from Telangana, Karnataka
The police also confiscated 2.65 tonnes of spurious (BG-III/HT) cotton seeds, which had been banned by the Telangana government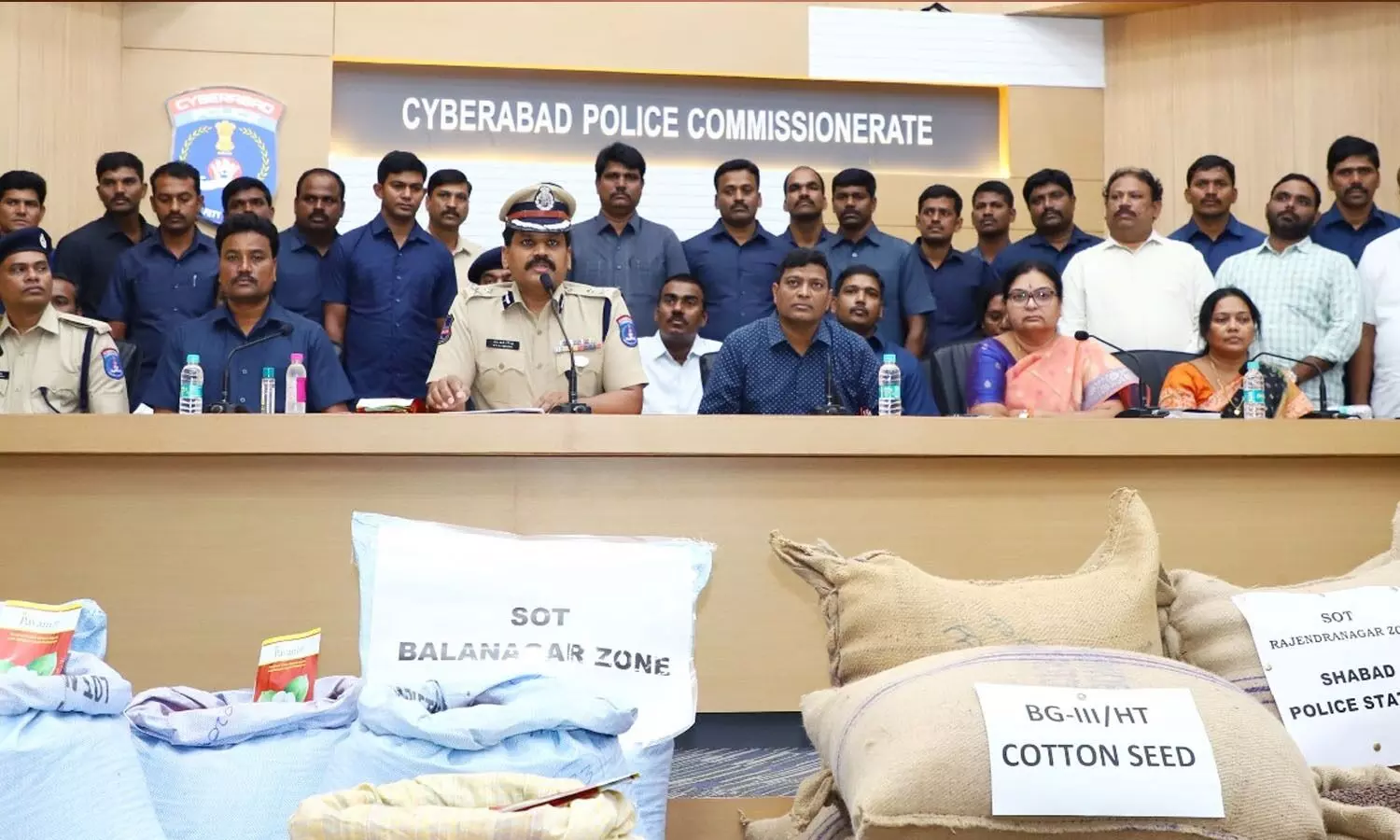 HYDERABAD: Special Operations Team (SOT) from Balanagar and Rajendranagar Zones, along with officials from Agricultural Department, Bachupally, Balanagar and Shabad police stations, conducted joint operations and apprehended seven individuals while they were transporting spurious cotton seeds to sell to naive farmers.
According to the Cyberabad police, this operation was carried out as a proactive measure to combat spurious cotton seeds.The police also confiscated 2.65 tonnes of spurious (BG-III/HT) cotton seeds, which had been banned by the Telangana government.
Sada Shiva Reddy, a native of Karnataka's Yadgir district, operated a fertiliser shop 'Raghavendra Seeds and Pesticides' in Putpak, Yadgir. He had previously worked as a seed organiser for Vasantha Biotech and had extensive knowledge in the BG-III/HT cotton seeds that the Government of India/Telangana had banned.
Sada Shiva Reddy, along with his associates Tayappa and Ramchander, both from Karnataka State, and Suresh (supplier of spurious seeds) of Meerpet, Hyderabad, were involved in this process. They all acquired the seeds and planned a strategy to sell them in other pouches. They started supplying banned cotton seeds to poor farmers on the outskirts of Bachupally and Balanagar.
They transported 23 bags (1,400 KG) of cotton seeds in a truck from Putpak, Yadgir, Karnataka, to the outskirts of Bachupally and Balanagar at 6 p.m. on May 25 when they were apprehended by SOT Balanagar Zone officials, Agriculture Department officials, and police station officers concerned.
The second accused, Gattamaneni Venkataramana, was born in Kavali, Nellore district, Andhra Pradesh, and migrated to
Doultabad, 30 years ago. He owns and operates 'Anuradha Traders and Fertiliser Shop' in Doulthabad.
He also worked as an organiser for Sai Bhavya Biotech, Vasanth Biotech, and Aditya Biotech. He was also well aware of the market's demand for BG-III/HT cotton seeds. As a result, he planned to sell seeds for his own financial benefit.
According to his plan, he took some land on lease at Gokafasalwad village, Doultabad Mandal, Vikarabad District and cultivated the BG-III/HT cotton seed in the same land and took care of the crops.
The cotton was transported to his ginning factory in Gajendraghad Village, Karnataka State, for seed separation after harvesting the cotton crop and collecting the BG-III/HT cotton from the farmers. He next transported the seed to the ginning machine where acid and chemical colour coating process was done.
Venkataramana met local seed suppliers P. Raghupathi Reddy and K. Praveen Kumar Reddy, among others, in the context of the seed business in 2020. As per their strategy, they sold the prohibited cotton seeds to the poor farmers in the Shabad mandal region.
On May 25, they loaded 220 packets (100 KG each) of cotton seed into a vehicle and travelled from Doultabad in Vikarabad district to Shabad. However, they were apprehended red-handed by the SOT, Rajendranagar Zone, Agriculture Department officials, and Shabad police at
Chandenvelli. Later, they proceeded to the outskirts of Chandenvelli village, where the remaining 23 bags of fake cotton were recovered.
Appeal to farmers
The Cyberabad police have urged farmers not to purchase loose seeds from anyone and not to purchase seeds from unauthorised dealers/agents. They also urged farmers to buy seeds from reputable businesses.
First Published: &nbsp 26 May 2023 10:08 AM GMT