Ensuring safety on rails: South Central Railway, NDRF holds full-scale train accident mock drill
The NDRF team rescued about 25 passengers who were trapped inside the coach as part of the mock drill at Bolarum Railway station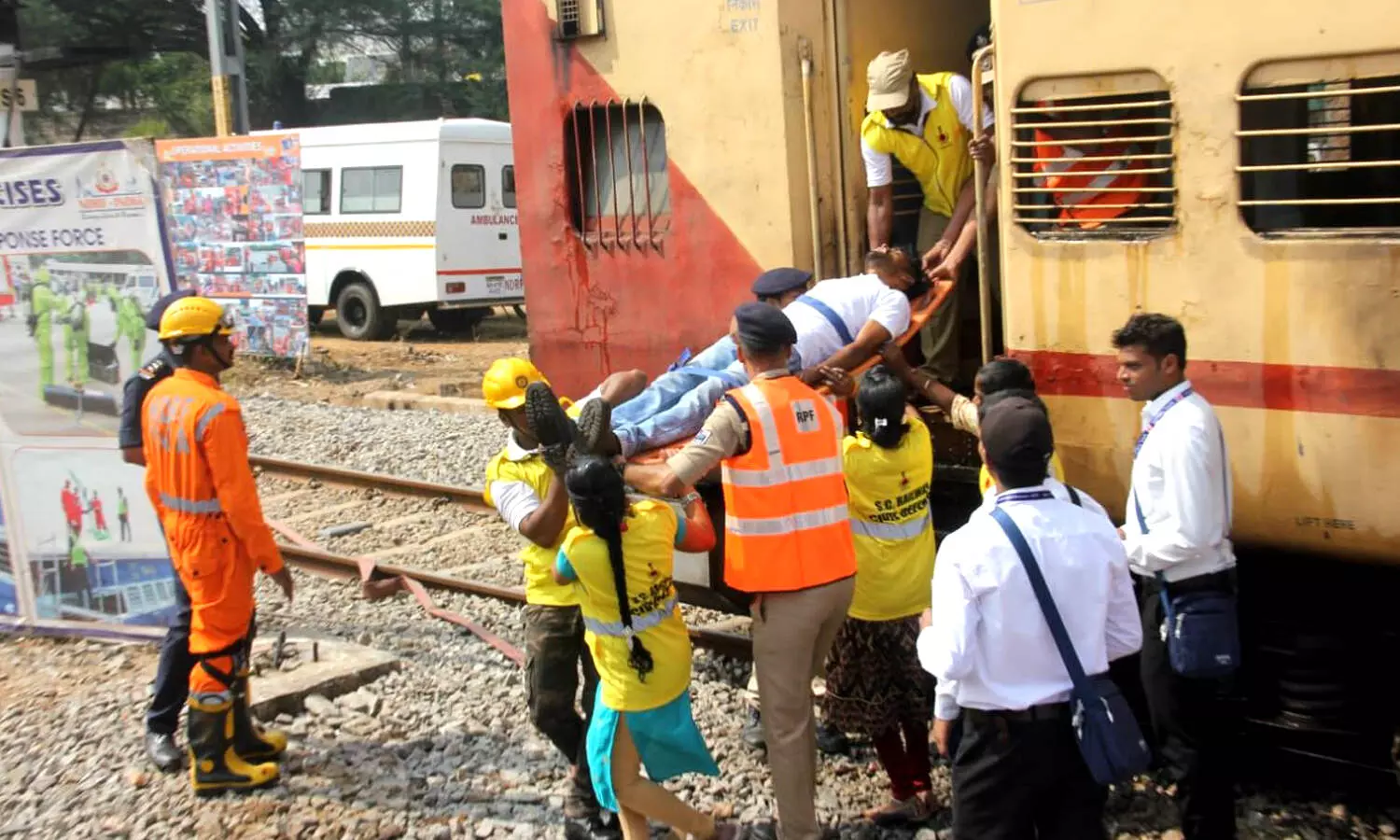 HYDERABAD: The South Central Railway (SCR) held a full-scale train accident Technical Mock Drill at Bolarum Railway Station in collaboration with the National Disaster Response Force (NDRF) on Friday.
The joint mock drill was held to assess and improve the staff's efficiency and alertness to meet the challenges that arise during an accident.
The NDRF team rescued approximately twenty-five passengers who were trapped inside the coach and were unable to escape from the closed train coaches as part of the mock drill. The Railway ART TEAM, in collaboration with the Railway Emergency Control Room, immediately contacted the NDRF Team for assistance and to rescue the passengers who were inside the Coach.
A team of 25 personnel from the Regional Response Centre (RRC) Hyderabad and the 10th Battalion National Disaster Response Force (NDRF) led by NDRF Deputy Commandant Damodar Singh conducted a Joint Mock Exercise on train accident at Bolarum Railway Station, Hyderabad Division, from 10:15am to 11:4am on November 17, 2023.
The goal of the mock drill was also to test the use of various equipment purchased for use during disasters and gain hands-on experience with tools such as cold cutting equipment such as sabre saws and abrasive cutters to cut the window rods and the coach body, allowing for easy lifting of injured passengers and evacuation from the affected coaches.
A 140 Tonne Crane and an Accident Relief Train were also used during the entire exercise. Senior officers and branch officers from the Hyderabad division also took part in the mock exercise and witnessed it with their teams.
First Published: &nbsp 17 Nov 2023 2:43 PM GMT