'Is this even India!' says Foxconn Chairman Young Liu at T-Works inauguration
Young Liu also said that Foxconn would be able to double its revenue in the next four years with the developmental environment at Telangana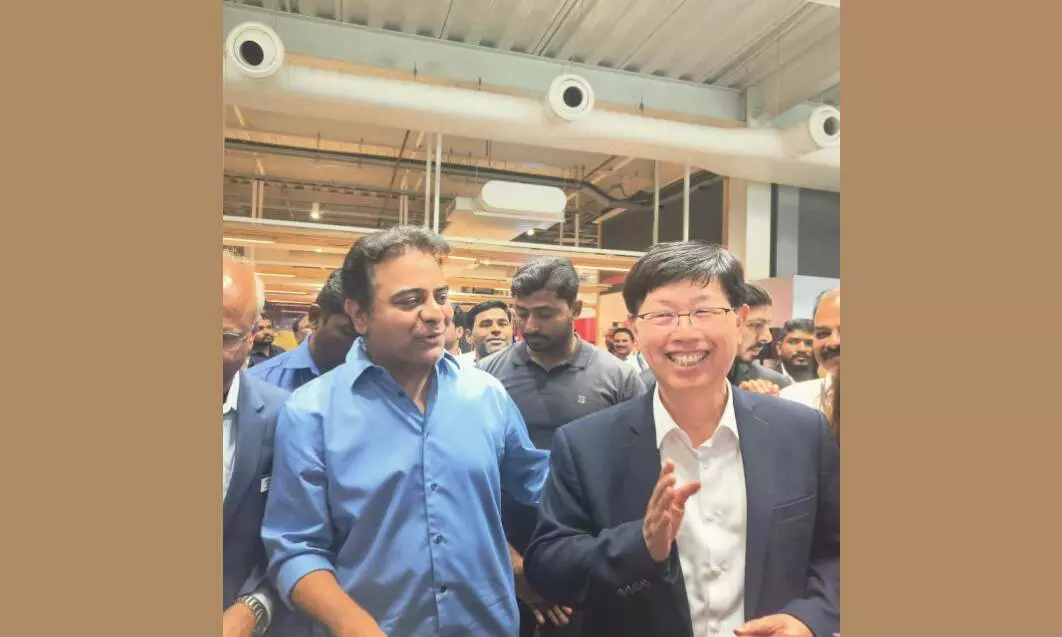 HYDERABAD: India's largest prototyping centre T-Works was inaugurated at Hyderabad on Thursday by IT Minister KTR and Chairman of Foxconn Young Liu, where Young Liu was amazed and forced to say "Is this even India!".
Lauding Chief Minister K Chandrashekar Rao for developing Telangana at a breakneck speed, the Chairman of world's largest iPhone manufacturing company said, "Telangana is no less than any International City, and the IT development here has amazed me. People can achieve so many things here. KCR is a fundamentalist and KTR is developing all those fundamentals. The development of T-Works at such a short time has surprised me and I look forward to growing big with such support from the Government."
Young Liu also said that Foxconn would be able to double its revenue in the next four years with the developmental environment at Telangana.
Telangana's IT and Industries Minister KTR, who was delighted on Foxconn's announcement of creating 1,00,000 jobs here, said, "IT means, India and Taiwan and with this partnership, we would be able to achieve wonders. T-Works is just the tip of the iceberg and with Foxconn's partnership this will grow into an entire ecosystem of opportunities for the youths. Being such a young state, Telangana has done remarkable things and will strive to keep up this pace."
CEO of T-Works Sujai Karampuri, the man who stood next to the team of T-Works at every step, said, "At T-Works, we do not believe in skipping, we only believe in speeding up. This is just the beginning of a fourth industrial revolution. KTR is developing the IT sector in Hyderabad on a war footing basis."
The CEO also gave a beautiful example, "Chinthakindi Mallesham, born in a weaver's family, struggled for seven years of his life and made a weaving machine. He didn't have T-Works then. Such ideas could be made into a physical prototype in just seven weeks."
Principal Secretary of IT and Industries Jayesh Ranjan said that users from over 300 startups have already built at T-Works and the number would continue to increase.
At the inaugural, the curtains dropped and over 1,000 people took a look at the facility.
KTR presented a premium ink pen with ink, metal holder and a wooden box, all designed and built at T-Works.
First Published: &nbsp 2 March 2023 4:17 PM GMT