Shakti Hormann launches OpenXperience centers in Hyderabad, New Delhi
The OpenXperience center could offer a first-hand functional experience to consumers of new products and innovations that deliver performance and safety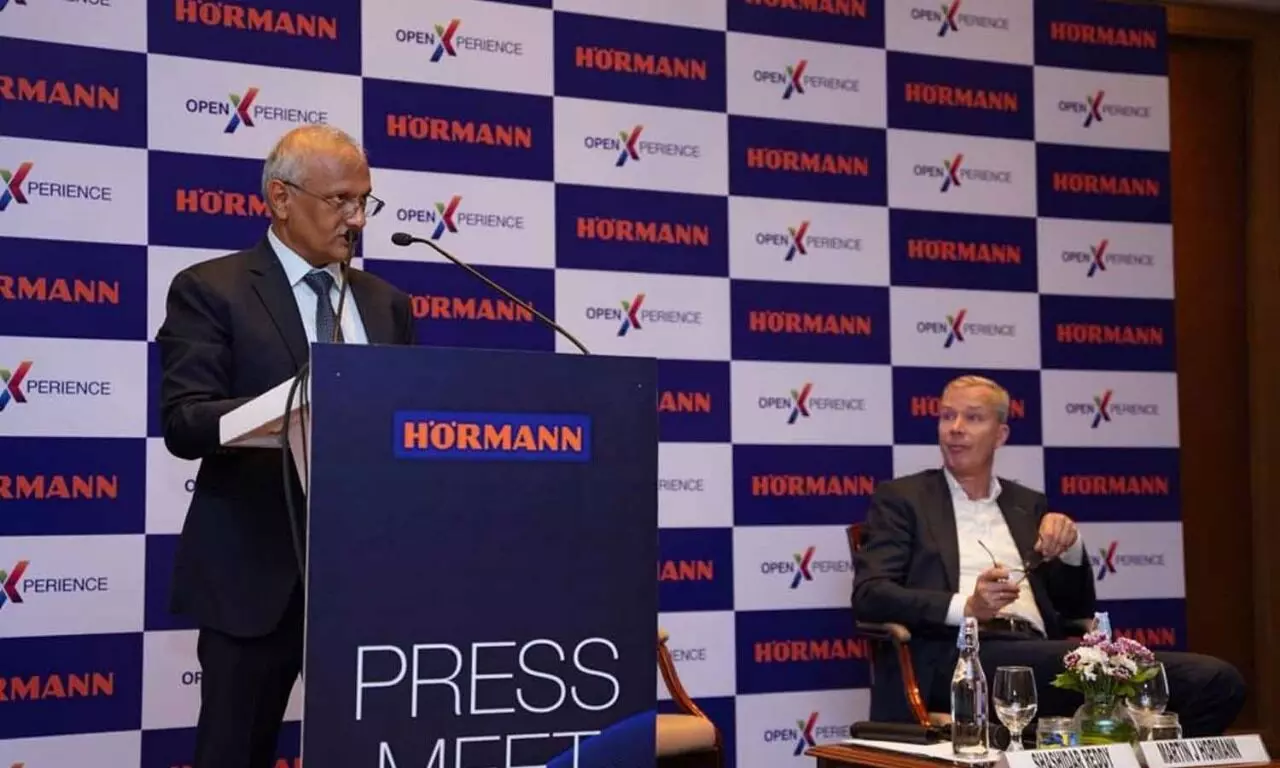 HYDERABAD: City-based Shakti Hormann, a pioneer in the commercial, industrial and residential door manufacturing industry, on Wednesday launched its latest product line for the B2B and B2C sectors, included the launch of two new OpenXperience centers in Hyderabad and New Delhi to leverage strategic partnership with Hörmann, Germany.
Additionally, the company had established the most advanced wooden door manufacturing plant in India, further solidifying its dedication to expanding its national presence and delivering unparalleled products and services to its growing customer base.
"It is a significant milestone in our journey of innovation and growth. We are establishing a new manufacturing plant in Mahindra World City in Jaipur, with a capacity of 130,000 doors per annum, investing more than Rs 1,750 Million, reinforcing our commitment to an expanding national presence and fostering technological advancements in the commercial, industrial and residential door industry," said Shashidar Reddy, Managing Director of Shakti Hörmann said.
Shashidar Reddy said that the new plant would become operational in the second quarter of 2024, and would enable Shakti Hörmann to meet the growing demand for its products in India. The Shakti Hörmann plant in Hyderabad could produce over 200,000 custom-made doors, door frames, and over 10,000 industrial doors per annum, to cater to industrial, commercial, public buildings, institutions, hospitality, hospitals, and airports, he added.
Explaining the idea behind the opening of the Shakti Hörmann OpenXperience center in Hyderabad and New Delhi, Shashidar Reddy said "Branded factory finished doors and exclusive experience stores are non-existent in India. Given the changing demand and requirements of this market, especially the growth of the high-rise apartment complexes, the need of the hour is OpenXperience center, which can offer a first-hand functional experience to consumers of new products and innovations that deliver performance and safety."
Martin J Hormann, managing partner of Hörmann said, "Our focus remains on providing customers and our strategic partners with unparalleled access to the latest advancements in door technology the world over. The expansion of Shakti Hörmann operations in India is a testament to our dedication to meeting the evolving needs of our diverse customer base with Hörmann fire-rated doors, backed by decades of quality, protection, and safety."
Martin J Hormann said that the introduction of new product experience centers and the Shakti Hörmann wooden door manufacturing plant was projected to positively impact the sales, the company's revenue, and overall financial trajectory. "The company sells 110,000 doors per annum currently, with a revenue of 2,700 million (INR). The company's new offerings prioritize safety, offering peace of mind to customers. While, the OpenXperience center aims to redefine customer selection, highlighting advanced door technologies such as residential hinged doors, internal doors, fire-rated doors, security doors, and multi-purpose doors, based on German and International standards," he said.
Informing about the prices of the products, Hormann said that the residential door prices ranged from Rs 10,000 to Rs 2.5 lakh. While the commercial doors ranged from Rs 15,000 to Rs 6 lakh, the industrial doors ranged from Rs 60,000 to Rs 3 lakh and perimeter protection - Rs 2.50 lakh to Rs 10 lakh. The upcoming 200,000-square-foot manufacturing plant, Mahindra World City in Jaipur spread across 20 acres would create over 150 direct and over 300 indirect jobs locally and foster community development, he added.
First Published: &nbsp 1 Nov 2023 11:55 AM GMT