Sonata Software office at Nalgonda, Pi Health's cancer hospital, research centre in Hyderabad soon: KTR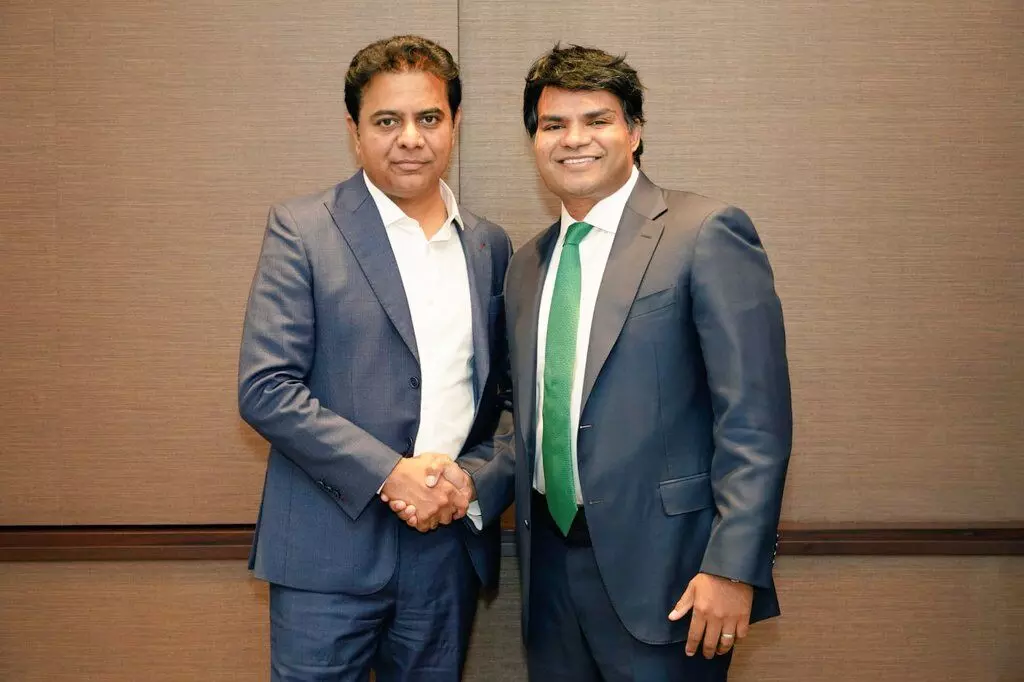 BOSTON: IT and Industries Minister K T Rama Rao's USA tour continued with productive meetings in Boston.
IT Sector expands to Nalgonda
Sonata Software, a leading modernisation engineering company, is expanding its footprint in Tier-II towns of the State by adding 200 jobs in Nalgonda IT Tower, which will begin its operations soon.
The announcement was made after Srini Veeravelli, EVP, Sonata software, met with KTR in Boston, USA.
Focusing on software development and technology innovation, this will be a collaborative workspace for engineers to work on innovative solutions catering to the needs of a wide range of industries like banking and financial, healthcare and life sciences.
This initiative also provides cross-skilling and upskilling opportunities for youth who are eager to delve deep into the skills and technologies of emerging markets.
Sonata Software, with its global presence and expertise in developing and deploying end-to-end industry-focused solutions on a large scale, has the potential to be a game changer for Nalgonda and Telangana.
Sanofi leadership team meets KTR
Leadership team of Sanofi, a global pharmaceutical giant, briefed the minister about
their aggressive growth plans in Hyderabad. The company had announced a Center in Hyderabad earlier this year with 350 jobs.
The company said that the Hyderabad center was one of their key global 'Talent Hubs'. During the meeting in Boston, USA, the Minister said that the establishment of Sanofi's global hub in Hyderabad further augmented the State's broader life sciences strategy. It represented a significant step forward in Hyderabad's leadership role as it strived to become the 'Health Tech Mecca' of the world.
Pi Health to establish an integrated cancer hospital & research center in Hyderabad
Dr. Bobby Reddy, cofounder of Pi Health met with KTR
in Boston and informed him of the decision to establish an integrated cancer hospital and research center in Hyderabad.
"Delighted that Pi Health has decided to establish a state-of-the-art technology integrated cancer hospital and research center in Hyderabad and is committed to creating opportunities for the incredible healthcare and IT talent in Telangana to fight cancer and drive the future of medicine," said KTR.
First Published: &nbsp 24 May 2023 5:16 PM GMT