Two organ transplants performed on same day at KIMS, Visakhapatnam
This rare procedure was performed on April 22, 2023 at Visakhapatnam's KIMS Icon Hospital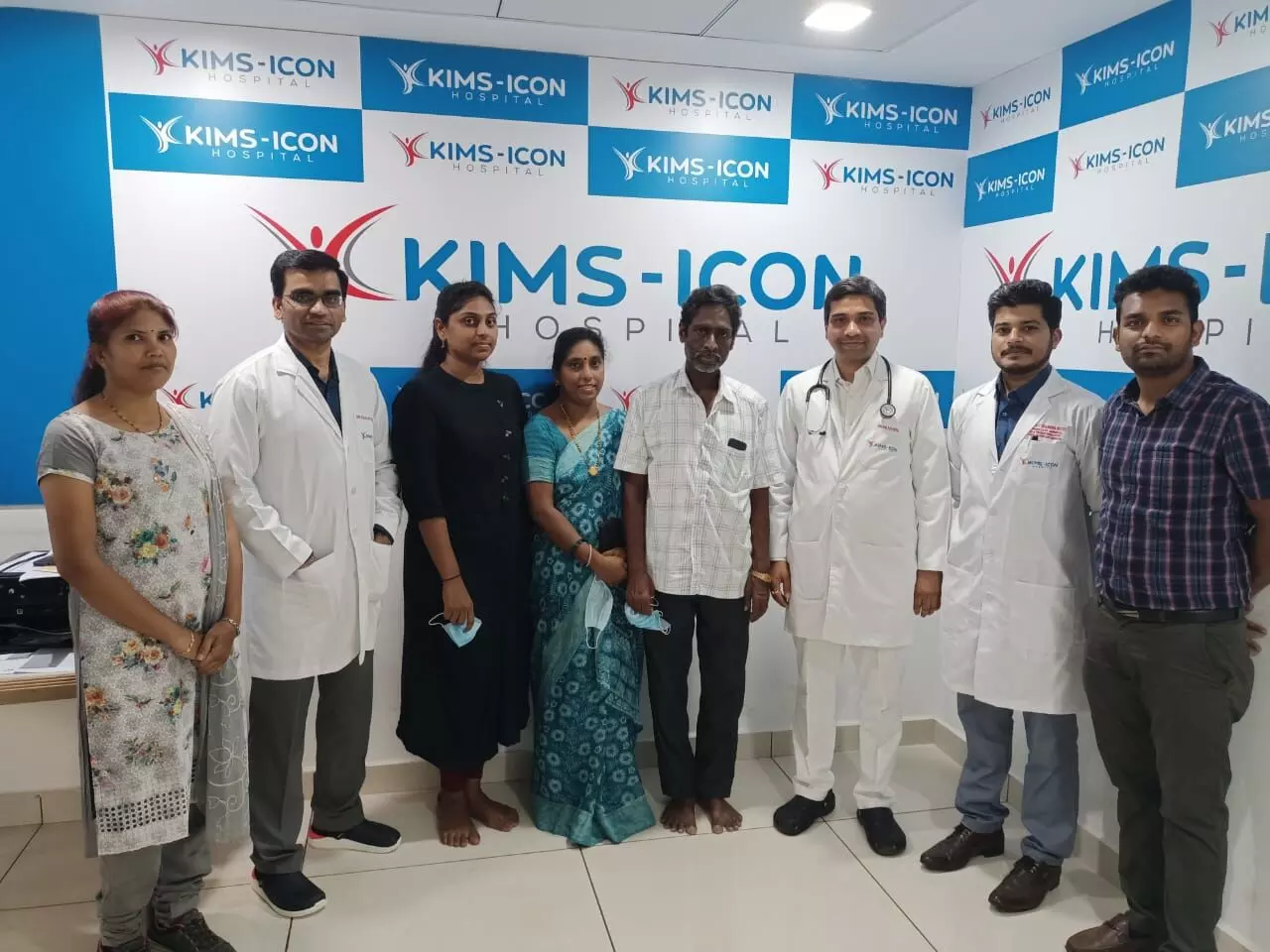 VISAKHAPATNAM: In a remarkable feat in medical history, the KIMS, Visakhapatnam has performed a double organ transplant to save a patient. The specialists at KIMS not only recommended two organ transplants on the same person in quick succession, but also actually completed the procedure successfully.
A 50-year-old businessman, an Amalapuram native, approached KIMS after being diagnosed with liver cancer, Cirrhosis secondary to hepatitis C Virus, and chronic Kidney disease.
Dr. Chalapathi Rao Achanta, gastroenterologist and nephrologist Dr. R. K. Mahesh of KIMS icon hospital explained the case: "The patient's liver was badly damaged due to liver cancer, Liver Cirrhosis due to hepatitis'c infection, and he also had kidney failure which did not improve with medical management."
The medical specialists at the hospital determined that a double organ transplant was the only way to save the patient. Finding organs, on the other hand, was another challenge.
"With his life in danger, we needed to find a donor as soon as possible. Thankfully, we were able to obtain a kidney and a liver from a brain-dead donor in Srikakulam and they were transplanted on the same day. It was providence that we were able to find an organ donor for the surgeries, which were his only chance of survival. Performing it at the most appropriate time saved the patient's life," the doctor explained.
This rare procedure was performed on April 22, 2023 at Visakhapatnam's KIMS Icon Hospital. The expert team that performed these surgeries included liver transplant surgeons Dr. Ravichand Siddachari and Dr. Sachin Daga, Dr. Muralidar Nambada, Dr. Ravi Chandra Reddy, kidney transplant surgeons Dr. Umamaheswara Rao and Dr. Murali Krishna Padhyla, gastroenterologist Dr. A. Chalapathi Rao Achanta, and nephrologist Dr. R.K. Mahesh.
"Following the successful surgeries, the patient recovered quickly and went home 10 days later. His liver and kidney are now functioning normally," the doctor said.
Dr. Satish Kumar Pethakamsetty, Managing Director of KIMS Icon Hospital, said that organ transplant surgeries were often performed at the hospital due to the facility's state-of-the-art technology and devoted team. He noted that the team had performed 16 liver transplants and roughly 120 kidney transplants thus far, saving the lives of many hospital patients.Furthermore, conducting a double organ transplant twice in this facility has provided immense satisfaction to the team.
"We should appreciate the vision and efforts of the Andhra Pradesh Jeevandan committee in raising awareness about organ donation and our state's successful organ transplantation programme," he said.
First Published: &nbsp 26 May 2023 2:06 PM GMT