US-based Ocugen to open R&D center on gene, cell therapies in Hyderabad
The center would make a positive economic impact in the region and provide a significant number of jobs over the next few years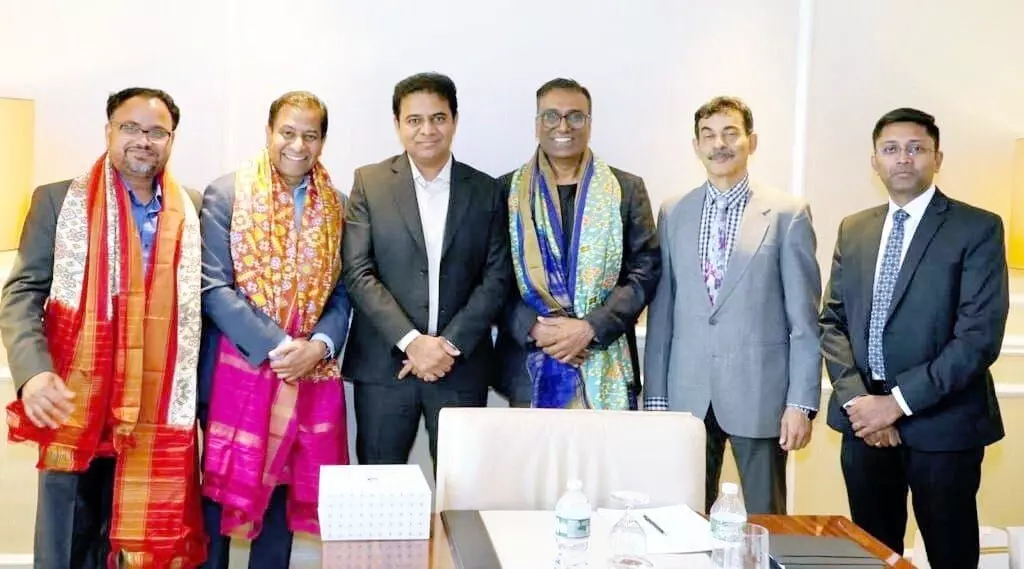 HYDERABAD: Ocugen intends to establish a research and development (R&D) centre in Telangana that will focus on creating cutting-edge modifying gene therapies, regenerative cell therapy, and vaccines to address unmet medical needs. The center would make a positive economic impact in the region and provide a significant number of jobs over the next few years.
The announcement was made after Minister KT Rama Rao's meeting with Dr. Shankar Musunuri, Chairman, CEO and Co-founder of Ocugen; Dr. Arun Upadhyay, Chief Scientific Officer, Head of Research, Development and Medical at Ocugen; and Dr. Ajay Potluri, In Charge of the Ocugen India Project in New York. M. Jayesh Ranjan IAS, Principal Secretary, Industries and Commerce Dept. and Shakthi M. Nagappan, Chief Executive Officer, Telangana Life Sciences were also present during the meeting.
"We look forward to expanding operations in India and beginning to transform Ocugen into a truly global organization as we pursue new approaches to medicine—being bold and thinking differently with patients at the center of everything we do. We are grateful for this opportunity, and it has been a pleasure collaborating with the Telangana authorities," said Dr. Shankar Musunuri, Chairman, CEO and Co-founder of Ocugen.
Minister K T Rama Rao said, "I'm delighted to welcome Ocugen to Hyderabad. This is a testament to the vibrant biotech industry and a strong academic base in the state that has attracted both local and international players to establish research and development centers. As part of our 2030 vision of becoming a USD 250 billion ecosystem, we had identified complex manufacturing and advanced therapeutics as a key pillar for growth and I believe this investment focused on growth and I believe that this investment focused on cell & gene therapy is strategic in nature to drive growth in emerging areas of Life Sciences."
Based out of Pennsylvania, United States, Ocugen, Inc. is a biotechnology company focused on discovering, developing, and commercializing new treatment options to improve health and offer hope for patients across the globe through courageous innovation.
Ocugen's novel R&D pipeline encompasses three unique platform technologies focused on ophthalmology, orthopedics, and infectious diseases. The Company's breakthrough modifier gene therapy platform has the potential to treat multiple retinal diseases caused by mutations in multiple genes with a single product unlike traditional gene therapies. Currently, Ocugen has three modifier gene therapy programs OCU400 (to treat retinitis pigmentosa and Leber congenital amaurosis), OCU410 (for dry AMD), and OCU410ST (for ABCA4-related retinopathies).
"Establishing an R&D center in India creates a niche for discovering next generation regenerative and genetic medicines to address unmet medical needs. I am excited to work with the strong scientific and medical communities in Hyderabad while we continue to advance the development of therapeutic candidates at Ocugen. Our future colleagues in India will be a valuable addition to the Ocugen team," said Dr. Arun Upadhyay, Chief Scientific Officer, Head of Research, Development and Medical at Ocugen.
Dr. Ajay Potluri, In Charge of the Ocugen India Project, said, "We are thrilled to establish our R&D facility in Telangana State and are deeply grateful for the unwavering support and various incentives offered by the minister and his team. Their commitment to going above and beyond to ensure the success of this project reflects the spirit of innovation and collaboration in the region. We look forward to contributing to the thriving biotech ecosystem in Hyderabad and working together to potentially bring transformative therapies to patients in need."
Hyderabad is striving to be "the knowledge capital of the world's life sciences industry." The city already serves more than 1,000 global life sciences companies in their innovation journey, including the top 10 pharma companies. Four of the top 10 global innovator companies now have a direct presence in Hyderabad through their dedicated centers. These centers drive core R&D, digital and engineering activities, thereby contributing to bringing lifesaving cost-effective therapies and devices to patients worldwide.
First Published: &nbsp 18 May 2023 1:26 PM GMT