US remains top choice for Indian students pursuing higher education abroad
Consular officers across India issued 95,269 visas in the F, M, and J categories, an 18 percent increase from 2022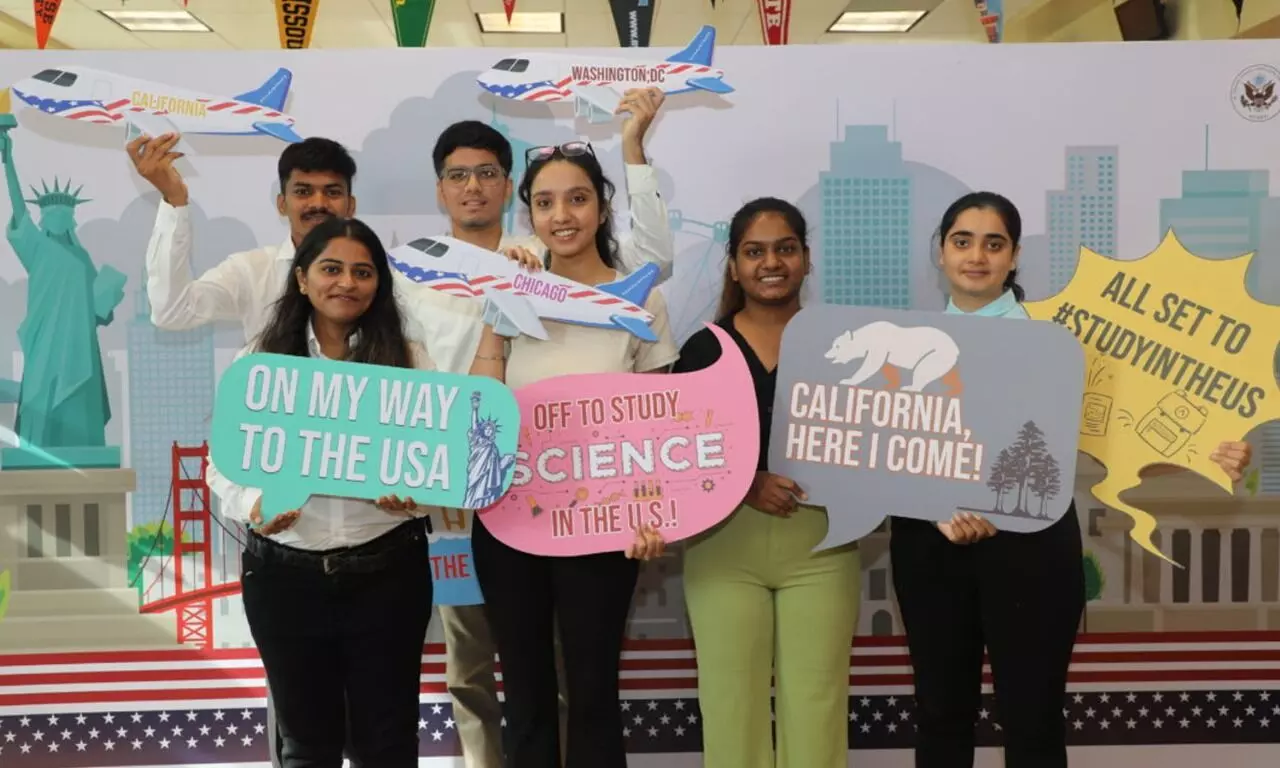 HYDERABAD: For the third year in a row, a record number of Indian students travelled to the United States to pursue higher education, according to the Open Doors Report (ODR) released on Monday.
According to the Open Doors Report (ODR), the number of international students from India to the United States increased by 35 percent in the academic year 2022-23, reaching an all-time high of 268,923 students.
Indian students account for more than a quarter of the over one million international students studying in the United States.
The release of the Open Doors Report marked the beginning of International Education Week (IEW), which celebrates the global benefits of international education and exchange.
According to Open Doors Report data, India surpassed China to become the largest source of international graduate students in the United States for the first time since 2009/10.
Indian graduate students increased by 63 percent to 165,936 students, an increase of nearly 64,000 students over the previous year, while Indian undergraduate students increased by 16 percent.
According to ODR data, India also has the highest number of people (69,062) who pursued optional practical training (OPT), a type of temporary work permission that allows eligible students to gain real-world experience in their field of study.
The U.S. Embassy and Consulates in India issued record high numbers of student visas during the main student visa season of June-August 2023. Consular officers across India issued 95,269 visas in the F, M, and J categories, an 18 percent increase from 2022.
U.S. Ambassador Eric Garcetti said, "You did it, India! Each and every Indian student in the United States and the families supporting their success deserve recognition for this achievement. The decision to study abroad, and your choice of the United States, represents a valuable investment by you and your families. You are bringing our countries closer together and leading us towards a bright future. We celebrate the strength of the Indian educational system that prepares students to compete globally and look forward to seeing India continue to lead. We also look forward to balancing these record numbers. We want to see equal numbers of women pursuing studies in the United States and see more U.S. students coming to experience all that India has to offer."
The U.S. Department of State provides free virtual and in-person advising services to prospective students at six EducationUSA advising centres throughout India, including two in Hyderabad and New Delhi, as well as centres in Chennai, Kolkata, Mumbai, and New Delhi, to help Indian students find the ideal study opportunity.
All six centers were staffed by EducationUSA advisors who offer accurate, comprehensive, and up-to-date information about opportunities to study in the United States, helping Indian students find the best program and fit from among more than 4,500 accredited U.S. higher-education institutions.
Students and families seeking additional facts about studying in the United States can download the EducationUSA India app, available for free on iOS and Android devices. The app provides the latest information about the college application process and is a quick and easy first step to planning higher education in the United States.
First Published: &nbsp 13 Nov 2023 10:36 AM GMT