Board exam in 12th class, semester, 4-yr degree, no MPhil: New education policy in a nutshell
The Union Cabinet has approved the New Education Policy, which infuses wholesome and qualitative changes in the system after 34 years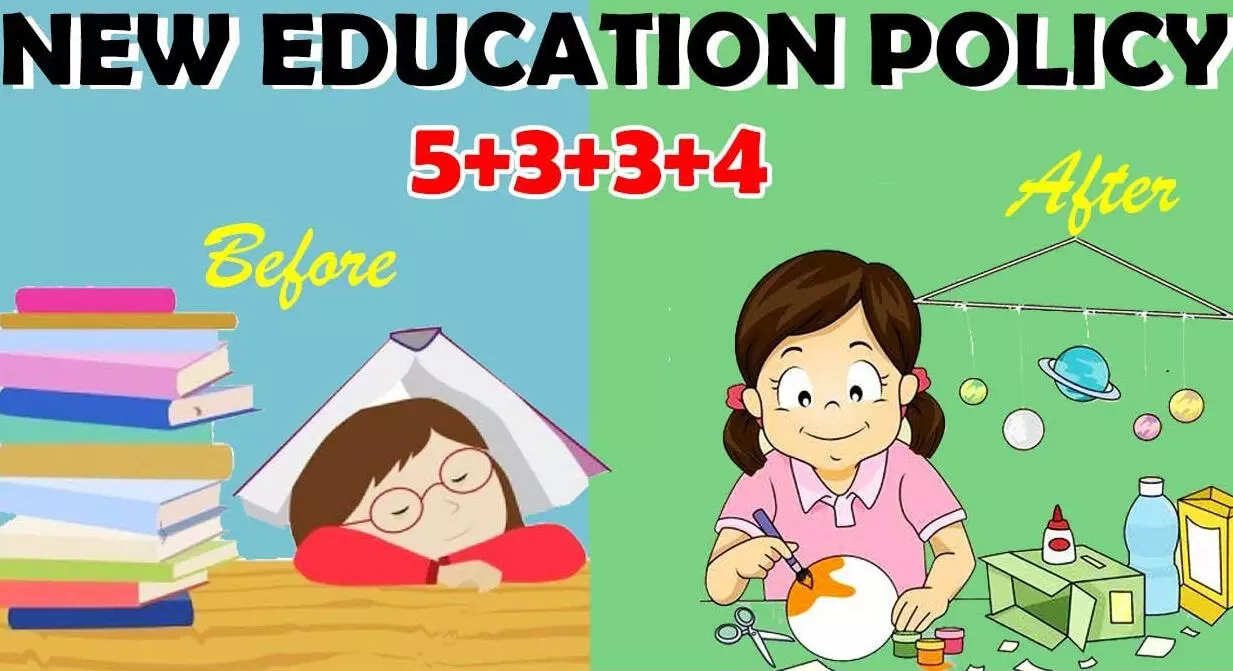 HYDERABAD: The Union Cabinet has approved the New Education Policy, which infuses wholesome and qualitative changes in the system after 34 years. Here is a look at the most significant features of the new education policy:
5 years of Fundamental (Primary) Education:
♦ Nursery at the age of 4 Years
♦ Jr KG @ 5 Years
♦ Sr KG @ 6 Years
♦ 1st Standard @ 7 Years
♦ 2nd Standard @ 8 Years
3 Years of Preparatory Education:
♦ 3rd Standard at the age of 9 Years
♦ 4th Standard @ 10 Years
♦ 5th Standard @ 11 Years
3 Years of Middle Education:
♦ 6th Standard at the age of 12 ​​Years
♦ 7th Standard @ 13 Years
♦ 8th Standard @ 14 Years
4 Years of Secondary Education:
♦ 9th Standard at the age of 15 Years
♦ Standard SSC @ 16 Years
♦ Standard FYJC @ 17 Years
♦ Standard SYJC @ 18 Years
Other important features:
♦ No more board examinations in 10th Standard.
♦ Board examinations will be in 12th class only.
♦ MPhil will be done away with.
♦ The College degree will be of 4 years.
♦ Now students up to 5th standard will be taught in their mother tongue, local language and national language only.
♦ The rest of the subjects, even if it is English, will be taught as subjects.
♦ Also, examinations will be held in the semester system from 9th to 12th class.
♦ Schooling will be taught under the 5+3+3+4 formula.
♦ The college degree will be of 3 and 4 years. In a nutshell, the certificate after the first year of graduation, diploma after the second year and degree at the end of the third year.
♦ The 3-year degree is meant for students who do not wish to pursue higher education.
♦ Students aiming for higher education will have to do a 4-year degree.
♦ Consequently, students going for a 4-year degree will be able to complete an MA in one year.
♦ Since MPhil has been scrapped, post-graduate students can now go for a PhD straight away.
♦ In another significant change, students will now be allowed to do other courses in between.
♦ The gross enrollment ratio in higher education will be 50 percent by 2035.
♦ Also under the new education policy, a student wishing to do another course in the middle of a course, can go for the second one by taking a break from the first course for a limited period of time.
♦ Graded academic, administrative and financial autonomy is among the many reforms in higher education brought in as part of the new education policy.
♦ Also, e-courses will be commenced in regional languages.
♦ Virtual Labs are going to be developed.
♦ A National Educational Scientific Forum (NETF) will be launched.
♦ Uniform rules for all the institutions – government, private and deemed – in the country.
♦ The earlier education policy has been replaced with the New National Education Policy.
♦ The Ministry of Human Resources will henceforth be known as the Ministry of Education.
♦ The national education policy will make education universal, barring medical and law studies.
♦ The earlier pattern of 10 plus two has been done away with. Under the new policy, the pattern of 5+3+3+4 will be followed.
♦ There will no more be Science, Commerce and Arts streams.
♦ Students are given the flexibility to study accounting along with physics or arts, if they wish so.
♦ Computer languages will be taught to students as early as in the 6th standard.
♦ All schools will be equipped with digital technology.
♦ All types of content will be translated into regional languages while virtual labs will be built.
♦ The new National Education Policy will cost the country 6 percent of the GDP for its implementation.
♦ A student can study Sanskrit and other ancient Indian languages.
♦ Board exams will be held twice a year to relieve the student of the stress.
♦ Artificial Intelligence software will also be used to facilitate learning more effectively.
♦ The National Council of Educational Research and Training (NCERT) will come up with the national curricular framework for schooling.
♦ Several institutions will be established to carry out the National Education Policy.
♦ Specific emphasis on the children's education and talents.
First Published: &nbsp 25 April 2023 11:36 AM GMT