Telangana emerges most successful startup state: KTR
IT and Industries Minister KTR participated and spoke at the launch of the 8th batch of the Advanced Management Programme in Public Policy in ISB at Mohali on Friday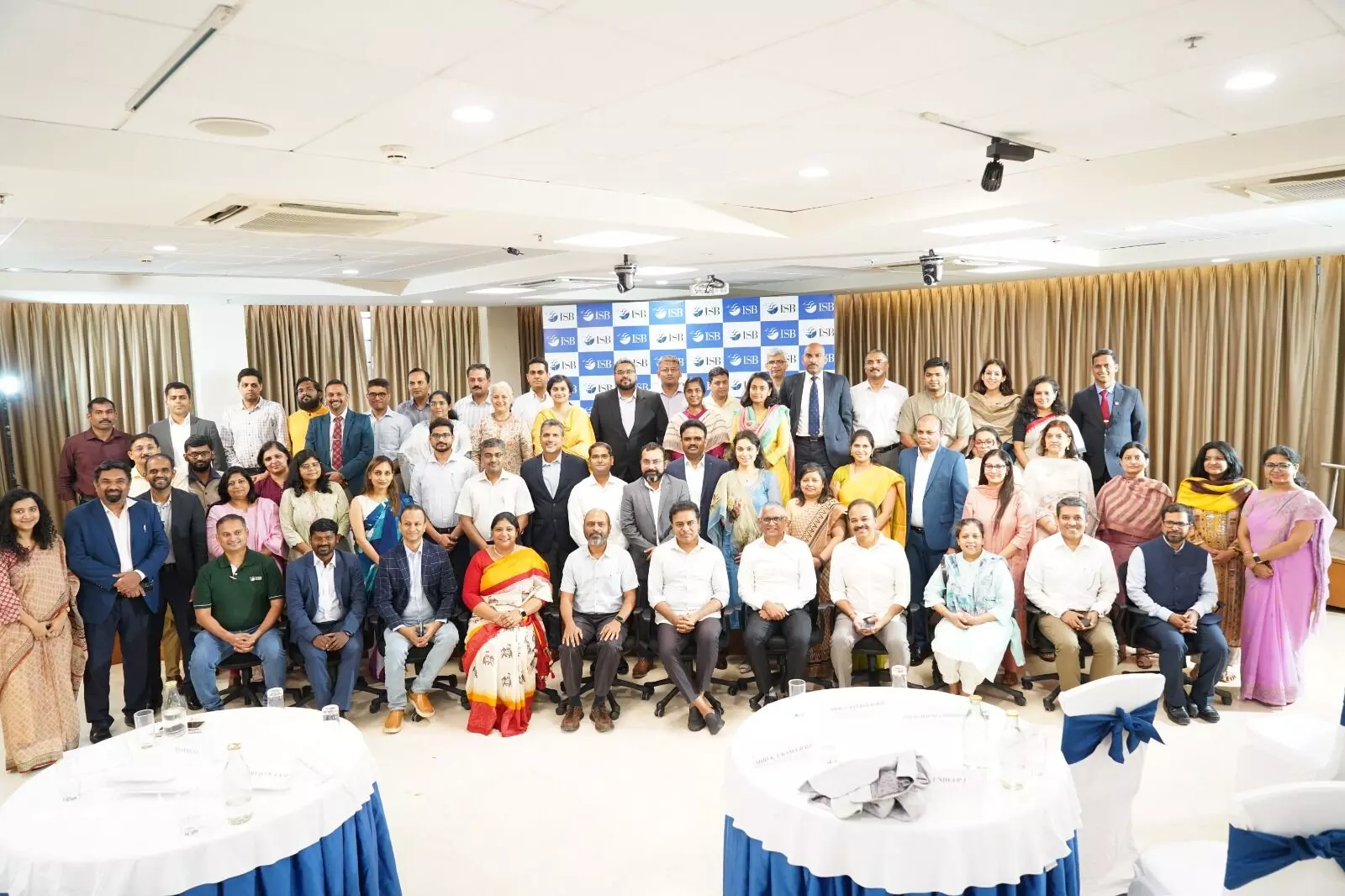 MOHALI: While the world is discussing China's rapid construction model, Telangana's Kaleshwaram Project, the world's largest lift irrigation project, was completed in just four years, demonstrating Telangana's commitment to progress and development, said IT and Industries Minister K.T. Rama Rao on Friday.
IT and Industries Minister K.T. Rama Rao participated and spoke at the launch of the 8th batch of the Advanced Management Programme in Public Policy (AMPPP) in Indian School of Business (ISB) at Mohali on Friday. In his inaugural address, Minister KTR shared Telangana's growth journey and recounted his governance experiences.
The Minister explained the phenomenal success achieved by Telangana after the formation of the State, the initiatives that contributed to rural and urban development, Telangana development model, and other aspects. KTR also spoke about Telangana turning into the most successful startup State, the innovation ecosystem created in the State, the leading industrial sectors, and the five revolutions ushered in agriculture and allied sectors.
Giving a quick rundown on how and why Telangana was formed, the Minister said that the State was formed after a protracted struggle and a lot of sacrifices. Backing up his statement that Telangana is the most successful startup state of independent India, the Minister said that the State's Per Capita Income which was Rs 1.12 lakh in 2014, increased to Rs 3.17 lakh this year. This is the highest in the country. He also said that the GSDP of the State increased from Rs. 5.05 lakh crores in 2014 to Rs. 13.27 lakh crores this year.
The Minister mentioned that with innovative policies like TS-iPASS, more than 24,000 industrial clearances were given in the past eight years. "More than 50 billion dollars investment was raised in the State and 24 lakh direct job potential was created," KTR added.
Presenting the staggering growth in the technology sector in Telangana, the Minister said that out of 4.5 lakh technology jobs created in India last year, 1.5 lakh were from Hyderabad, which is 33 percent. And this year, 44 percent of total jobs created in India were from Telangana. "In 2014, the total number of jobs in technology in Hyderabad were 3,23,000. As of march this year, it grew to 9,15,000. IT exports from Telangana were Rs. 56,000 crores in 2014, which increased to Rs. 2,41,000 crores this year," KTR said.
Stating that the Life Sciences sector has been the strength of Hyderabad and the State, KTR said that 9 billion doses of vaccines are produced from Hyderabad, which makes it 33 percent of global vaccine production. He asserted that by next year, the vaccine production will be 14 billion doses which is 50 in percent of world's vaccine production.
The Minister highlighted that while the whole world is talking about the swift construction model demonstrated by the Chinese, the world's largest lift irrigation project, Kaleshwaram Project, in Telangana was completed in four years. "This accomplishment is a testament to Telangana's commitment to progress and development," he said.
KTR said that India will truly achieve its desire to be a first world country by latching on to the 3'I' mantra: Innovate, Infrastructure and Inclusive growth. He further said that innovation is not just about technology and it need not happen only in business school or a university. Innovation is about day to day lives, how legacy processes are disrupted and come out with something truly unique.
KTR said that the Central government should proactively explore and draw insights from successful policies implemented in various states across the country. He added that learning from effective practices can greatly contribute to the overall progress.
Answering a question on career in politics, KTR said that to attain success, sacrifices are imperative, and this truth applies universally, even to politicians. "Opting for a career in politics presents a landscape filled with challenges. The realm of politics calls for professionals hailing from diverse backgrounds to contribute their expertise," he said.
The Minister observed that if young individuals embarking on a political journey engage in politics at the grassroots level, their success is assured. Speaking about his personal experience, KTR said that being born into a political family, he had the opportunity of participating in the grassroots activities, especially in the Telangana movement. "In the political arena, winning elections proves more demanding than cracking the UPSC examination," he added.
Speaking on present day leadership qualities, KTR said that leadership means learning every day. "Successful politics is always about one thing. If you as a leader are able to offer the hope that people's tomorrow is better than today, then you are going to survive, people are going to vote and you'll come back. As they say, a leader is a dealer of hope," the Minister added.
First Published: &nbsp 11 Aug 2023 3:48 PM GMT