"I want to be decent politician; KTR great leader, would've been a movie director, if not in politics: Korutla BRS candidate Dr Sanjay
Following the footsteps of my three ideal leaders -- 1. The big man KCR; 2. My father KVS; and 3. My friend and role-model KTR.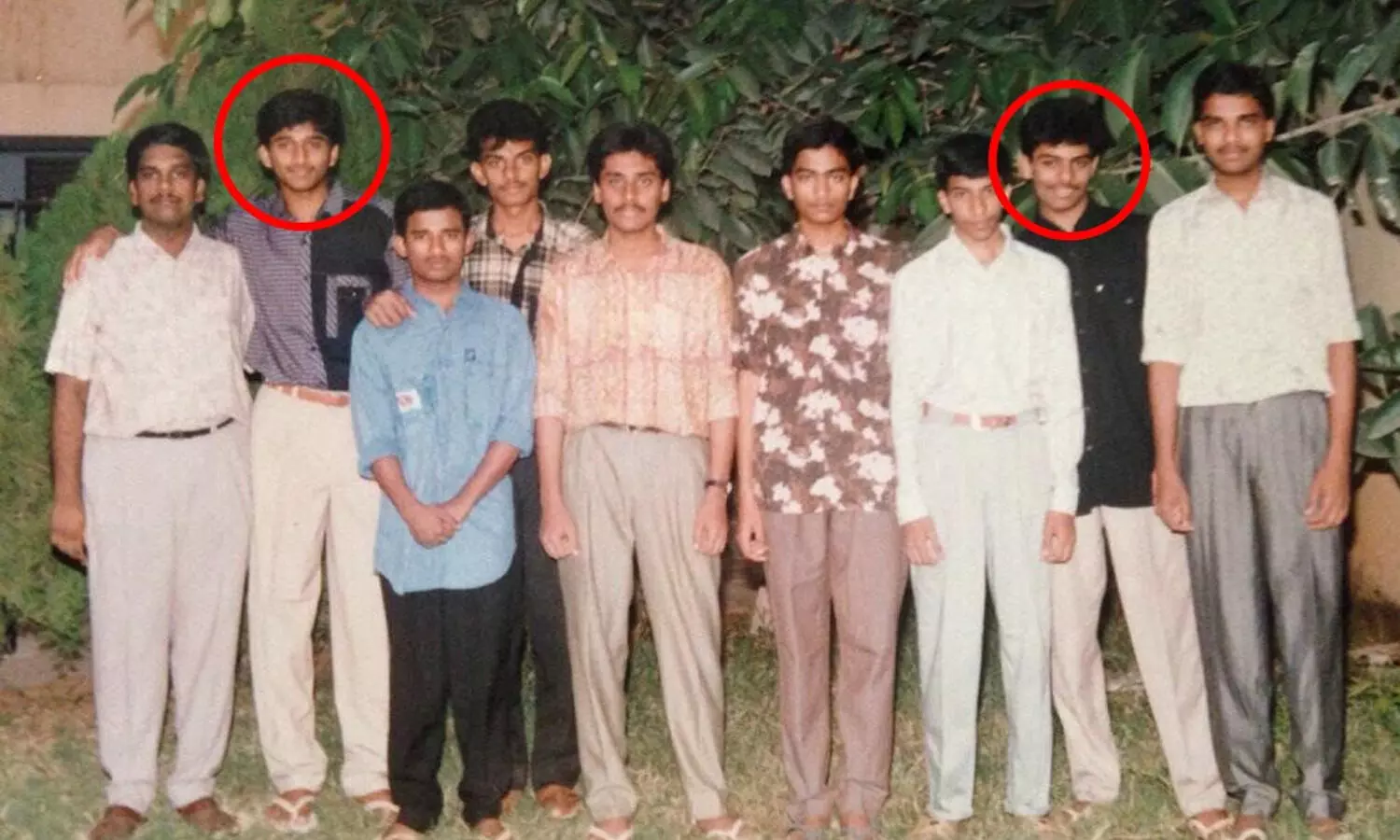 "I want to be a decent politician; not one of those sleazily talking politicos," said Dr Sanjay Kalvakuntla, renowned spine surgeon, who is fielded by the Bharat Rashtra Samithi (BRS) from Korutla Assembly constituency of Jagtial district, replacing his father Kalvakuntla Vidyasagar Rao, who chose to hang up his boots factoring in health and age.
After practicing as a superspecialist spine surgeon for over a decade, Dr Sanjay is gearing up to take the mantle of his father and handle the responsibility that befell him. Taking a few minutes from his hectic schedule of a rally and then a press conference, Dr Sanjay spoke to NewsTAP on a wide range of subjects away from the mundane entry-level politician's plans ahead.
He is incidentally a childhood buddy of Telangana's IT Minister and working president of the BRS K T Rama Rao. In an interesting conversation, he said: "KTR, who excels in whatever he does, would have become a movie director, if he has not taken the plunge into politics."
Which year have you been together with KTR and where was he your classmate?
We studied Intermediate together in 1991-93 with Biology, Physics, Chemistry (BiPC) as electives in Vignan College, Guntur. That is why he went onto do a post-graduation in Microbiology and later Biochemistry.
Is your father, Vidayasagar Rao, a politician from the start?
No. He wasn't. He was a big contractor and was into that business. Metpally Assembly constituency used to be represented by the Bharatiya Janata Party. Former Union Minister of State for Home Affairs Ch Vidyasagar Rao was the BJP MLA from our constituency. Most times, they were in alliance with the Telugu Desam Party (TDP) and the seat used to be left for him to contest.
When did he take the plunge into politics?
First time, when the two parties fell apart in 1998, TDP supremo N Chandrababu Naidu fielded my dad as the TDP candidate, but interestingly both the BJP and the TDP lost that election. A left party nominee Komireddy Jyothakka won from Metpally.
In the subsequent year, there was a simultaneous election to the Assembly and Lok Sabha when Mr Vidyasagar Rao was elected as the MP from Karimnagar Parliamentary constituency. My father had contested the 2004 elections as an independent unsuccessfully. Both times, he had lost by a slender margin of around 1,000 votes. He joined the Telangana Rashtra Samithi (TRS) in 2008 and contested on behalf of the party in 2009. By then, the delimitation was effected and Korutla became a constituency and my father was elected. The TRS members resigned in 2010 and sought re-election in an effort to press for a separate Telangana. He was re-elected from Korutla. And, there is no looking back. He won on behalf of the TRS in 2014 and '18 too.
How did you get into medicine and when did you start practising?
I was always focussed on my studies. My dad always motivated and also insisted that I study well. After Intermediate, I went to B N Patil Medical College for my MBBS and then to JSS in Mysore for MS in Orthopaedics. In 2005, I went to South Kores, then to Singapore and then Denmark. Soon after completing specialisation in spine surgery there, I began practicing in Yashoda Hospital, Secunderabad. Until recently, I was the Chief Spine Consultant there.
So, now you have decided to show some spine and enter the public life…
(He smiled and said). I now want to straighten up a lot of spines of those in the Opposition.
After becoming a superspecialist and practicing for long, and also earning a name and fame, what made you to drift away into politics?
I have been helping my father in the electoral politics since 2004. I used to offer healthcare and medical services to a lot of people. I used to organise medical camps in our constituency. During Covid, my father suffered a serious health problem. Thus, he wanted me to take the mantle and enter politics. A lot of my constituents too asked me and persuaded me to enter active politics. My love for my motherland and taking care of my people with greater responsibility made me seriously consider the idea and I have decided to join politics.
How do you want to go about as a politician?

By exactly following the footsteps of my three ideal leaders -- 1. The big man KCR garu; 2. My father KVS; and 3. My friend and role-model KTR. If I can imbibe the qualities of all the three, I will be a superman. KCR is a visionary; My dad is a workaholic – he used to work from 6 am to 11 pm and he used to ignore his grub even though he is a diabetic. And, KTR, the new-age politician who made an amazing difference to the lives of youngsters.
I want to be a decent politician; not one of those sleazily-talking politicos. I want to make a difference by maintaining my dignity and decency as always.
What's your agenda if you are elected as an MLA from Korutla?

I am confident that the people of my constituency will repose faith in me and elect me as their representatives. Thanks to the vision of Hon'ble CM, already there is an excellent infrastructure. There is an agriculture boom, thanks to the massive Kaleshwaram project. I want to provide a nice direction to the youth of rural areas by bringing in some food processing industries and augment the strengths of the youth in the constituency. Already there is an IT company with a headcount of 100 that is operational in Korutla.
Tell me about your impression about KTR…
KTR is the most humblest and nicest person in the college. You never find him hurting someone. Most of my classmates and college friends are still surprised and also keep on asking me "How did Ram (KTR) – a kind and nice guy -- become a politician?" In fact, by then, his dad was a senior legislator, but Ram never demonstrated those airs.
As a student, he was the most intelligent guy. The kind of scholarship he had on subjects, including languages, has always been amazing. He is very good at Sanskrit, English, Hindu and, of course, Telugu. His command over these languages is amazing. He's basically a very well-read student. Ram was the most humblest and always respected his classmates and friends.
What would KTR have become, if he had not entered politics?
Ram is a movie freak. He had a lot of understanding about movies of all languages. He surely would have become a movie director. He watches even ordinary movies. He critiques movies so well as he has an in-depth knowledge of movies.
Ram is a good boy and he is my friend and I have to be a good boy. I cannot be otherwise. He always tells us to work hard.
What is that one thing you immediately want to do soon after election as an MLA?
Everything is pretty much done in the last 10 years. I am actually looking for what is left to be done. I realise that some more is to be done on the housing front. Thanks to Gruhalakshmi scheme, I am sure I will complete the leftover tasks also.
Are you aspiring to be in the next Cabinet?
Nope. Certainly not. It's too far-fetched for me. I don't think I am anywhere near that. I am still a learner. I will be happy to serve the people of my constituency.
Before signing off tell me how your family is taking this decision?
They are coping with it. They are used to my busy schedules as a doctor. My wife, Deepthi, is a business woman and my daughter is in 12th grade and son in 8th.
Thank you doctor. Wish you all the very best in your new journey.
First Published: &nbsp 24 Aug 2023 11:30 AM GMT