Republic day deals that you can't miss online
These online stores have deals on a wide range of things, including clothing, footwear, groceries, household appliances, and children's clothing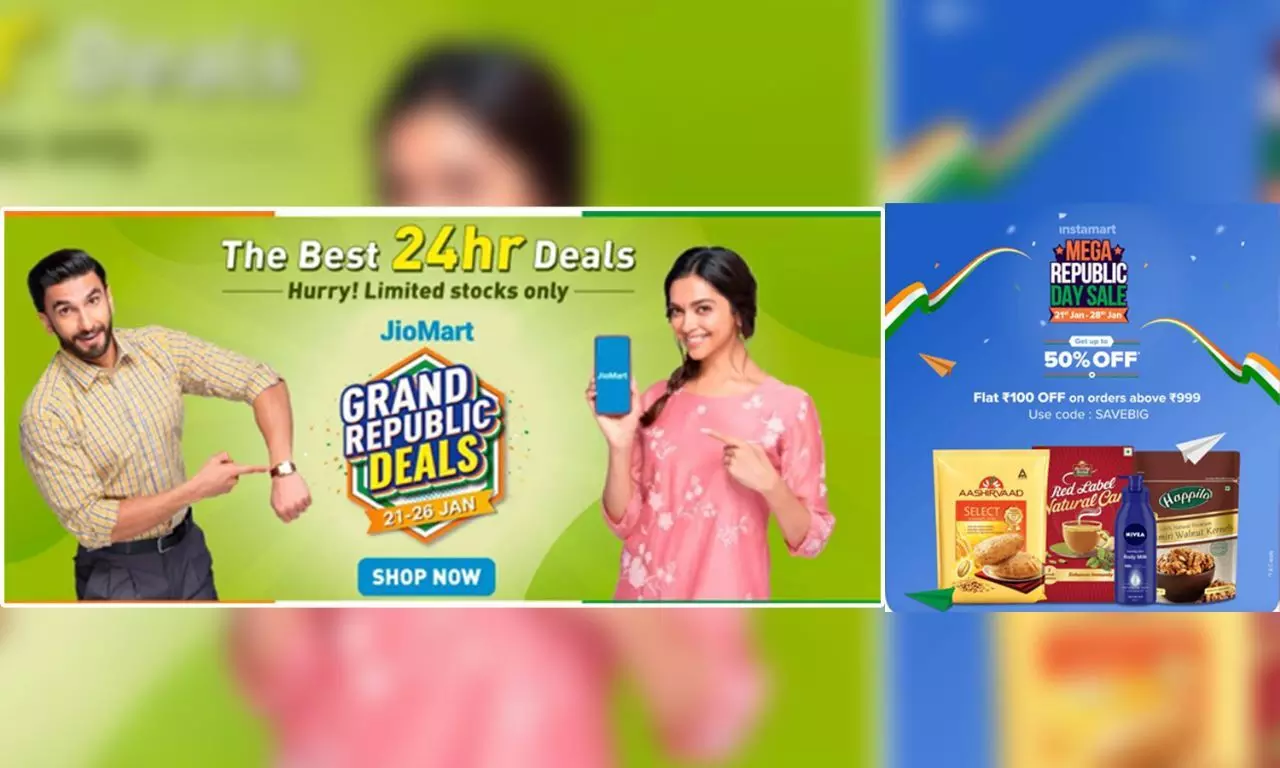 HYDERABAD: With Republic Day just around the corner, online retailers are showering discounts and deals on their most valuable customers. Popular shopping apps like Amazon, Swiggy, Instamart, and Jio Mart are aiming to attract customers by offering 50–70 percent discounts in honour of the 74th Republic Day.
These online stores have deals on a wide range of things, including clothing, footwear, groceries, household appliances, and children's clothing.
Here are their top offers:
JioMart
JioMart is having a 'Grand Republic Sale' on this Republic Day #OnPublicDemand. JioMart is offering up to 70 percent off on mobile phones and accessories, 50 percent off on food, 50-80 percent off on fashion and lifestyle products, 80 percent off on electronics and appliances, and up to 80 percent off on home and kitchen appliances.
Customers can shop directly from JioMart apps by installing the app on their phones or other devices if they haven't yet. From January 21 to 26, 2023, customers can enjoy up to 10% off up to Rs 100 on a minimum order amount of Rs 250.
Daily Essentials
JioMart has a variety of deals on daily necessities like biscuits, tea, chocolates, cold drinks, noodles, diapers, sports nutrition, toothpaste, soaps, shampoos, deodorants, and detergents. Biscuits, Tea, Sports Nutrition goods, Diapers, Noodles, Toothpastes, Shampoos, Deodrants are all 50% discount, while soaps and chocolates are 33% off, and cold beverages and detergents are 25% off.
JioMart is also providing a 100 percent instant discount to clients who transact on such as Bank of Baroda (BoB), Federal Bank, ICICI Bank, and Kotak Mahindra Bank. ICICI Bank offers credit cards, while Kotak offers apply to credit, debit, and EMI transactions. All discounts are available until January 26, 2023. Enjoy the Grand Republic Sale!
Swiggy Instamart deals which you can't miss
Swiggy Instamart is having a 'Mega Republic Day Sale' from January 21-28, 2023 that you won't want to miss. Swiggy is offering 50 percent off their biggest sale ever, as well as a flat Rs 100 off orders exceeding Rs 999. It has a variety of deals on fruits and vegetables, including 30 percent off on exotic fruits and vegetables, 30 percent off on cut fruits and vegetables, and an additional 10 percent discount on purchases of veggies over Rs 150. Swiggy Instamart customers can now enjoy a free 1kg onion with any order above Rs 499 today.
Swiggy Instamart also offers a 50% discount on daily essentials such as hair oils, shampoos, and kitchen utensils, as well as a 34 percent discount on items such as perfumes, toothbrushes, and sanitary pads. They are selling ketchup for 30 percent off, biscuits for 35 percent off, diapers for 40 percent off, and detergent for 25 percent off. Check out the Swiggy app for more discounts on over 5,000 products that you can order from 6 a.m. to late at night.
Amazon Great Republic Day Sale 2023
The much-anticipated Amazon Great Republic Day Sale 2023 is now live and will last through the end of the month. Amazon is currently offering huge discounts on a wide range of products, including 60 percent off on mobile phones, up to 84 percent off on home and kitchen appliances, 87 percent off on electronics, 82 percent off on footwear, groceries up to 90 percent, jewellery and luggage items up to 95 percent, and 95 percent off on Amazon brands.
First Published: &nbsp 25 Jan 2023 2:30 AM GMT