Avoid these routes on Dec-21 in view of Christmas dinner at LB stadium
Telangana Chief Minister K Chandrashekhar Rao is hosting a Christmas dinner on the eve of Christmas at L.B. Stadium on December 21,2022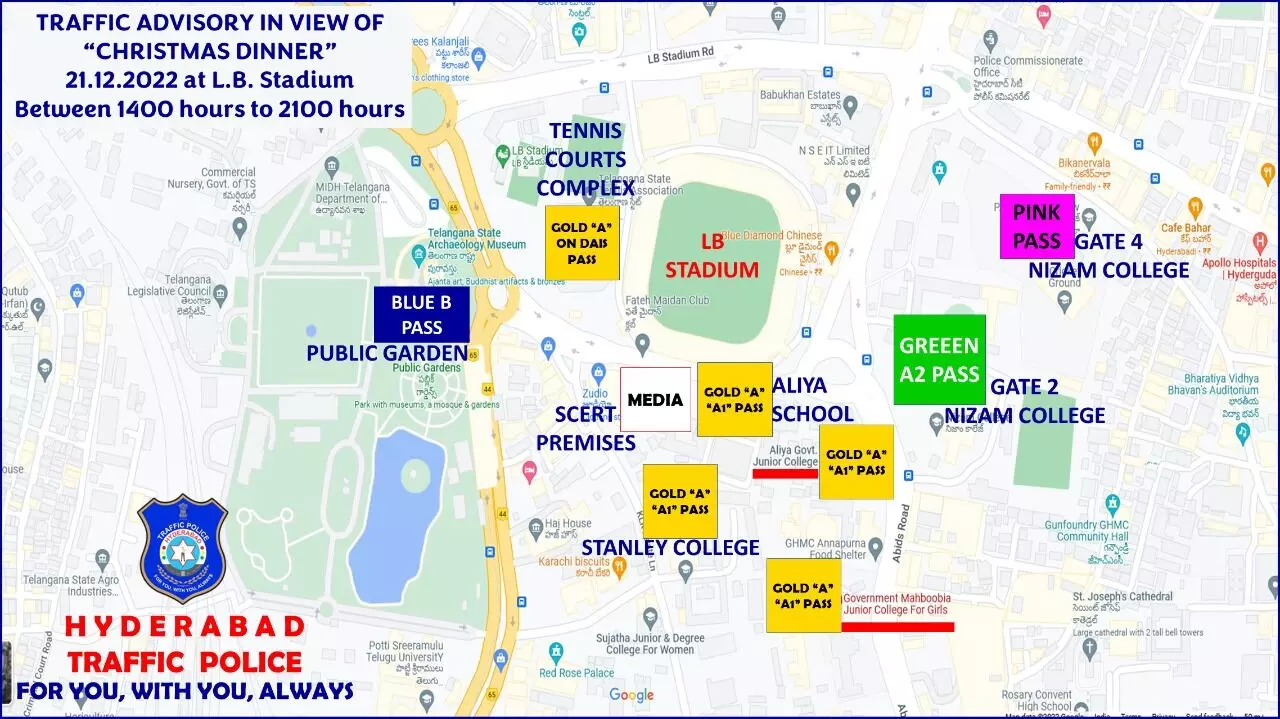 HYDERABAD: The Hyderabad traffic police issued a traffic advisory on Tuesday in connection with a dinner hosted by Telangana Chief Minister K Chandrashekhar Rao on the eve of Christmas at L.B. Stadium from 2pm to 9pm on December 21,2022.
The traffic would be either stopped or diverted at the following places/routes on a need basis
Traffic would be diverted at AR Petrol Pump Jn. (Public Gardens) towards Nampally and Chapel Road from AR Petrol Pump Jn. (Public Gardens).
Traffic from Abids will be diverted away from BJR Circle and towards Chapel Road/Nampally Station Road at SBI Gunfoundry.
Traffic from Basheerbagh to the BJR Statue would be prohibited and will be detoured at Basheerbagh to the King Koti/Old MLA Qtrs road.
Traffic would be diverted at Sujatha School junction towards Nampally Station Road from Sujatha School lane towards Khan Lateef Khan (KLK) building.
Junctions to avoid between 2pm and 9pm on December 21, 2022
Old Police Control Room, Basheerbagh, BJR Statue Circle, SBI Gunfoundry, Abids Circle, A.R. Petrol Pump (Public Gardens), Nampally, KLK Building, Liberty, Ravindra Bharathi, Lakdikapool, Iqbal Minar, Himayath Nagar, Assembly, MJ Market and Hyderguda.
RTC Buses
RTC buses travelling from Ravindra Bharathi to Abids should avoid the L.B. Stadium main gate, which is located in front of the Khan Lateef Khan Building, and instead take a detour at the A.R. Petrol (Public Gardens) bunk towards Nampally Station Road.
Invitees attending the Christmas Eve dinner were asked to consult the enclosed table and map for information on alighting and parking.
The Hyderabad Traffic Police has urged the citizens to take alternate routes to their destinations, avoid the above routes during the specified times, and cooperate with the Traffic Police. If you encounter any difficulties while commuting, please call the Hyderabad Traffic Police Helpline at 9010203626.
First Published: &nbsp 20 Dec 2022 3:13 PM GMT