Cyberabad SHE teams solve 103 harassment cases in July, catch 117 accused
The SHE teams received 103 complaints in the month of July, all of which were addressed and resolved.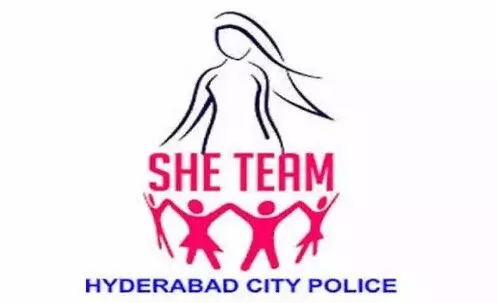 HYDERABAD: The SHE Teams of Cyberabad police are addressing the increasing number of grievances of women, who are coming forward to register their complaints.
They are keeping an eye on the miscreants causing nuisance in public places.
The SHE teams received 103 complaints in the month of July, all of which were addressed and resolved.
The complaints were received from women through different ways – 77 on WhatsApp, one Hawkeye, 10 direct walk-in and 15 emails to women's safety wing.
The SHE teams registered 36 cases out of which 9 were criminal cases and 27 were petty cases. They conducted 495 decoy operations at various places such as bus stops, shopping malls, railway stations, tutorials, colleges, etc. and 56 members were caught red-handed while doing indecent acts at public places and 47 petty cases were booked and remaining were referred for counseling. They conducted 296 awareness programmes and 12,146 people were addressed.
A total of 117 people, including minors and men above 50 years of age, were identified as accused in these cases who were also sent for counselling with their family.
The program of SHE teams was launched on October 24, 2014 with the aim of curbing eve teasing in all aspects, in all forms, at all places, providing safety and security to women in the society. The SHE team would facilitate healthy environment for women's mobility thereby building up confidence in women to fulfill the Telangana Government commitment of safe and secure Hyderabad City to women.
The SHE teams issued a notice which said "SHE teams are just a call or click away. Don't suffer in silence. Victims of teasing, stalking or any other harassment can approach the Cyberabad SHE teams by sending Whatapp messages to the mobile No.9490617444 or Dial 100 in case of emergency or send e-mail to sheteam.cyberabad@gmail.com, twitter: @sheteamcybd, facebook.com Woman & Children Safety Wing, instagram.com womenandchildrensafetywingcybd.
First Published: &nbsp 30 July 2022 11:58 AM GMT