KTR turns messiah for a Peerzadiguda family with three disabled daughters
Thanks to KTR's initiative, a family with three physically challenged daughters in Peerzadiguda was provided with timely financial assistance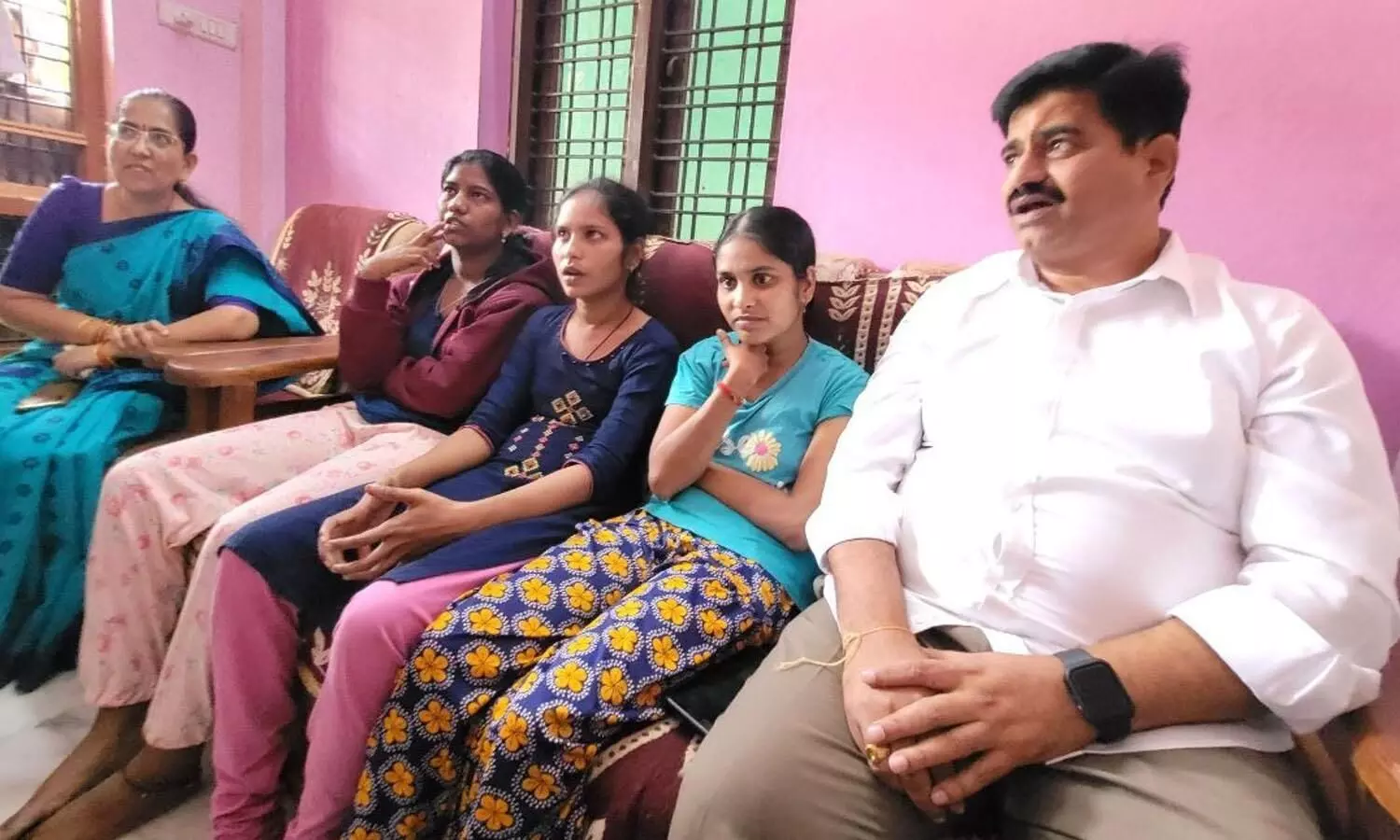 HYDERABAD: Telangana Rashtra Samithi (TRS) Working President and IT Minister Kalvakuntla Taraka Rama Rao (KTR) once again lived up to his reputation as a messiah of the masses, more so for those in distress. Thanks to his initiative and quick response, a family with three physically challenged daughters in Peerzadiguda of Malkajgiri district was provided with timely financial assistance besides assurance of necessary medicare.
KTR's attention was drawn to the heart-rending story of Mullamgari Pentaiah family hailing from Pirzadiguda of Medipally mandal in the district by one Shiva Mudiraj, a Twitter user. He made a passionate appeal to KTR to come to the rescue of the family like he did for many so far.
Pentaiah and his wife Sakuntala have three daughters but as destiny would have it, all the three offspring were born with deformities and thus are physically challenged. The family has so far spent a lot for their treatment only to be pushed into a corner of helplessness due to the steep financial burden. Weeping inconsolably, the three daughters have recently expressed their desire to die as their family was struggling to bear the perennial costs for their constant treatment. They also sought financial help to deal with this crisis.
As he is known for his prompt action, KTR responded to the SoS tweet within 20 hours and that too with visible action on the ground. Reacting on his Twitter handle, KTR said: "Have sent Mayor @JakkaVenkat2020 Garu this morning to their residence along with Dr. Vijaya Lakshmi Garu who is an expert in Genetic diseases. Mayor was kind to provide with an immediate financial assistance of ₹ 1 lakh in his personal capacity. Medical support will be provided."
Peerzadiguda Mayor Jakka Venkat Reddy, on his part, also tweeted, stating that, he along with Dr Vijayalakshmi met the distressed family of Pentaiah at the latter's residence and handed over a cheque for Rs one lakh as financial assistance towards immediate medical contingencies. He also promised that the three physically challenged daughters of Pentaiah would be provided with proper medicare by a team led by Dr Vijayalakshmi.

The speed with which KTR has initiated action and ensured financial assistance has once again earned kudos from the netizens who expressed their admiration with their likes and retweets.

First Published: &nbsp 4 Dec 2022 8:10 AM GMT