Mankind: 1962 Emergency helpline saves 51,000 animals in Telangana in October
Telangana Government, with the intention to protect and provide for animals, introduced '1962' in September 2017, a toll-free emergency helpline number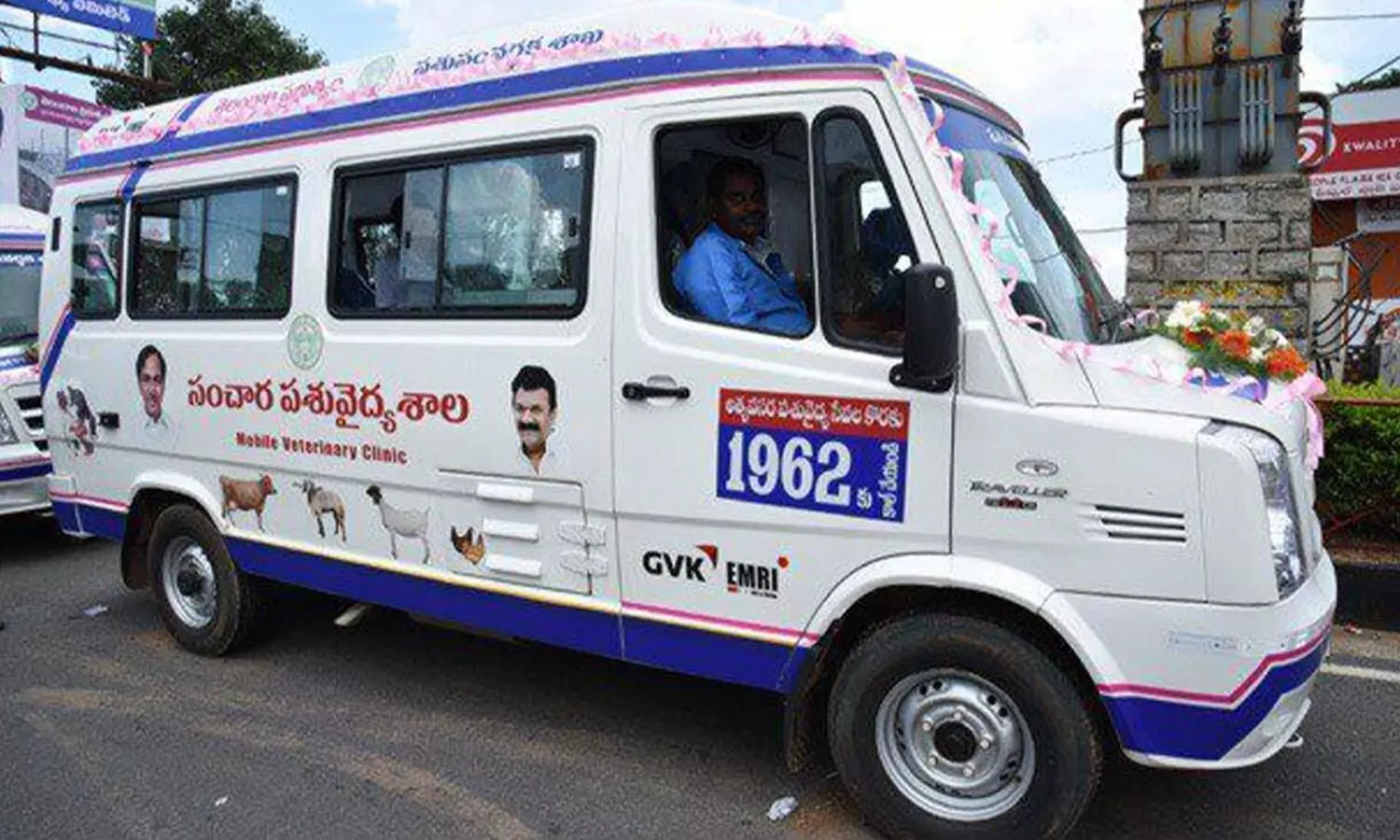 HYDERABAD: Just as humans need medical care, voiceless animals too need medical care. The Telangana Government, with the intention to protect and provide for animals, introduced '1962' in September 2017, a toll-free emergency helpline number which provides medical services to animals.
Government veterinary ambulances rush to animals and provide free medical treatment to animals.
Speaking to NewsTAP, Veterinary and Animal Husbandry Department official Dr Swapna said, "In October 2022, alone, the helpline has helped treat 51,253 animals across the State with an average of around 1,653 animals everyday."
What exactly is 1962?
In September 2017, the Telangana Government introduced '1962' as emergency helpline number for animals, under Pashu Arogya Seva, with 100 advanced Mobile Veterinary Clinics (MVCs). Since then, over 20 lakh animals have been helped completely free of cost.
A 1962 helpline number respondent said, "1962 is an emergency medical service for animals. Not just livestock like cows, buffaloes, goats and sheep, the helpline provides services to all domestic animals including dogs, cats, donkeys, monkeys, horses, camels, poultry, etc. Most common kinds of cases are accidents, snake bites or dehydration. Be it pets or stray animals, we provide treatment free of cost."
He said that the ambulance is sent only if someone takes ownership of the animal, not meaning adopting or taking it home, just be with it throughout the treatment process. "Passerbys inform us about an injured or ill animal, when we reach the spot neither the informer, nor the animal is present. That is why we insist that the public take ownership of the animal before informing us."
Is it only in Telangana?
The helpline number was introduced first in September 2016 in Tamil Nadu as Animal Medical Mobile Ambulance (AMMA) services by Late J Jayalalitha. The ambulance helped in carrying livestock to nearby veterinary hospitals or providing first-aid.
In 2017, 1962 was introduced as Pashu Ambulance Service (PAS) in Telangana by the newly formed Chief Minister K Chandrashekar Rao government. Total 100 ambulances were introduced with one MVC for each constituency.
After the success of 1962 in Telangana in just a month, the helpline was introduced in Gujarat in October 2017. The service was named Karuna Animal Ambulance Service (KAAS) and 19 ambulances were launched.
First Published: &nbsp 3 Nov 2022 4:58 AM GMT