Meet RJ Potugadu, Megastar's ardent fan & Ramcharan's favourite RJ
Meet RJ Potugadu, a well-known radio jockey in Hyderabad, who is celebrating his 12th birthday in the radio industry on 91.1 FM today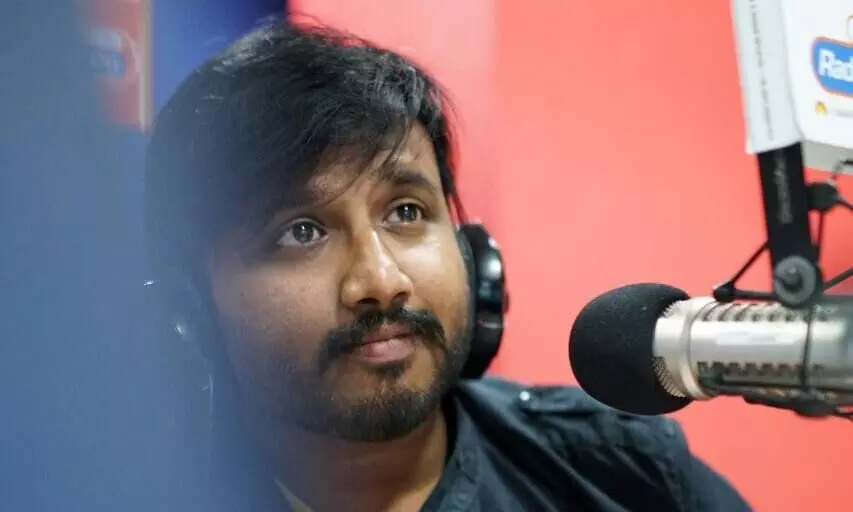 HYDERABAD: Meet RJ Potugadu, a well-known radio jockey in Hyderabad, who is celebrating his 12th birthday in the radio industry on 91.1 FM today, September 21,2022. Tallapaka Dinesh Reddy, also known as RJ Potugadu, is a small-town boy whose voice and speaking abilities have earned him a fame in the city of pearls.
RJ Potugadu, like many dimly buffs on Telugu soil, was inspired by Megastar Chiranjeevi, whose success story inspires everyone to dream big.
He moved to Hyderabad with the intention of making his film debut, but little did he know that life had other plans for him and that he would end up becoming a radio jockey. Surprisingly, Megastar Chiranjeevi, his favourite actor, himself complimented his voice.

RJ Potugadu alias RJ Ghajini entered the world of radio with fears and hopes, but his emotions were and still are genuine, which is how RJ Potugadu made it to 12 years in the industry. With approximately 5,000 film interviews, three India Radio Forum (IRF) awards, and a global award for best radio innovation, RJ Potugadu has inspired a lot of people.

RJ Potugadu, a favourite of Mega Power Star Ramcharan, says he was never a radio listener, but radio gave him everything, including the love of his life, so he is forever grateful to the people of Hyderabad and Tollywood. His shows are known for being bold, caustic, humorous, and witty while still being adored by households.
He began his radio career on Radio Mirchi FM as RJ Ghajini, brother of Rajini. He garnered a lot of affection and acclaim for his nearly four-year-long show, RJ Ghajini. He eventually made a comeback on Radiocity 91.1 FM as RJ Potugadu, and the saga continues.
First Published: &nbsp 21 Sep 2022 5:22 AM GMT