MLC Kavitha donates blood at Vajrotsavam camp in Hyderabad
Telangana Rashtra Samithi MLC Kalvakuntla Kavitha, along with Rajya Sabha member K Kesava Rao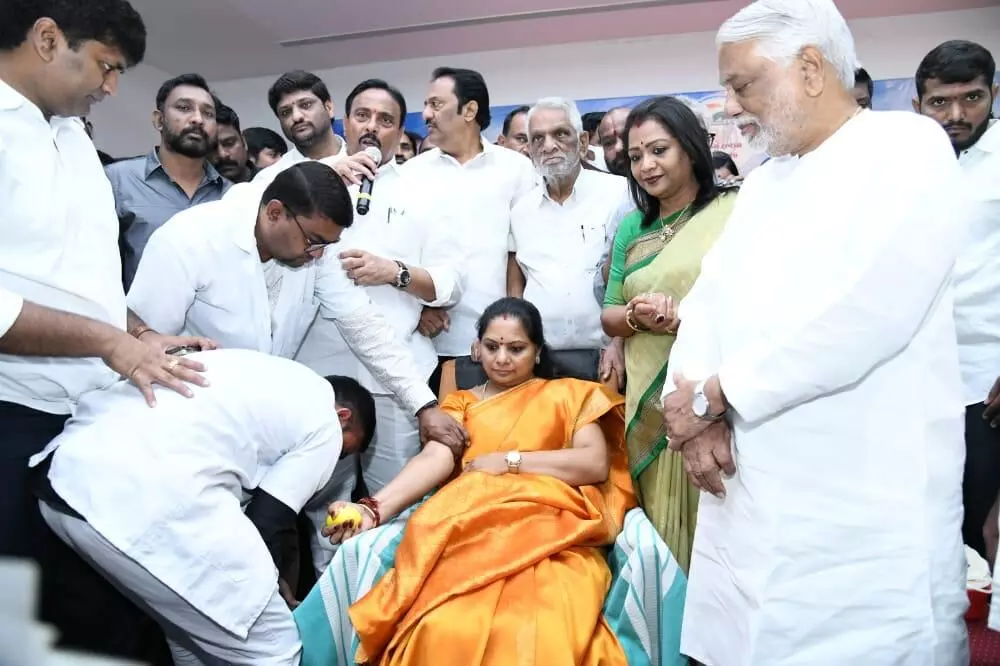 HYDERABAD: Telangana Rashtra Samithi MLC Kalvakuntla Kavitha, along with Rajya Sabha member K Kesava Rao, on Wednesday inaugurated a blood donation camp as part of Swatantra Bharatha Vajrotsavalu celebrations here. Leading from the front, the MLC donated her blood on this occasion.
Addressing the gathering, Kavitha said that poverty was the major obstacle to the development of the country. Unemployment and discrimination based on religion should be eradicated to make the country a role model for the world, she felt.

MLAs Maganti Gopinath, Danam Nagender, Hyderabad Mayor Gadwal Vijayalakshmi, Telangana Foods Chairman Rajeev Sagar, Telangana State Beverages Corporation Chairman Gajjela Nagesh, former Deputy Mayor Baba Fasiuddin, Vilabal Reddy and others participated in this programme.

In a separate event, Telangana Health Minister Harish Rao said that medical staff were conducting blood donation camps at all the health centres and called on the people to participate and make it a success.

First Published: &nbsp 17 Aug 2022 12:43 PM GMT