MNJ to be developed as state cancer centre at Rs.120 cr, beds to be up from 450 to 750
Telangana Health Minister Tanneeru Harish Rao on Saturday flagged off the World Breast Cancer Awareness Walk and Marathon at Jalavihar on Necklace Road
HYDERABAD: Telangana Health Minister Tanneeru Harish Rao on Saturday flagged off the World Breast Cancer Awareness Walk and Marathon at Jalavihar on Necklace Road on Saturday, which is aimed to create awareness of Breast Cancer.
Speaking on the occasion, Harish Rao Rao emphasised the importance of Breast Cancer Awareness Month and said that it was high time to educate people about breast cancer which was spreading rapidly. He said that it was a good idea to celebrate the month and organise the events like a marathon as part of creating awareness about breast cancer and complimented all those who participated.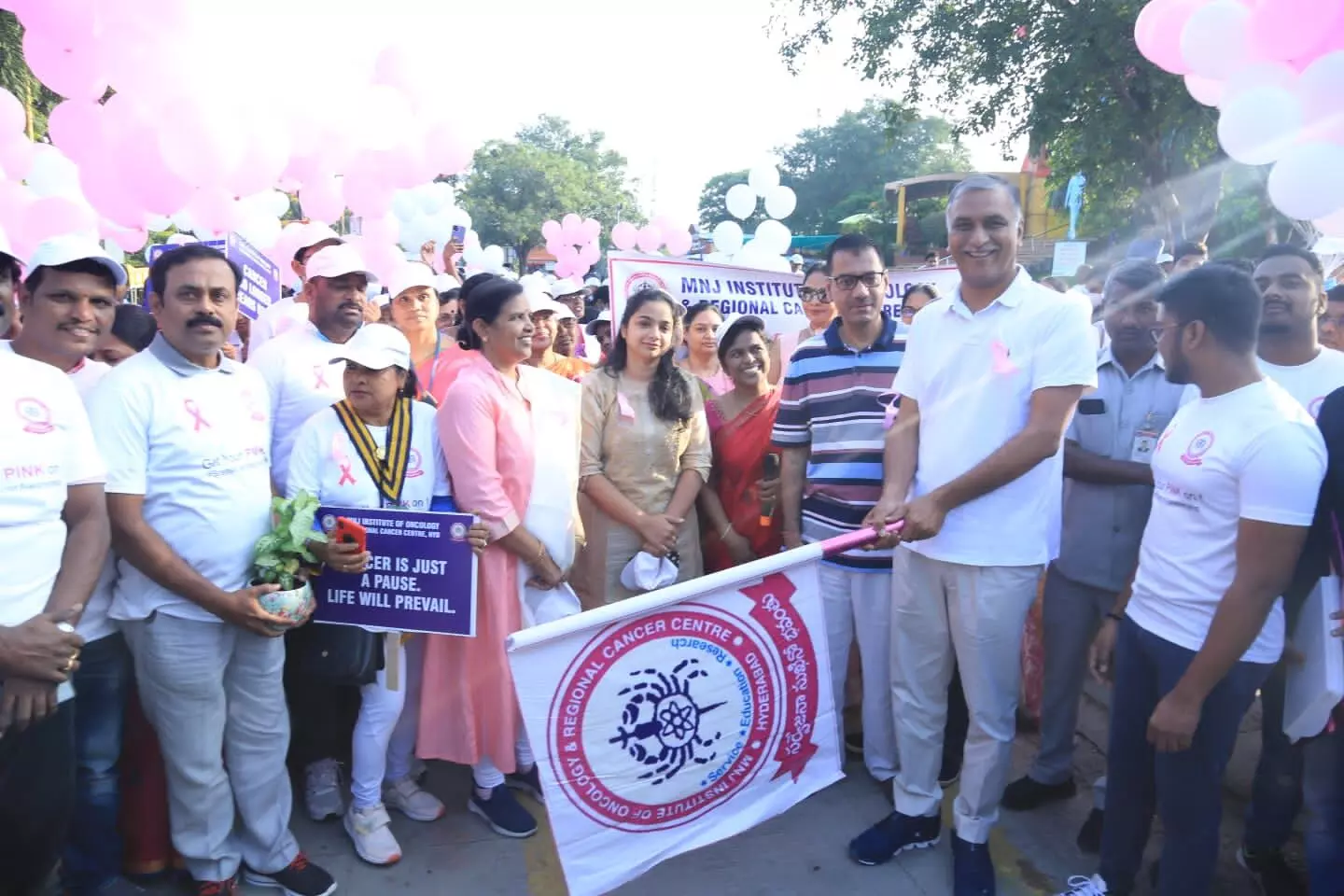 Harish Rao stated that the change in lifestyle, food habits, junk food, widespread use of plastic, lack of physical activity, etc. are causing breast cancer. The minister said that the disease which used to affect elderly people had now spread to the middle age people due to the above-mentioned reasons. Stating that of the 1.80 lakh people affected by breast cancer in which half of them were leading fatalities, Harish Rao said that proper care and awareness would bring some change and could avoid deaths if the disease was detected early.
The minister also put forth the details of cancer cases in Telangana where most of the urban population was falling prey to breast cancer, lung cancer, uterine cancer, and oesophageal cancer. However, he said that it was to save ourselves from this deadly disease by early diagnosis and avoiding late marriage, taking to breastfeeding, family health history, being overweight, smoking, and drinking alcohol. "Telangana Health Department has put in efforts on the direction of Chief Minister KCR to control cancer by taking several steps such early detection, better treatment of cancer sufferers, aims to save them; the government is following a three-pronged strategy to protect people from the cancer epidemic," Harish said.
The minister said that the government was going forward with conducting of confirmatory tests in all districts across the state through mobile screening, identifying those with symptoms, and providing treatment. "We conduct six camps on an average per month conducting tests on an average of 600 to 800 people and sending those diagnosed with breast cancer to MNJ Hospital for better treatment," he added.
He said that the Telangana Government provided comprehensive cancer treatment for all types of cancer at MNJ and NIMS hospitals spending Rs. 750 crores. Adding that, eight new modular theaters including one Robotic theatre had been opened in MNJ at Rs. 30 crores, he said that the government was taking steps to develop MNJ as a state cancer center with Rs 120 crores and increasing the number of beds from 450 to 750 due to increasing number of patients.
Rao also asserted that along with the government's efforts in the fight against cancer, private organizations and voluntary organizations were also taking part in preventing Breast cancer.
Health Secretary Rizvi, Family Welfare Department Commissioner Shweta Mahanty, MNJ Cancer Hospital Director Dr. Jayalatha, doctors, nursing students, and members of various voluntary organizations participated in the Marathon walk event.
First Published: &nbsp 22 Oct 2022 5:14 AM GMT