Republic Day deals: Offline deals in Telugu States competing with e-Commerce sites
The advantage of offline stores is the product can be physically verified and the delivery would be either on the same day or the next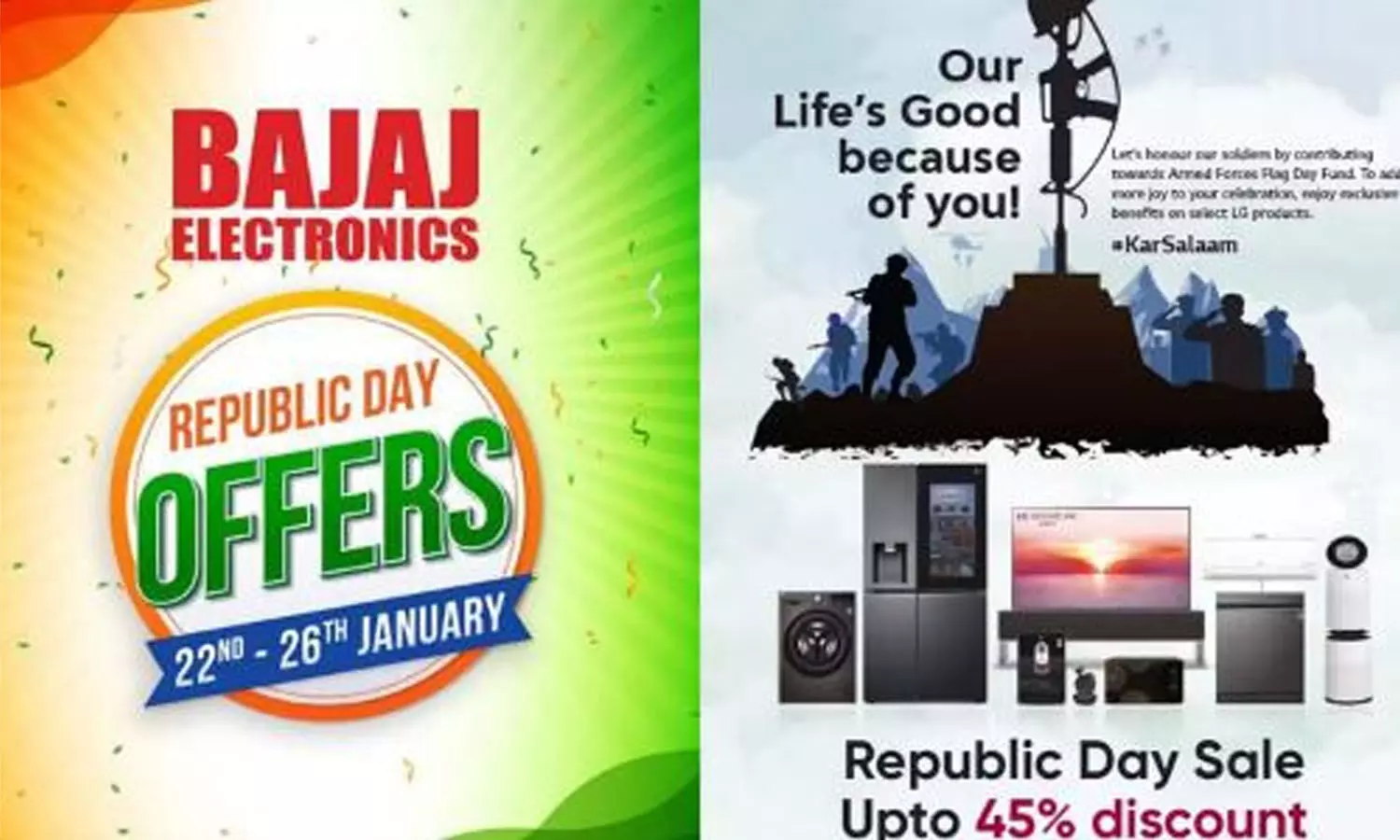 HYDERABAD: With the 74th Republic Day just around the corner, offline merchants are pouring discounts and deals on their customers.
Popular local stores such as Bajaj Electronics and Vijay Sales, and brands like Bosch, LG, Prestige, Godrej Interio are giving the online retailers a run for their money by offering fantastic deals to attract shoppers. The advantage of offline stores is the product can be physically verified and the delivery would be either on the same day or the next.
Let's take a look at these fantastic deals offered by these local establishments:
Bajaj Electronics Republic Day Offers
Bajaj Electronics is celebrating Republic Day by special offers on a variety of wide range of products such as laptops, television sets, mobile phones, sound bars, iPhones, Air Conditioners, Washing Machines, Water heaters, Gas Stoves and Water purifiers.
Customers can purchase any of these products and receive 22.5 percent cashback up to Rs 20,000 on select products via ICICI credit cards, debit cards, and EMI transactions, as well as cashback up to Rs 10,000 via HDFC Bank credit and debit cards, cashback up to Rs 6,000 and one EMI off via IDFC first back debit cards, and a flat Rs 1,000 cashback via HDB financial services in selected products.
Customers who purchase a Sony Bravia XR OLED during Republic Day special offers will receive an instant cashback of Rs 20,000, one free EMI, and two years of warranty. They can also purchase a Samsung Neo QLED for Rs 6,990 and save up to Rs 23,990 with the A23 Mobile Combo offer, 1 EMI off, a free Samsung Galaxy 2 FOLD 4 worth Rs 54,999, a Sound bar worth Rs 40,990, and a two-year warranty.
There are numerous discounts available on the iPhone 13, including an instant store discount of Rs 7,000, an instant cashback of Rs 2,000, an exchange bonus of Rs 6,000, a trade-in value of Rs 20,000, and the ability to purchase the gadget via EMI beginning at Rs 2,661 for 24 months. The ICICI BANK, HDFC Bank, and Bajaj Finsery also provide no-cost EMI loans for the iPhone 13.
Bajaj Electronics is providing a 50% discount on wireless mouse and a free laptop bag to HP, DELL, Lenovo, and Apple laptop shoppers. They also offer the Redmi Note 12 5G series with no downpayment and up to Rs 3,000 instant cashback, up to Rs 4,000 loyalty exchange, zero percent interest processing fees, and Rs 3,000 instant cash back on ICICI Bank credit and debit cards.
Bajaj Electronics' Republic Day deal also includes a 20 percent rebate up to Rs 12,000 on Samsung air conditioners. Chimneys are 50% off, Hobs are 40% off, and cooktops are 40% off. Customers can take advantage of these deals by visiting any Bajaj Electronics stores in the Telugu states.
Godrej Interio
On the occasion of the 74th Republic Day, Godrej Interio is providing up to 30% off certain items as part of "The Great Tiranga Offer." Customers may now purchase products with a modular design, including beds starting at Rs 27, 355, sofa sets at Rs 43,900, and modular kitchens from Rs 75,000. During the Republic Day Sale, customers can also enter to win cashback prizes of up to Rs 1 lakh, Paytm cashback offers, exchange deals, and EMI finance prizes. Customers can walk into any Godrej Interio store in Hyderabad to take advantage of these deals on the things they want.
Vijay Sales
Vijay Sales' 'Mega Republic Day Sale' offers up to 65% off a variety of products including laptops, mobile phones, washing machines, refrigerators, smart watches, and other minor appliances. In addition, the store is offering up to Rs 7,500 in instant discounts, cashbacks on banks, and paper finance. Vijay Sales is selling a Sansui 4K UHD TV worth Rs 94,500 for Rs 59,990.
They are also selling the iPhone 13 for Rs 41,900, which includes a Rs 2,000 quick rebate, a Rs 15,000 trade-in value, and a Rs 6,000 trade-in discount. A fully automatic front load 7KG washing machine worth Rs 45,890 is now available for Rs 25,990 at Vijay Sales.
In addition, the store is providing exchange bonuses of up to Rs 14,000 on selected HP laptops, as well as one month EMI free on Bajaj Finance. Vijay Sales Republic Day deals also include a 5% cashback up to Rs 5,000 on Lenovo laptops purchased with specified bank credit and debit cards. Small appliances such as mixers, geysers, gas burners, and iron boxes are also on sale for up to 60% off. The customers can walk into their nearest stores to avail these offers.
BOSCH
Bring home a BOSCH home appliance this Republic Day and get up to a 12% rebate on select models. Now you can own a refrigerator at Rs 2,100, dishwasher at Rs 1,800 and washing machine at Rs 2,100 onwards. Bosch is also offering up to Rs 12,000 in exchange value for old air conditioners, televisions, refrigerators, and washing machines in return for new BOSCH products.
Life's Good with LG's exclusive Republic Day Offers
This Republic Day, get the finest deals and offers on the biggest range of LG TVs at any LG store in the city. LG is offering exclusive offers on LG OLED TVs such as five year assurance with selected LG TVs, up to Rs 26,000 cashback on selected Debit and credit cards, fixed EMI beginning from Rs 2,999, free soundbar worth up to Rs 14,990, and free LG TV worth up to Rs 1,54,990 with selected LG OLED TVs.
Prestige
On the occasion of the 74th Republic Day, prestige retailers throughout the Telugu states are providing a "Super Saver Offer." You can buy one and get at least one free at any Prestige store until January 29, 2023.
Kitchen necessities such as gas stoves, pressure cookers, mixers, iron boxes, ovens, and wet grinders are available in a jumbo combo offer. If you purchase an easy clean-duo/Neo 4BL Gas stove worth Rs 13,895, you will receive an induction worth Rs 3,645 along with an express grinder worth Rs 3,445 and a kettle worth Rs 1,945.
You can now get a free SS Popular Svachh Pressure Cooker 3L(1U) worth Rs 2,420 as part of the 'Convenient Cooker Offer' if you buy a clip-on Svachh spillage control 5L pressure cooker worth Rs 5,290. If you purchase a Provi 900 Chimney (1U) worth Rs 47,295, you will receive a 25% discount on Chimneys and a Desire Hob Top worth Rs 20,995. These deals are only available in the states of Andhra Pradesh and Telangana. You can walk into your nearest stores to avail these offers.
Shopping malls
Shopping malls throughout the city are offering up to 50%-60% off clothing, footwear, cosmetics, and other things. Hyderabad residents can take advantage of these exclusive discounts by visiting any of these malls, including Inorbit Mall, GVK One Mall, Hyderabad Central Mall, Sarath City Mall, City Centre Mall, and Nexus Forum Mall across the city.
Furniture brands like Home Town, Danube, Home Centre and others also offering huge discounts up to 50 per cent.
Enjoy the great Republic Day Sale!
First Published: &nbsp 24 Jan 2023 2:30 AM GMT