SHE teams act on all 75 complaints received in October
The SHE teams registered 11 cases out of which 6 were criminal cases and five were petty cases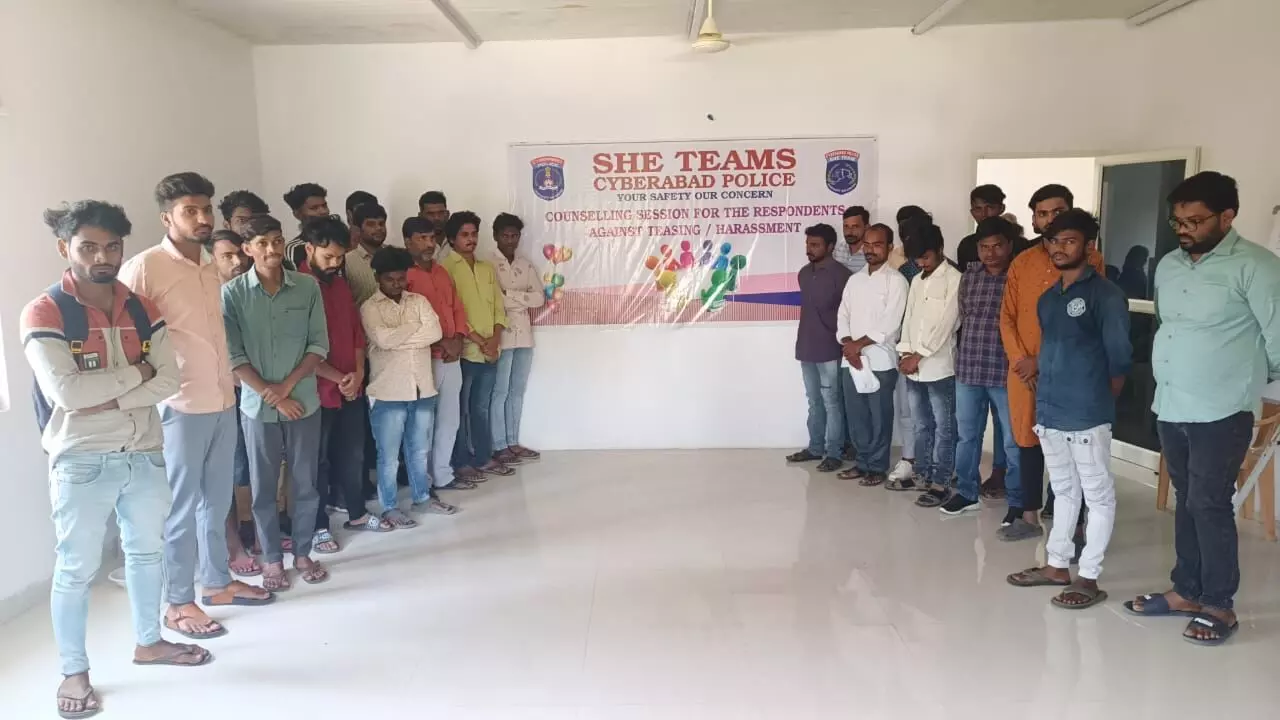 HYDERABAD: Cyberabad's SHE Teams, catering to the needs of increasing number of women being harassed, acted upon all the 75 complaints received in October.
Total 75 complaints were received from women through different means like WhatsApp, email, Hawkeye, direct walk in etc. All complaints were acted upon and disposed of on merits. They registered 11 cases out of which 6 were criminal cases and five were petty cases.
474 decoy operations were conducted at various places such as bus stops, shopping malls, railway stations, tutorials, colleges, etc. and 17 members were caught red-handed while doing indecent act at public place and five petty cases were booked and remaining were referred for counseling.
Regularly conducting night decoy operations at food court, ladies hostel areas, software companies, metro stations, 100 feet road Madhapur, Kukatpally area bus stops and other hot spots and total 52 members were caught red-handed in night time doing indecent activities and 51 petty cases were booked. The remaining were referred for counselling.
393 awareness programs were conducted and 26443 people were addressed
In 20 petitions warning was given on phone to change their attitude
2 Child marriages were stopped and given counseling to their parents.
4 Counseling sessions were held at Women and Children Safety Wing, Cyberabad attended the counseling session conducted by Cyberabad SHE teams, at the Commissioner office, Gachibowli, along with th eir family members.
Cyberabad SHE Teams urged all the women suffering from teasing, stalking or any other atrocity to approach the SHE Teams by sending WhatApp messages to the mobile No.9490617444 or Dial 100 or send e-mail to sheteam.cyberabad@gmail.com.
Some important cases in October 2022
1. Harassing and blackmailing (FIR)
SHE Teams received a complaint from a woman aged 28 yrs, a housewife in Alwal, stating that she was running a YouTube channel and she posted a video about how to prepare food. On seeing this, a catering service called her on September 26 for cooking on October 5. After that, the said person called and abused her and blackmailed, demanded for money and said that he would make explicit video of her by morphing her photos. On this incident she was frightened and approached SHE Team with the effort of SHE Team IT Corridor a case was registered against him at Alwal PS.
2. Loan App harassment (FIR)
SHE Team received a complaint from a woman of Gachibowli stating that she has taken Rs 3000 loan from Small Credit loan App 8 months back. Which she repaid with double amount, the loan was closed and clear that she had no pending amount. From September she was receiving abusive messages and harassment calls from them to pay extra amount and then started morphing her images and sharing it to all her contacts and repeatedly sharing vulgar messages to all her contacts. On this incident she got tensed and approached SHE Team with the effort of SHE Team IT Corridor.
3. Lecturer misbehaved with girl students (FIR)
The SHE teams received a Whatsapp complaint from a man of Madhapur stating that his daughter was studying intermediate in a private collage at Madhapur and a faculty by name Aravinda, teaching physics in the college, started misbehaving and touching inappropriately. The girl informed the same to her father. Thereafter, he enquired regarding the issue in the college and other students also came forward that they also experienced the same by the person. In this regard, the management assured him that an action will be taken against the faculty.
4. Tenant harassing owner's daughter (Petty case)
In another petty case, the SHE teams received a complaint from a man of Yagadgirigutta stating that a person Arun Kumar (23), took a room for monthly rent basis and he took phone number of his daughter who was 17 years and started sending messages and calling her. On this he has given warning to him but the said person did not change his behavior, kept following her always. On this he got tensed and approached SHE Teams. on this SHE Teams Jagadgirigutta conducted decoy operation at his staying premises and caught him and taken legal action against him and referred for counseling.
First Published: &nbsp 31 Oct 2022 10:45 AM GMT