Telangana peaceful for 8 years; derogatory video escalated tensions: Asaduddin
In an interview with 'NewsTAP', the AIMIM president Asaduddin Owaisi said that the protests on Friday should pass peacefully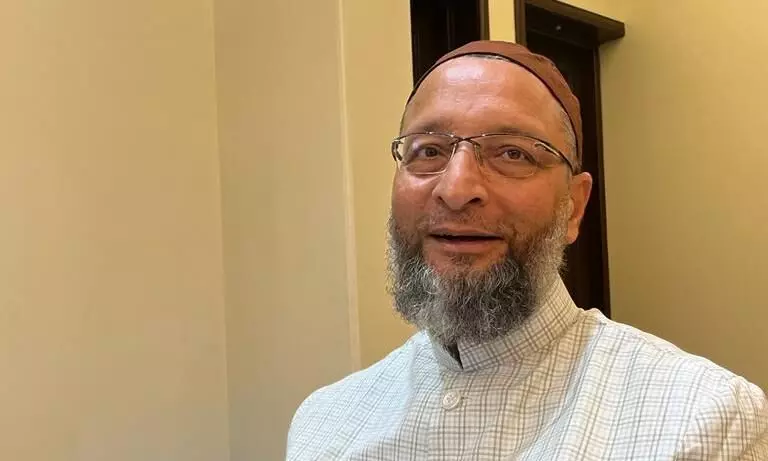 HYDERABAD: The peace in 'Nawabo ka Sheher', Hyderabad, which was intact for almost eight years, was shattered after BJP MLA Raja Singh passed derogatory comments on the Prophet Muhammad, hurting the religious sentiments of thousands in the State and the world.
The streets of Hyderabad were filled with hundreds of people, since Tuesday, demanding strict action be taken against the MLA, to set an example for everyone to refrain from defaming any religion. Raja Singh was arrested by the Telangana police on Thursday, a day before major protests were expected to happen in Hyderabad.
In an exclusive interview with 'NewsTAP', the All India Majlis-E-Ittehadul Muslimeen (AIMIM) president and Hyderabad MP Asaduddin Owaisi said that the protests on Friday should pass peacefully and people should maintain their calm.
Here are a few excerpts from the interview:
How is AIMIM looking at the incident?
The video (released by BJP MLA Raja Singh) took everything to an extreme level.
It was very bad and unnecessary. It is just the policy of the BJP, their agenda, to polarise the political scenario in Telangana. For this, they choose religion. No matter what political stand someone takes or which community they belong to, nobody in the society wants or encourages such disturbances. However, when something like religion or someone's faith is disrespected, people are bound to condemn it. Because of these protests, shops had to be shut down, so much food from restaurants was wasted, youths' got punished and the local economy went down. All this was uncalled for.
Do you agree with people saying that Munawar Faruqui's show was the reason behind the disturbances?
If the BJP or certain leaders from the party had a problem with Munawar Faruqui's show being held in the city, they could have lodged a complaint with the police. They could have chosen other ways to oppose the comic's show. However, a video was released denigrating the Prophet Muhammed. Further, entire Islam was degraded by him, which appeared to be nothing but provocative. Raja Singh said he would make such a video again if he had to and that he would start a 'Dharam Yuddh' which clearly shows that they wanted to create communal disturbances. They saw this as an opportunity and as propaganda for the coming Munugode byelections. Our country doesn't have a "dharm" (religion). We are a secular nation. Which "dharm yudh" he wants to wage?
Why was there no peace after Raja Singh's suspension from the BJP?
The BJP has always been trying to cause communal riots in the country and now in Hyderabad too. In Hyderabad, people of all religions have a feeling of social security and this was not disturbed for almost eight years. In fact, at least 15,000 youths from Old City go and work in HITEC City every day. They are all now gripped by a sense of insecurity and are worried about the careers now. The suspension did not stop the people from protesting. It's seen just as an eyewash. It has time and again been seen that the BJP just tries to fool the people. Nupur Sharma was not arrested, in fact she was not even suspended from the party until two weeks after what she said. Bilkis Bano's convicts were also released. It is expected that the party's leaders would turn to such hate speeches in the future too. People are agitated with this BJP policy and they want them to stop.
The court should do justice. The video should be matched with his voice and if proven that he had passed those comments, serious action should be taken.
Do you feel that the protests would cause problems for Ganesh Utsavs? Are these festivities a challenge in Hyderabad?
Muharram, Ganesh celebrations, Bonalu etc. are not a challenge in Hyderabad, they go by peacefully. They have become part of the culture here. However, when it comes to conducting bike rallies on certain days like Milad, Hanuman Jayanti and such occasions, that becomes a challenge. Since a lot of youths are involved, it is difficult to predict as to what would happen during the rallies.
What is your opinion on KCR's idea of Bharatiya Rashtra Samithi', which, if formed, would go against the BJP on a national level?
KCR would be the best leader to stand against the BJP on a national level. He has the correct experience in terms of governance and he understands India's geography and vastness and he also works for the minorities. He himself practises Hinduism. However, he has never tried to impose it on people or use it as propaganda tool. Even in this incident, though there might have been a delay in the arrest, KCR and the Government's intentions were never doubted.
However, the first challenge for the TRS would be to win the Assembly elections, first. The party has to work hard. In fact, all the parties — the TRS, the Congress and the BJP — have to work very hard and the BJP cannot be taken for granted in Telangana.
Is AIMIM planning to expand in Telangana?
The party is planning to contest from more seats in the coming elections in Telangana. We are considering to contest seats like Jubilee Hills, Nizamabad, etc.
Have any of your party men been nursing these constituencies?
Some exercise in some pockets is on. But, let's see. We certainly want to expand.
How about your expansion in Andhra Pradesh?
In Andhra Pradesh, we might contest if we find good candidates to represent the party. The TDP in Andhra Pradesh has made certain pacts with the BJP but there is nothing great left in for the TDP.
Until last year, Hyderabad has been talking about investments, development scheme like strategic road development, flyovers etc. Suddenly, religion and discord have come under focus. Why is it so?
Currently we are focused on carrying out development works in Hyderabad. The Strategic Nala Development Plan (SNDP) works are being pursued aggressively in the Old City. The disturbances are because of the politics of polarisation. As I said earlier, the economy would take a beating.
Why is the vote percentage is low in Hyderabad always?
The poll percentage is low in urban areas. This has been the order for several years. Only 50-60 percent of the people vote. It is very important that everyone casts their vote and chooses their leaders wisely.
There is a charge against you that you are the 'B Team' for the BJP. Some others allege you are B Team for the TRS? Please clarify who you are the B Team for ?
AIMIM is on its own. It has presence in many states in the country. I am not a B Team either for the BJP or the TRS. We have our own ideology and we play out secular and democratic politics.
What's your view on the national politics?
Economy has tanked under Narendra Modi rule in the last eight years. Rupee value has plummeted. India performed badly on many global indices. This is worrisome. India never worked for strengthening of its financial situation. We should be and also appear strong, so that others would look up and take us seriously. The Congress apparently feels fatigued. Unless the Gandhi family steps aside and lets another leader take over and run it independently — not as a stooge to the Gandhis, there is no future for the Congress. If the Congress can win at least 100 seats on its own, it's not very difficult to defeat Modi's BJP.
- With A. Saye Sekhar
First Published: &nbsp 25 Aug 2022 5:21 PM GMT