Mr. Sanjay, Beware of your tongue, as it is in a wet place
Telangana BJP unit president Bandi Sanjay Kumar passed disparaging and disgusting remarks on BRS MLC Kalvakuntla Kavitha about her possible arrest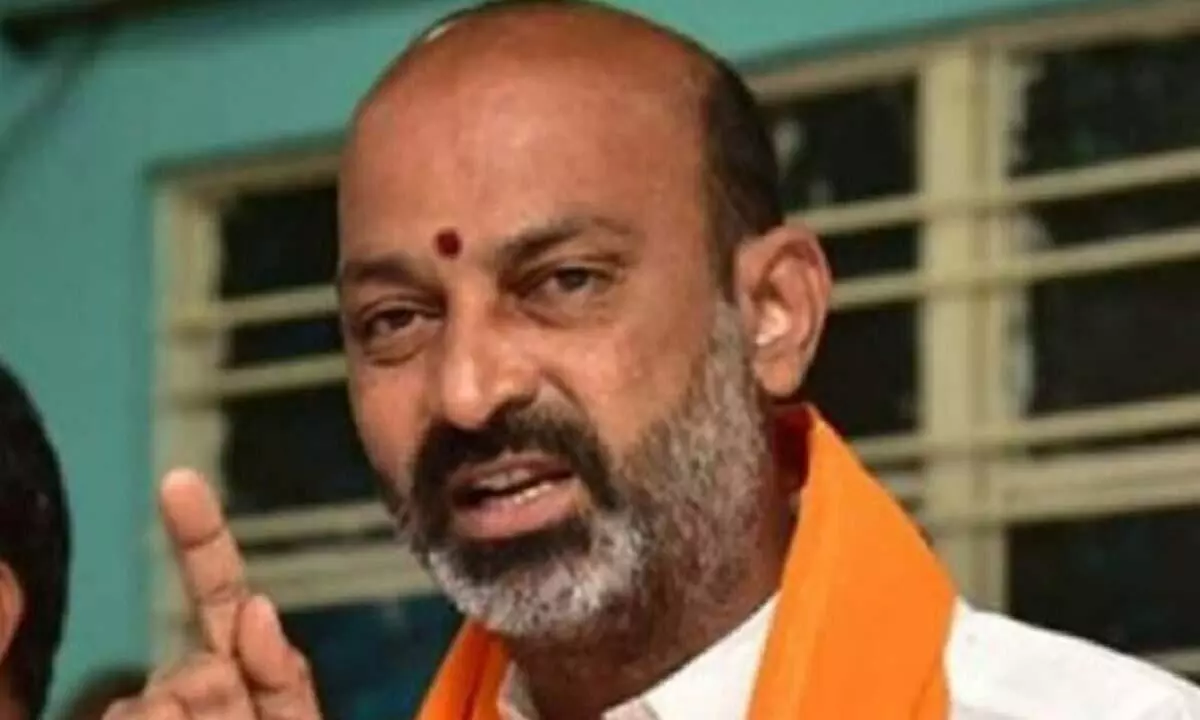 Bandi Sanjay
HYDERABAD: When Telangana BJP unit president Bandi Sanjay Kumar passed disparaging and disgusting remarks on BRS MLC Kalvakuntla Kavitha about her possible arrest and a snide comment associated with that, there was an eruption of volcanic proportions of public outcry from the rank and file of the BRS and netizens. However it did not take those who watched Bandi Sanjay from close quarters for quite some time by any surprise.
This is not the first time that the BJP's boss of Telangana resorted to tongue-lashing on Kavitha. He remarked that Kavitha organised Batukamma and performed disco dance. He said this on December 11, 2022. Sanjay, who resorts to chest thumping when it comes to Telangana sentiment, ignored the fact that Batukamma has been intertwined with Telangana cultural ethos. He inflicted a stab injury on the Telangana's self-respect and sentiment.
The same Sanjay, without a wink, unleashed his tongue once again on March 6, 2023 and said that all Telangana women indulged in 'donga dhandalu, langa dhandalu' (fraudulent businesses and sleazy businesses) because Sanjay lacks clarity of expression. Thanks to his inability to speak properly, it wouldn't draw much attention even to the cuss words he uses in his flow by force of his habit.
On March 10, 2023 Sanjay lost his composure (?) and said there's a situation in Delhi when wine shops had to open early in the morning for KCR's daughter. While his intention may have been political in nature, his observation is essentially sexist. He cannot make such terrible ranting about any woman, including those in public life.
In fact, Bandi Sanjay lost all decency and decorum on December 6, 2022 when he had alleged: "KCR's daughter has taken Rs. 1 lakh crore and is doing liquor business in Delhi. It seems she has invested in casino, and card games. KCR's family has also invested in drugs."
As recently as on March 5, 2023, Sanjay rebuked villagers of Janagaon when they had asked him for help to the bereaved family of deceased medico Preethi. He had repugnantly chided the villagers saying "would u give , if your sister died". Bandi Sanjay's appeal on February 21 , 2023 to Hindu youths to give up studies and jobs to work for the victory of the BJP in the State in the upcoming elections is crass and unbecoming of his stature, if he thinks he has one. His blabber about blasting of domes of the newly built secretariat on February 10, 2023 drew flak from all sections as he said they reflected the Nizam culture. Sanjay proved himself to be a motor mouth when he had said the BJP would organise surgical strikes in the Old City. Many such statements portrayed in poor light in the public eye his temperment and psyche.
A piece of advise: Mr. Sanjay, Beware of your tongue, as it is in a wet place. Don't slip too often.
First Published: &nbsp 11 March 2023 2:19 PM GMT