Rahul Gandhi announces six guarantees, launches scathing attack on BRS, BJP
Rahul Gandhi slammed Prime Minister Narendra Modi for his attacks on opposition parties via Central agencies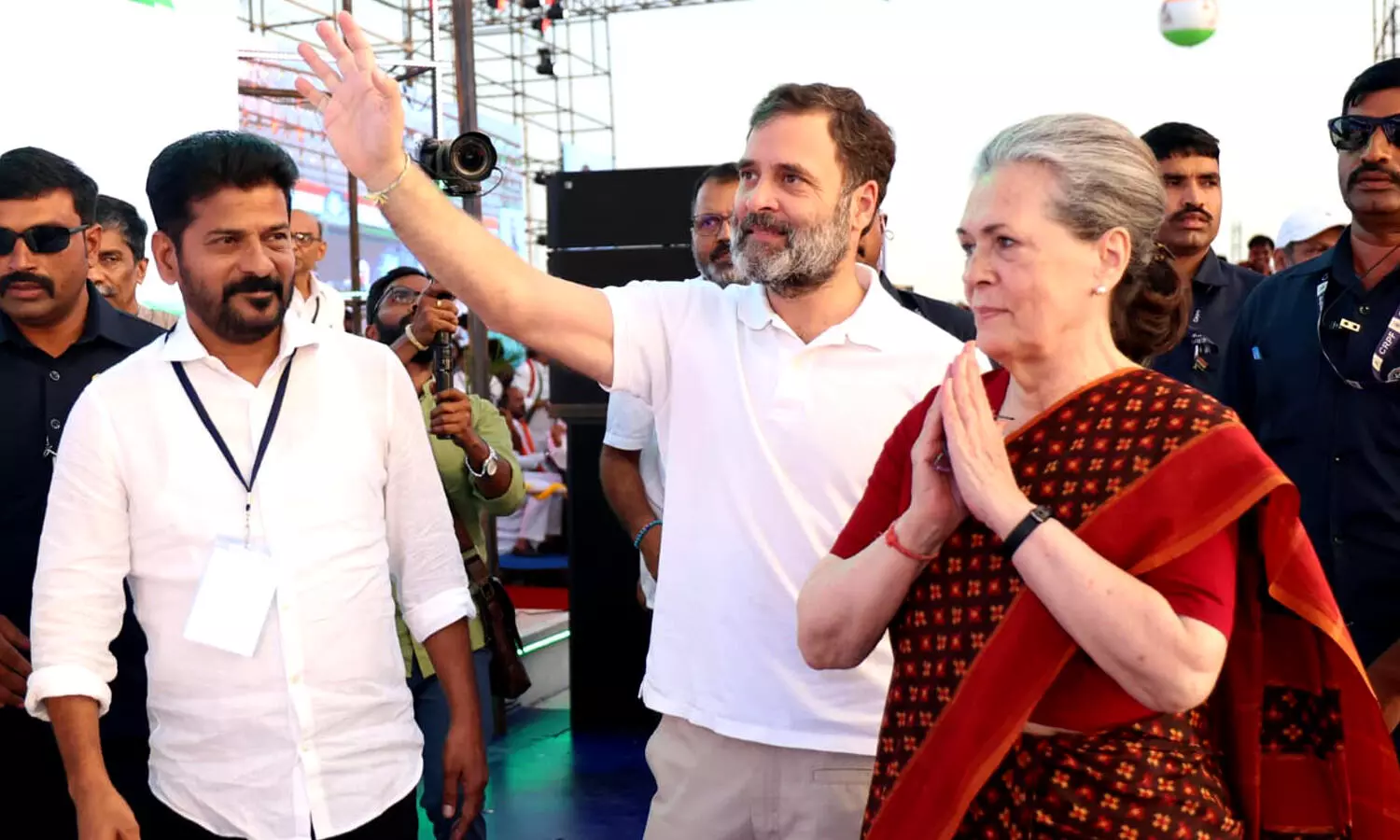 HYDERABAD: The Congress party is fighting not just the BRS party in Telangana State, but also the BJP and the AIMIM party, said Congress MP Rahul Gandhi in Tukkuguda on Sunday.
Rahul Gandhi addressed a large public rally in Tukkuguda saying, "In politics, it's really important to know with whom we're fighting and who's fighting against us. And it is quite evident that the BRS, the BJP, and the AIMIM parties are working together, even if they profess to be functioning individually.
"All of these parties who pretend to be opponents work quite well together, and I have seen them work together in parliament. I've seen BRS party MPs in Parliament. When the BJP needed BRS backing, they publicly endorsed the BJP party. They backed the BJP in the passage of the Farmers Bill. They assisted whenever Prime Minister Narendra Modi signaled. They backed the BJP in all decisions, including presidential and vice presidential elections, " said Rahul Gandhi.
Rahul Gandhi claimed that the BRS, BJP, and AIMIM planned public meetings and National Integration Day celebrations on the same day, even though the Congress party chose Sunday (September 17) for the culmination of the Congress Working Committee(CWC) in a public meeting.
The Enforcement Directorate (ED), Central Bureau of Investigation (CBI), and Income Tax officials always attacked the opposition parties and filed several cases against them, but none of these cases were filed against Telangana Chief Minister K Chandrasekar Rao. There were no cases filed against AIMIM leaders as well, but only against rival parties, said Rahul Gandhi.
Rahul Gandhi slammed Prime Minister Narendra Modi for his attacks on opposition parties via Central agencies, claiming that Modi never attacked his own people and treated KCR and Owaisi as his own.
He said, "Today I was listening to Sonia ji's speech and thinking that whatever Sonia ji promises, she fulfils that at any cost. Even though she does not yell, she keeps her vows at any cost. In 2004, she said she would consider a separate Telangana, and once she said that, she did it and granted a separate Telangana, fulfilling your wish for a separate Telangana state for which you fought and worked hard.
"We call the BRS, BJP Rishtedar Samithi because it is the BJP party's B-team, and all benefits are delivered to Telangana Chief Minister K Chandrashekar Rao and his family. But we did not create Telangana to benefit KCR's family. Telangana was given to the poor people, farmers, mothers, children, underprivileged, Dalits of Telangana, but they haven't received any benefits in the last 9.5 years. We previously promised and granted Telangana. BRS will lose power in Telangana in the next 100 days, and no one, including the BJP and the MIM, will be able to stop us," said Rahul Gandhi.
Prime Minister Narendra Modi said during the Karnataka elections that the Congress would not keep its promises. However, the Congress party had promised five guarantees and fulfilled them on the same day when the Congress cabinet took oath in Karnataka. If the Congress party won power in Telangana, these seven promises would be granted on the same day, said Rahul Gandhi.
First Published: &nbsp 17 Sep 2023 3:20 PM GMT