Batik, Kalamkari have big market potential, says Qalambatik promoter Maria Clara
'Batik' Balaiah, hailing from erstwhile Medak district in Telangana, used to be a renowned 'Batik" artist. However, since his passing away a few years ago, the legacy art couldn't be taken forward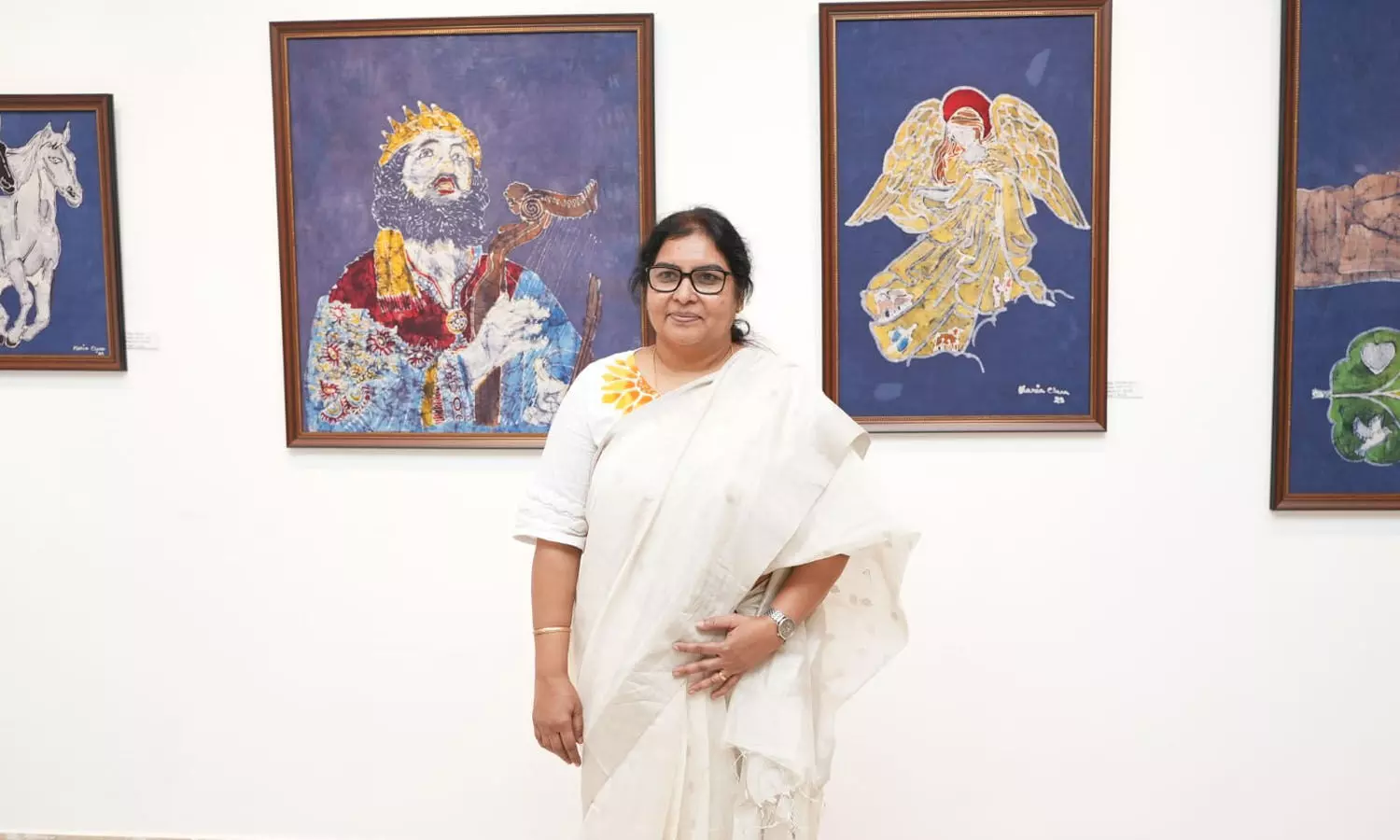 HYDERABAD: Maria Clara, who has lived a corporate life for over two decades, discovered her penchant for art. But the, it ain't the quintessential drawing or paining on a canvas. Clothing, precisely sarees, dress materials, shirts and jackets, and also decorative pieces of art have become her canvas to create the magic of Batik and Kalmakari prints. The six-yard wonders, when draped around themselves by women, or the shirts/jackets sported by men inspire awe not only among those wearing them, but even those looking at them. Should this be called hot couture? Perhaps, yes. For the design element elevates the sarees, shirts and dresses manifold.
'Batik' Balaiah, hailing from erstwhile Medak district in Telangana, used to be a renowned 'Batik" artist. However, since his passing away a few years ago, the legacy art couldn't be taken forward.
However, Maria Clara, who developed an undying interest for the Batik art, ventured into it as a full-time business and launched a startup. She is coordinating with We-Hub, a women entrepreneurs hub set up Telangana Government, for further fostering her business.
She recently conducted an exhibition at State Art Gallery for five days between February 3 and 9.

In an exclusive interview to Newstap, Maria says she is hoping to attract investment from Venture Capitalists in the near future to expand the business and employment opportunity for budding Batik and Kalamkari artists. For now, she has bootstrapped her proprietary firm.
Excerpts:
Is 'The Vigil' a startup? Have you registered it as company or a proprietary concern?
The theme of my exhibition was 'The Vigil' in batik. 'Qalambatik by Maria Clara' is a sole proprietary for customized fabric designing. It is registered.
Do you have any cofounders or do you intend to add any with similar business interests?
I have been part of a cohort with WeHub for pre-incubation. I am looking to associate myself with startups that can add value to my unique products with their expertise. I recently had a meeting with WeHub CEO Deepthi Ravula expressing my interests. I will be participating in the Business Women Expo 2023 at Hitex from March 10 to 12 where I will showcase all my art works, including Batik and Kalamkari.
Are you currently focusing only on Batik or do you have a spectrum of other forms too? If yes, what are they?
Batik, Kalamkari and Silk Painting. I've done oil on canvas before and held exhibitions. I am also a wood-cut artiste. The primary focus is now on batik and Kalamkari apparel which I do for my clients on a customized basis.
Where did you find the market for this? Is it domestic market or exports too?
I have clients in US, Australia, UK and Turkey. In India, my clients are from Bangalore, in addition to Hyderabad. The apparel/clothes are designed specifically for occasions. The idea is discussed with the client as the design is personal to their life and occasion.
Have the business operations commenced already? And if yes, can you please share how many orders have been executed and how many are in the order book? And in which geographies, the orders were delivered?
I was taking orders on a personal basis for the last two years for apparel. From the time I registered my firm on November 10, 2022, I have been selling the Qalambatik brand works on it. So far, more than 50 orders have been delivered both in India and abroad. One of the persons who regularly wears the batik and Kalamkari shirts I make is Bennt Prasad from Bengaluru who has travelled to almost all countries in the world. He is a Guinness world record holder. On his book cover, he has worn a shirt that I made.
Which countries did you so far secure orders from? How do you reach out to your clients and how do you explore your clientele? Is there any sales network in place?
My clients have so far been from New Jersey, North Carolina and Atlanta, in the US, Melbourne in Australia, Leicester in UK and Turkey. It initially began as friends knowing about my works. Through them, more people got to know. Some boutiques and fashion designers in Hyderabad also place orders for the apparel works that I do in batik and Kalamkari. I mainly use social media, largely Instagram and Facebook to promote and sell my products. I am yet to have a sales network in place. I am working on this now as business has been increasing and I am taking up more work.
What's the headcount, as in How many professionals work with you in the startup?
I collaborate with other businesses, like for stitching - I collaborate with Tailorsin and Creative Queen. For fabric sourcing and raw materials, I have connected with suppliers from Pedana and locally Rex Exports who deliver at home. For technical help of Batik and Kalamkari, I collaborate with the Weavers Service Centre of Ministry of Textiles. As and when I need more hands, I rope in artists and individuals who I train and explain the vision of the work on a part-time basis.
And what's the average TAT (turnaround time) for executing an order?
Batik usually takes 10 to 20 days and Kalamkari 30 to 90 days, depending on design.
Have you bootstrapped the firm? Are you looking to raise any funding from VCs and PEs for expansion? And where do you intend to operate from?
My funding is presently from my own resources that I have put in. The investment needed is much more, considering the plans to have a designed working studio for the purpose and meet the growing need felt for my exclusive products.
What is really exclusive about the products is the idea and emotion of the client that is reflected in the work of the apparel they wear. Currently, my home is my workshop, using up a large portion of it. The next step is to have a custom-made designer studio. This can be at my place as I have already created some infrastructure. I would like to look at financial investment from professional investors to expand my business. Since the concept of customised batik and Kalamkari work for apparel is new, it is important to project it to people who may find it interesting.
And what's the typical cost price of each piece of work? At least please indicate the range? Do you source the cloth or do your clients choose it?
The price range is from Rs.2,000 to Rs.10,000 excluding fabric and stitching for Batik. For Kalamkari, it starts from Rs 5,000 onwards, the last work I did was Rs. 58,000, excluding fabric and stitching costs. It can increase depending on design. Often, I source the fabric. Sometimes clients want to get fabric, I do advise on the type needed.
First Published: &nbsp 17 Feb 2023 8:00 AM GMT