Hundreds try their luck at internship mela in T-Hub
Hundreds of students from around the city walked into T-Hub 2.0 to experience one of the city's biggest startup-internship mela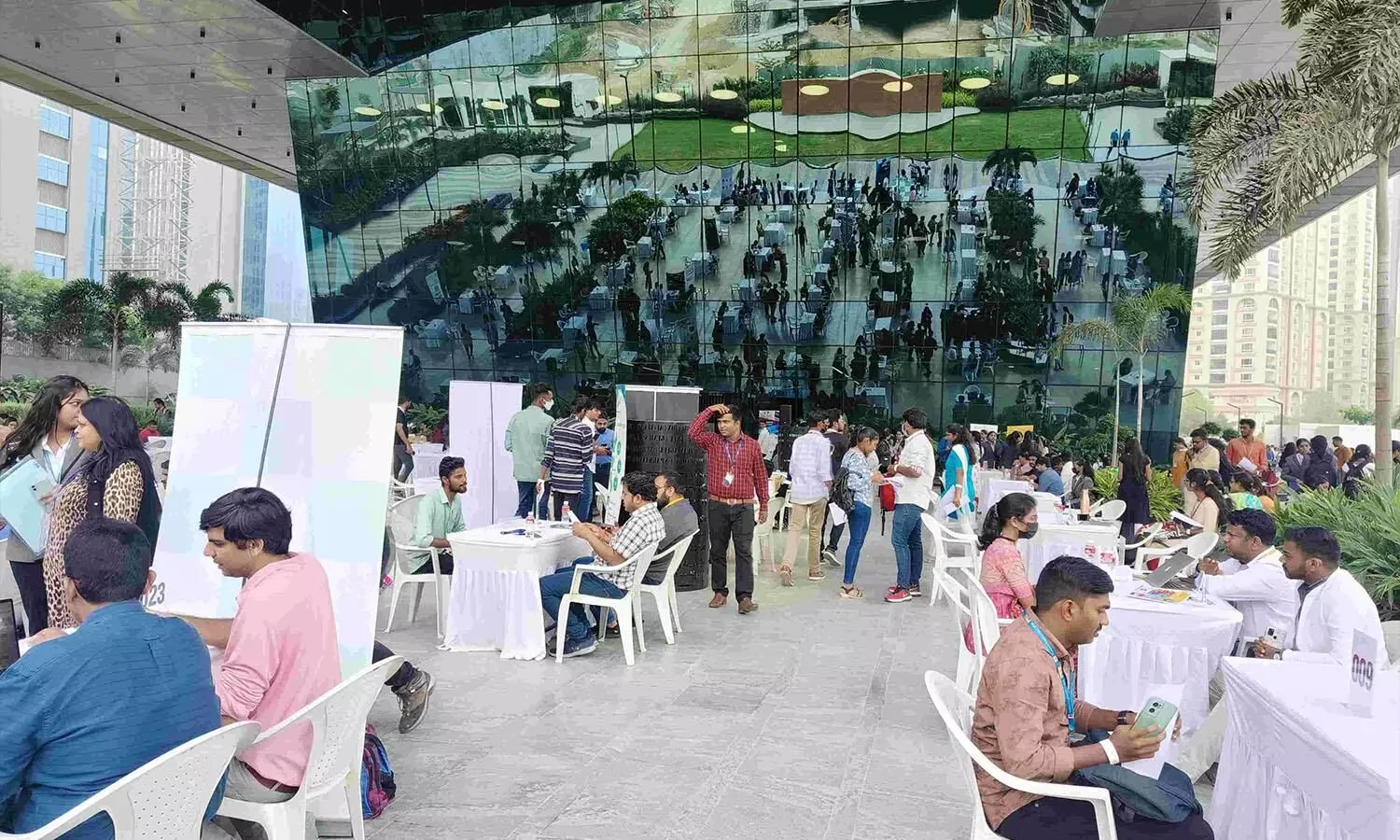 HYDERABAD: Hundreds of students from around the city walked into T-Hub 2.0 to experience one of the city's biggest startup-internship mela. They tested their luck, while showcasing their skills, giving interviews to T-Hub incubated startups for various roles.
T-Hub, India's largest startup incubator in Hyderabad, since it's foundation in 2015, aimed at providing a platform to young minds to showcase their talent. Be it startup founders or young adults who want to work with startups, T-Hub provided the space for technology to boom.
The students came to T-Hub on its 7th foundation day for the Mela from more than 55 colleges to give interviews to 81 startups. The event saw participation from more than 1,500 students.
The event was organised by T-Hub 2.0 in partnership with stuMagz, a startup incubated in T-Hub five years ago.
Speaking to NewsTAP, stuMagz founder Sricharan Lakkaraju said that the turn out in the event was beyond their expectations. "We rolled out forms for students to enroll for the event. It was marketed only through word of mouth and within two days we received more than 1,500 registrations. We had to close the link. We were overwhelmed by the number of students interested in interning with startups," said Jeeth from stuMagz.
What did the students have to say about the Mela?
A student from Villa Marie college in Hyderabad, Nimra, told NewsTAP, "I gave five interviews, for roles in marketing and event management. I am positive that I did the interviews well. The Mela provided an opportunity to explore our opportunities."
NewsTAP asked them – why startups? Why not brands?
The students said that startups would provide a chance to improve their skills, unlike brands, which would just train them to follow a routine. "We would grow with the startup's growth. Joining a corporation would push us to follow a routine and not benefit us. Startups have a dynamic environment where we can grow too.After T-Hub 2.0's inauguration this year, students in my batch were very excited for all the opportunities it could bring to us, like this mela," Eva, a final-year student said.
How were startups benefitted?
Haritha, an employee of a 4G tech company said, "We are getting an opportunity to pick our human resource – the pillar of any company – sitting right here at T-Hub 2.0.
Many entrepreneurs said that they too were interns in the beginning and were now in good positions in those startups.
Speaking to NewsTAP, Mallareddy from ChainMonk said, "KTR says that startups create job-opportunites and people should think big, T-Hub is doing the same thing. This place incubated startups that are now providing jobs. It's amazing."
First Published: &nbsp 5 Nov 2022 10:28 AM GMT