INTERVIEW: Skyroot roots for satellite launch through Vikram I in 2023, says Pawan Chandana
Reputation of Skyroot, a T-Hub-incubated Hyderabad-based spacetech startup, soared beyond the skies, literally, with the successful liftoff of three payloads by the rocket developed by the company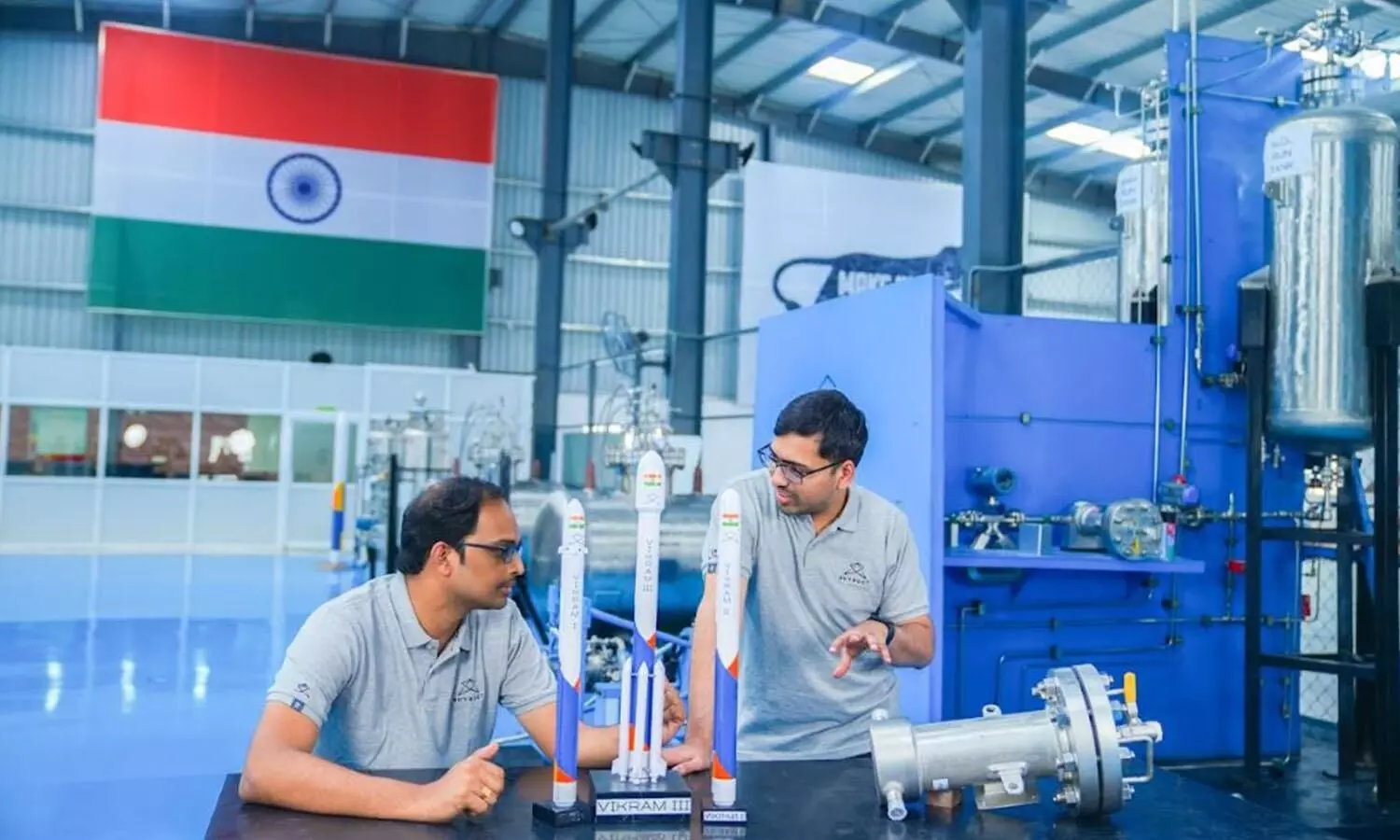 Big deal? Is it rocket science? One must have heard these questions from many around her before embarking on a complex task. But, in the case of Pawan K Chandana and Naga Bharath Daka, it's indeed big deal to build a rocket on their own and, of course, it is very much rocket science.
Reputation of Skyroot, a T-Hub-incubated Hyderabad-based spacetech startup, soared beyond the skies, literally, with the successful liftoff of three payloads by the rocket developed by the company. The next big what for the company is their satellite launch vehicle – Vikram I – proposed for next year – 2023.
Upon the successful launch of Vikram S recently and making headlines across the globe, a down-to-earth Pawan Chandana, in an exclusive interview to NewsTAP, couldn't conceal his exuberance. Despite the skyrocketing fame, he remained firmly rooted to the ground and ascribes credit to his teammates, stakeholders and the policy-makers.
Excerpts:

1. How were you holding up the tense moments during the buildup and then countdown about the success of Vikram-S? Please translate your emotions into words.
Rockets are very complex vehicles. And, like every complex technology, it can also go wrong, based on various reasons. We have tremendous faith in the capabilities of our world class team and we were thorough in our preparation right down to the minutest detail.
Nonetheless, leading up to the launch at the Mission Control Centre, there was some natural nervousness as we were the face of the first privately-built rocket in India and a lot of eyes were on us. Also, the fate of two years of sweat, perseverance, emotions and teamwork of a band of people was to be decided in under five minutes.
That said, the weather was favourable and as we crossed out the mission checklist, one after the other, successfully without any unforeseen event, we were more confident. As the countdown began, adrenaline kicked in and we were ready to go to space.
2. Upon the successful launch, how did you and Bharat feel? How did your respective families, parents, siblings, spouses, kids and friends, react ?
This is a great milestone for all of us at Skyroot, and a pathbreaking one as the pioneering launch mission of the Indian private sector. The mission was a success and our feeling is nothing short of exuberance.
We have received tremendous unwavering support from our friends, family members as well as the numerous people across the country and abroad who have been closely following our progress over the years. We feel the joy and pride of this milestone is not ours alone and is shared by all.
3. When did you first come to understand that your rocket is going to launch the satellites from Satish Dhawan Space Centre? Please explain what steps you had to fulfil and what hurdles you had to cross?
From the get go, we knew that our first launch will have to be from ISRO's Satish Dhawan Space Centre. However, there was some uncertainty around this when we started the company in 2018. Back then, India's space sector, especially launch services, was not open to private participation. There was, however, a Draft Space Act 2017 that signalled future government intent based on which we took a leap of faith to get into commercial space launch services.
Once the Government of India introduced the space reforms in 2020, we were more confident of accessing ISRO's cutting edge facilities.
We started developing the Vikram-S starting around late 2020. Over the last two years, we have worked on building it with unwavering focus. One of the major challenges we experienced was the pandemic which pushed behind Vikram-S timelines a bit. Nevertheless, our world class team remained agile and focused, allowing us to cover-up on the time lost and get the rocket launch-ready. Also, we are extremely happy and thankful to ISRO and INSPACe for all the support provided. Both agencies have been highly responsive.
4. What's the payload of the satellites carried by Vikram S? How many satellites were carried into the orbits by Skyroot's rocket? What is the purpose of each of those satellites – in the sense are they communications, or weather or supporting app businesses, etc., satellites?

Vikram-S is a sub-orbital launch. Sub-orbital launches as the name suggests do not deliver payloads into orbit. Mostly, such launches host payloads that conduct experiments or for validating certain technologies.
For us, the Vikram-S tested 80% of our technology, including propulsion, structure, and avionics, just to name a few.
Our three customers are: N-Space Tech India, Space Kidz India and Bazoomq Armenia. These are PCB based payloads equipped with various sensors and instrumentation with a purpose to measure some parameters and also to validate building a flight-worthy hardware and intervention processes. While these were just payloads for doing experiments, built by students, for a few minutes, satellites stay for years in orbits. These are meant for students to learn how to build a space-worthy payload and learn integration process.
5. What are the commercials in terms of how much Skyroot charges per satellite? How much does Skyroot pay to ISRO for using its services and the Launchpad?
This information is confidential as we are bound by Non-Disclosure Agreements.
6. How many spacetech startups have come up in India after the advent of Skyroot ?
From a couple of Space Start-ups three to four years ago, we have about 102 start-ups working in areas of space debris management, nano-satellite, launch vehicle, ground systems, research etc. The introduction of space reforms by the Government of India in 2020 has led to this growth.
7. Are you looking to raise any more funding and if so what's the mission forward?
We just concluded a US$ 51 Mn Series B round in September '22 that will get us to our first few launches and help build some critical infrastructure. At the moment, we are focussing efforts on building our flagship Vikram I orbital space launch vehicle scheduled to launch next year. That said, we're always keen to engage with investors to enhance their understanding of the tremendous opportunities in this high growth sector.
8. Where did you secure the orders for the maiden launch and what's your order book in dollar terms?
There were three payloads on the Vikram-S from customers - Space Kidz India, N-Space Tech India, and Bazoomq Armenia.
For our orbital class launch vehicles Vikram I, II and III, we have been engaging customers from the get go and have built a strong global customer pipeline. We will have customers on board starting from our Vikram-I's maiden launch itself next year.
9. Which is the biggest prospective satellite that your rockets would launch in the near future?
Our flagship program is the Vikram launch platform that comprises Vikram I, II and III orbital class launch vehicles that can carry satellites ranging from 480 kg to 815 kg respectively at an altitude of 500 km to low inclination orbits.
10. What's the market size for private spacetech in India and how much it would grow to?
We see considerable growth potential in the small satellite launch segment. According to a recent market survey, the global space launch services market is projected to double in size from $14.21 billion in 2022 to $31.9 billion by 2029, growing at a CAGR of 12.25%.
Over the last decade, we have seen average satellite sizes reduce from close to 3,000 kg to under-400 kg. Moreover, the market is increasingly being led by constellations of smaller satellites in Low Earth Orbit. These customers want their satellites and constellations to be up and operational as soon as they are ready and delivered into precise destinations in space. Hence, there is an increasing need, especially among small-sat constellation builders for launch vehicle availability, greater control over launch schedule, high frequency launch capability, and last-mile satellite delivery to their target orbital destinations. Small launch service providers such as us can cater to this need effectively.
11. What's the next big thing for Skyroot after tasting success?
Next, we're going to hit the ground running again and focus on developing our flagship Vikram I orbital vehicle that we would launch next year.
12. When do you think Skyroot would be in the unicorn club?
Our present focus is to build the best space launch service offering with a goal of making access to space affordable, on-demand, regular, and reliable.
We expect to enter the orbital market with our Vikram I launch vehicle next year and be among the first movers in the commercial small-satellite launch segment. Currently there are only four small launch players in the global market that have reached orbit successfully. Out of these four, three have just entered the market in 2021-22. All four became unicorns upon reaching orbit the first time. We expect to enter the orbital market with our Vikram I launch vehicle next year and be among the first movers in the commercial small-satellite launch segment. We see strong global demand over the coming years that we can effectively cater to.
13. How do you envisage the future of STEM (science, technology, engineering & mathematics) in India?
As per recent data, India contributes close to 32% of the total STEM graduates in the world and has one of the largest STEM job markets. According to the National Science Foundation, ~80% of jobs created in the next decade will require some form of math and science skills. Reforms in the education sector such as the National Education Policy 2020 will foster more innovative thinking and more inclusiveness. So, we expect this share to rise over the coming years and led by more women in India joining STEM.
Also, space-based solutions will play a key role in advancing STEM in India. For instance, we expect high speed broadband internet from space to remote areas in India to get top-quality STEM courses within reach for every Indian.
First Published: &nbsp 21 Nov 2022 10:46 AM GMT