T-hub Inks MoU with Infinity Learn to redefine education, fuel innovation ecosystem
This partnership marks a momentous collaboration that aims to redefine education and foster innovation in the heart of India's flourishing start-up hub, Telangana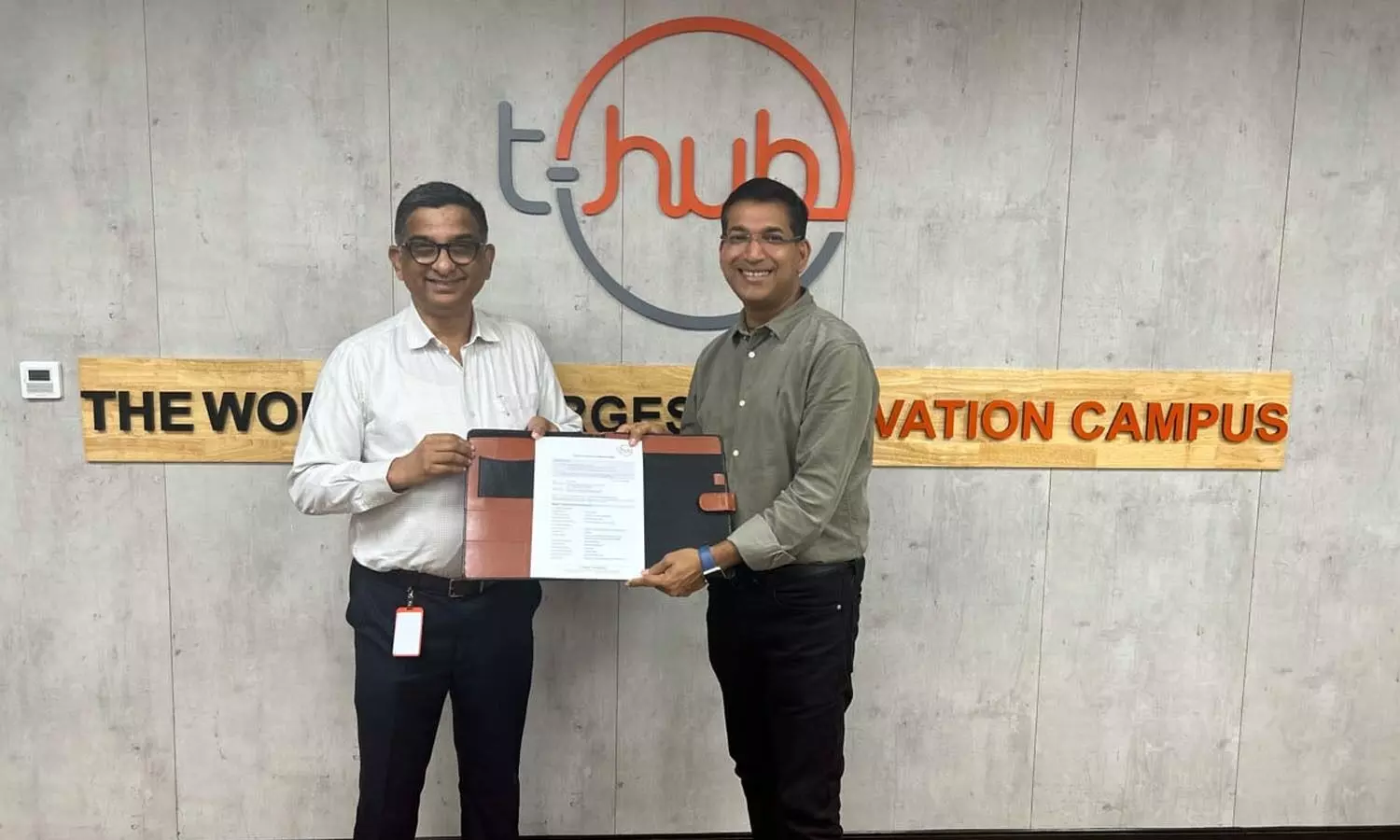 HYDERABAD: T-Hub, India's leading innovation ecosystem on Monday announced a strategic Memorandum of Understanding (MOU) with Infinity Learn, an esteemed organization renowned for its expertise in the digital learning arena.
This partnership marks a momentous collaboration that aims to redefine education and foster innovation in the heart of India's flourishing start-up hub, Telangana.
With a vision to amplify AI revolution with a fresh focus on educational initiatives, T-Hub would design and organize the Innovation challenge meticulously tailored for the Infinity Learn team. This challenge would empower them to demonstrate their expertise and ingenuity, addressing crucial industry challenges and unveiling cutting-edge ideas and solutions.
Infinity Learn's distinguished leaders would be bestowed with the honor of serving as esteemed judges and panelists in a series of ecosystem events orchestrated by T-Hub. Their invaluable insights and feedback would play a pivotal role in nurturing startups and aspiring innovators within the ecosystem, propelling them towards success.
Furthermore, Infinity Learn's revered leaders will join T-Hub's elite mentor panel, imparting their wealth of knowledge and experience to guide and support emerging entrepreneurs. Their mentorship would be instrumental in shaping the success stories of promising startups and cohorts in the relevant industry.
In recognition of T-Hub's expertise, Infinity Learn's leaders would receive special invitations to participate in CXO Roundtable Events, where they would engage in thought-provoking discussions on AI's potential in education in particular and businesses as a whole, while fostering crucial connections with industry leaders fuelling the AI revolution within the state's vibrant start-up ecosystem.
Mahankali Srinivas Rao, CEO of T-Hub, said, "Through this transformative partnership, T-Hub and Infinity Learn are set to ignite a powerful synergy of innovation and learning. Together, we will unlock the true potential of startups, fueling their growth and success. With our shared vision and expertise, we aim to create a vibrant ecosystem that empowers entrepreneurs to overcome challenges, embrace industry leadership, and pave the way for a brighter, more innovative future."
Ujjwal Singh, President & CEO of Infinity Learn by Sri Chaitanya, said, "This strategic MOU with T-Hub signifies an alliance focused on fostering innovation, knowledge sharing, and industry leadership, with a strong emphasis on harnessing AI initiatives to enhance customer centricity in businesses across diverse sectors. With Telangana's remarkable rise as an AI and start-up hub, this collaboration between Infinity Learn and T-Hub holds immense potential to revolutionize not only the education landscape but also empower businesses in delivering personalized and seamless experiences to their customers."
The partnership tenure is set for one year, during which both organizations would actively engage in fulfilling their respective responsibilities, igniting an era of innovation in the heart of Telangana's bustling start-up landscape.
First Published: &nbsp 31 July 2023 2:11 PM GMT