After dethroning Kishan Reddy in 2018, will BRS retain Amberpet?
BRS MLA Kaleru Venkatesh looks to win the seat yet again. He will be challenged by Rohin Reddy from the Congress and former Minister Krishna Yadav from the BJP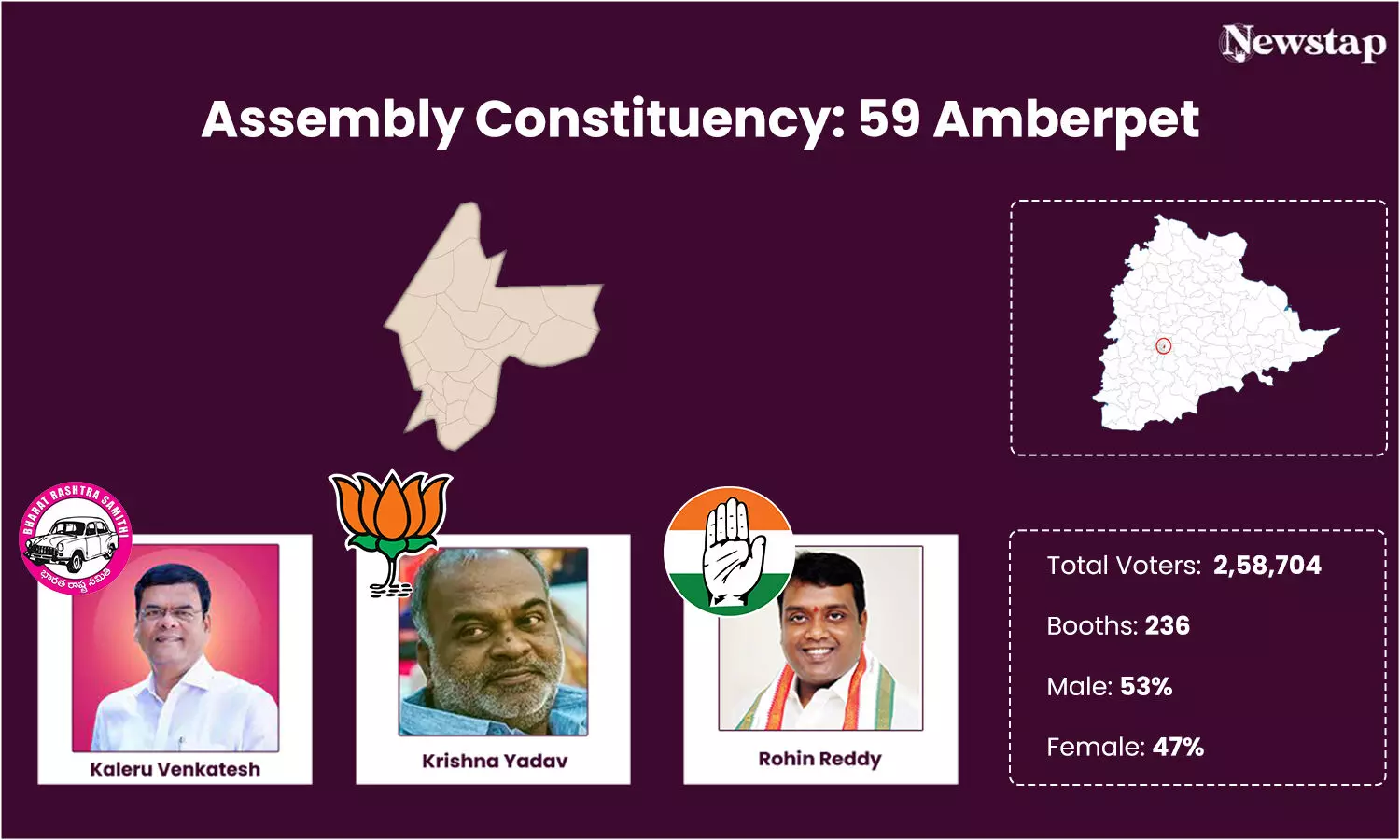 District: Hyderabad
MLA: Kaleru Venkatesh (Vanjari)
Reservation: GEN
Total Voters: 2,58,704
Booths: 236
Urban Voters: 100%
Rural Voters: 0 %
Male: 52 %
Female: 47 %
Caste & Religious Demography
Gen + BC: 92 %
SC: 6 %
ST: 2 %
Hindu: 63 %
Muslim: 33 %
Others : 7 %
Candidates Profile
Kaleru Venkatesh (BRS)
He pursued LLB from Faculty of Law, Delhi University, in 1986. Venkatesh was the president of the Criminal Court Bar Association in Hyderabad, 2005. He started his political journey with the Congress. From 2009-2014, Venkatesh served as a GHMC corporator in Golnaka. He then joined the TRS (now BRS) and again won as a corporator from the party. In 2018, Venkatesh was elected as a BRS MLA from Amberpet.
Rohin Reddy (Congress)
Dr Rohin Reddy has been associated with the party from NSUI days. He has been an active member of the State Congress party for the last few years. Besides mingling with people regularly and addressing their issues and problems as a politician, he takes time off to participate in social service activities, including helping orphans and organising blood donation camps. Dr Rohin Reddy, who has a dental degree from Karnataka University, has been an active leader right from his graduation days. Rohin Reddy's father Dr Muthyam Reddy has been treating poor patients free of cost in the constituency for many decades.
Krishna Yadav (BJP)
Former minister C Krishna Yadav is making a comeback after two decades. His candidature was approved by Etela Rajender. He was in the BRS for seven years. Yadav expressed disappointment over the lack of recognition for his contributions to the party. He served as a Cabinet colleague of Chief Minister K Chandrashekar Rao during the TDP tenure from 1994 to 1999. Yadav, who bid farewell to the TDP and joined the BRS in January 2016, was reportedly hoping for a party ticket from the Amberpet constituency. Yadav's political career spans from 1999 to 2004 when he was a two-time MLA from Himayatnagar Assembly constituency. During the TDP regime, he was a prominent BC leader and held the position of State Labour Minister from 1994 to 1999.
Constituency information
Prior to delimitation in 2009, Amberpet was part of the Himayathnagar constituency. There are many slums in Amberpet and Golnaka. As much as 70 per cent of the constituency voters are Hindus In the last six major elections, the BJP won the seat five times and the BRS once. Historically this seat has been won by the Reddy community. The BJP has had a stronghold in this constituency since 2004. G Kishan Reddy was elected from Amberpet for 15 years, winning three consecutive elections in 2004, 2009 and 2014.
2014 Election Analysis
MLA G Kishan Reddy won the constituency for the third consecutive time by 62,598( 42.8%) votes defeating TRS candidate A Sudhakar Reddy.
Public admired him because he was always on ground and addressed problems regularly, attended local events, marriages and was connected with people from 119 slum pockets around Amberpet division.
2018 Election Analysis
Kishan Reddy lost the election by a small margin of 1,016 votes. Anti-incumbency played a huge factor too.
Public was disappointed with the BRS GHMC corporators too due to pending work such as open drainage system, drinking water issue and non-fulfillment of promises such as new schools, BC hostels and 2 BHK houses.
Pensions, Kalyana Lakshmi/Shaadi Mubaraak, Rs 5 meals were a hit in the constituency.
Public wanted a change in leadership and believed that the ruling BRS could resolve and implement the schemes if given a chance.
The Muslim vote bank went to the BRS since both the Congress and the AIMIM didn't contest from the constituency.
Current Situation
MLA Kaleru Venkatesh is dealing with internal party rifts.
The Congress candidate was nominated just last month
Key Local Issues
Construction of Amberpet flyover still pending
Flooding is an issue due to blocked drainage system.
First Published: &nbsp 21 Nov 2023 7:17 AM GMT