BRS's Krishna Rao focusing on Kukatpally for hat-trick victory, Jana Sena enters poll fray
The TRS has a strong hold in the constituency and Krishna Rao became a dominant leader and the Jana Sena is also working actively to strengthen the party cadre through "Me Samasya Ma Parishkaram" programme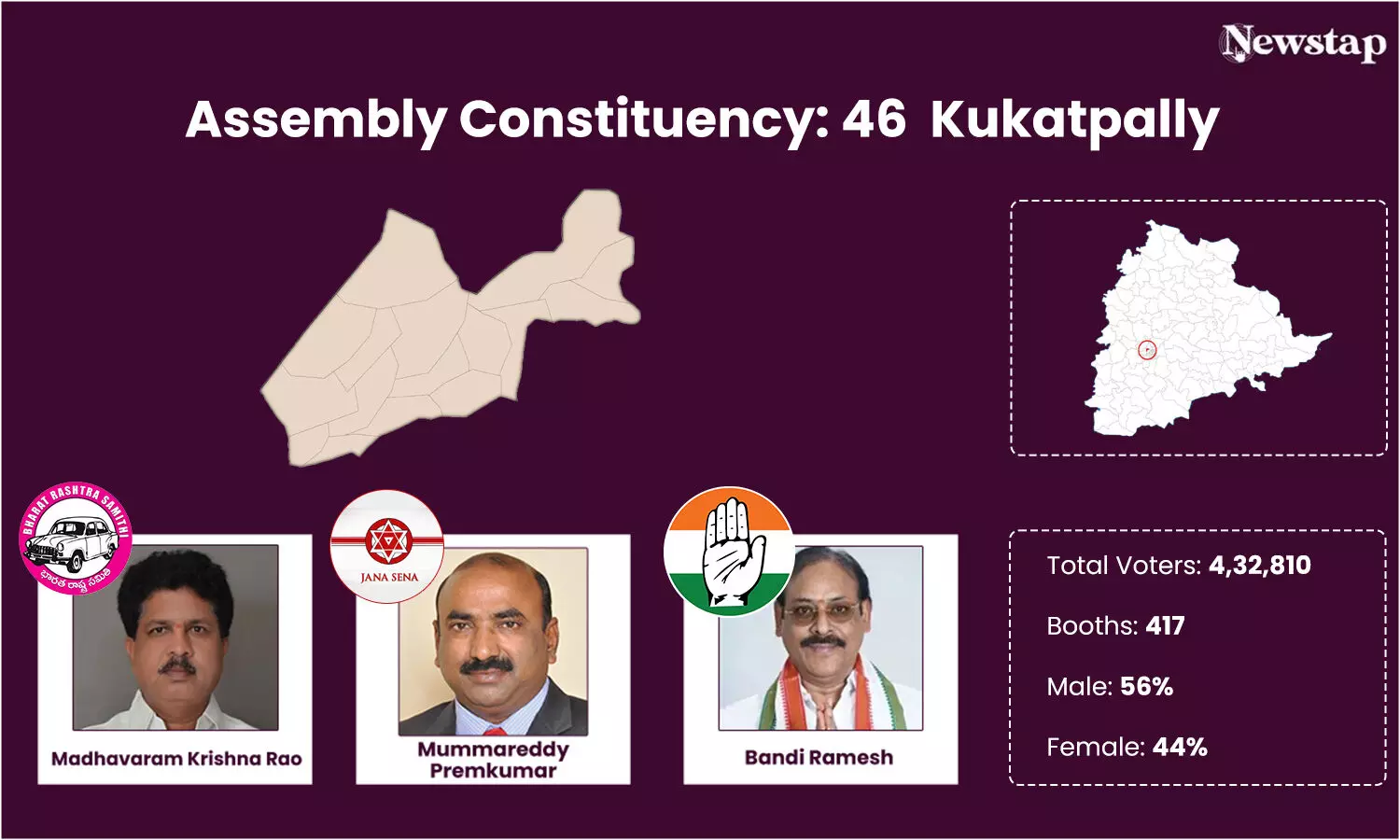 Assembly Constituency-Kukatpally
District: Medchal–Malkajgiri
MLA: Madhavaram Krishna Rao (BRS)
Reservation: GEN
Total Voters: 4,32,810
Booths: 417
Urban Voters: 100%
Rural Voters: 0%
Male: 56%
Female: 44%
Caste & Religious Demography:
Gen + BC: 92.4%
SC: 5.5%
ST: 2.2%
Hindu:81.1%
Muslim: 13%
Others: 8%
Candidates
Madhavaram Krishna Rao (BRS)
Krishna Rao was born on February 19, 1967 in Kukatpally. His parents are Narayana Rao and Sakku Bai. He is married to Laxmi Bai and has two children. He began his political journey with the TDP in 1990. He served as a vice-chairman for the Kukatpally municipality.
In the 2014 Assembly elections, he contested as an MLA on behalf of the TDP and elected as an for the first time from Kukatpally with a majority of 43,186 votes. He defeated TRS (now BRS) candidate Gottimukkala Padma Rao. Krishna Rao shifted his loyalties to the BRS from the TDP.
In the 2018 Assembly elections, he contested as an MLA for the second time on behalf of the BRS and defeated TDP candidate Nandamuri Suhashini, grand daughter of TDP founder president Nandamuri Taraka Rama Rao (NTR) with a majority of 41,049 votes.
In the 2023 Assembly elections, he is going to take on Congress candidate Bandi Ramesh and Jana Sena candidate Mummareddy Prem Kumar.
Bandi Ramesh (Congress)
Ramesh was born on July 15, 1963 in BhatlaPenumarru village of Krishna district in Andhra Pradesh. His parents are Bandi Bhaskar and Sarojini Devi. He pursued a Diploma in Electrical Engineering in Hyderabad.
After completion of his studies, he joined M/S Hyderabad Allwyn Limited, a State Government organization and worked for 11 years as assistant engineer (electrical maintenance). He founded BRC infra construction company and built over 3,000 quality apartments within a span of 15 years and became a noted builder in Telangana and Andhra Pradesh.
He began his political journey with the PRP founded by film actor Chiranjeevi. In the 2009 Assembly elections, he contested as an MLA from Serilingampally Assembly constituency on behalf of the PRP. He was defeated by Congress candidate Bhikshapathi Yadav. Ramesh shifted his loyalties to the TDP from the PRP.
Ramesh continued in the TDP for almost six years and served in various capacities. In 2016, he joined the TRS (now BRS) and the party leadership appointed him as State general secretary and Secunderabad parliamentary constituency in-charge. In the 2023 Assembly elections, he expected a BRS ticket from Serilingampally Assembly constituency. However, the party leadership preferred Arekapudi Gandhi's candidature over him.
Ramesh joined the Congress in the presence of MP Rahul Gandhi and is contesting as an MLA on behalf of the party from Kukatpally Assembly constituency in the 2023 elections.
Mummareddy Prem Kumar (Jana Sena)
Prem Kumar is a noted realtor in Hyderabad. He pursued MBA and M.com. He is married to Vijayalakshmi and has two children. Currently, he is serving as the president of Greater Hyderabad West Zone builders association.
He began his political career with the TDP. In the 2018 Assembly elections, he expected the Kukatpally Assembly seat from the TDP. However, the party leadership preferred Nandamuri Suhasini's candidature over him. He campaigned for Suhashini in the elections. In August, he shifted his loyalties to the BJP and stood in the race for Kukatpally Assembly seat.
As part of their alliance with the Jana Sena, the BJP had decided to allocate the Kukatpally seat to the Jana Sena candidate. Anticipating the party's decision, Prem Kumar joined the Jana Sena a day before the BJP and Jana Sena announced their candidates. He is contesting as an MLA on behalf of the Jana Sena in the 2023 Assembly elections from Kukatpally Assembly constituency.
Assembly constituency information:
In the last six major elections, the TDP and the BRS won twice, the Congress and the Loksatta won once.
N Jayaprakash Narayan from Loksatta party was the first MLA in the 2009 Assembly elections.
In 2009, due to delimitation, Kukatpally Assembly constituency was formed after being separated from Khairatabad.
The TRS won seven and the BJP won one, out of the total eight GMHC divisions in the constituency.
Of the total voters, 60 per cent are mainly from Andhra Pradesh (45 per cent) and the rest of the population are from Kerala, Gujarat, Maharashtra, Uttar Pradesh, Bihar and other States.
Kammas play a dominant role while Reddies and the BC communities are influential.
Over 20 per cent of Muslim vote bank decides/changes the local political dynamics.
It is a residential hub for the software employees.
Cultural / Historical / Religious Identifiers
KPHB colony
IT companies
Educational Hub
Laxmi Narasimha Swamy temple
Patidar building an auditorium is an old landmark in this suburb.
2014 Assembly elections Analysis:
MLA Madhavaram Rao started his political journey with TDP in the 1990s. He maintained a strong presence since he was the municipal vice-chairman and a loyal cadre since 1990's. This Assembly constituency is composed of voters from other States and a majority of them were from Andhra Pradesh and North Indian settlers who account for 60 percent vote base.
A majority of the local population was terrified of the TRS being in power as they feared of losing their jobs and were griped by a sense of insecurity. Muslim votes were split between the TRS and the Congress. Combination of Andhra voters and strong support from BC communities ensured Madhavaram Krishna Rao's victory.
2018 Assembly elections Analysis:
The TRS (now BRS) Government had spent around Rs 400 crore and constructed nine water storage tanks with a length of 180 kilometer pipeline.
The TRS also spent more than Rs 300 crore on construction of flyovers in Balanagar and JNTU. The TRS claimed to have spent Rs 714 crore on other road projects, this helped the TRS to secure votes from the working class and software employees and their families.
The TRS claimed it had spent huge amounts in this constituency on infrastructure development compared to any other Assembly constituency. Old drainage systems were replaced with new pipelines with higher capacity to meet for another 30 years.
Over 7,000-plus new connections of drinking water were provided in the constituency, apart from uninterrupted power supply.
Madhavaram Krishna Rao highlighted the TRS achievements as his personal milestone, in his campaigning he focused on himself and gave minimum credit to the TRS.
Krishna Rao is a mass leader and had a lot of support from Andhra settlers. He was highly visible on the ground to settle disputes. All these factors helped for his victory.
Whereas, Nandamuri Suhasini was extensively supported by TDP president and Chief Minister N Chandrababu Naidu and her uncle Hindupur MLA Nandamuri Balakrishna, played a big role in securing votes.
A series of mass campaigning conducted by Suhashini, along with Tollywood actors' support helped her to connect with masses(BC community). She failed to convince software employees and people of others to vote for her
The TRS pooled these votes in their favor which helped to win with a majority of 41,049 votes in the elections.
Current Situation:
The TRS has a stronghold in the constituency and Krishna Rao became a dominant leader. He is continuously making efforts in strengthening the TRS cadre.
The Congress and the Jana Sena lack a strong leader in the constituency.
In the recent GHMC elections, the BJP won in only one division and as the settlers are not accepting the BJP in the constituency.
Key Local Issues:
Traffic
Overflow of drains on main roads.
Government Hospital
Encroachments
First Published: &nbsp 20 Nov 2023 1:25 PM GMT