BJP will resolve Jawaharnagar dump yard problem: Bandi Sanjay
Bandi Sanjay alleged that the leaders of the TRS were only interested in corruption while turning a blind eye to the civic issues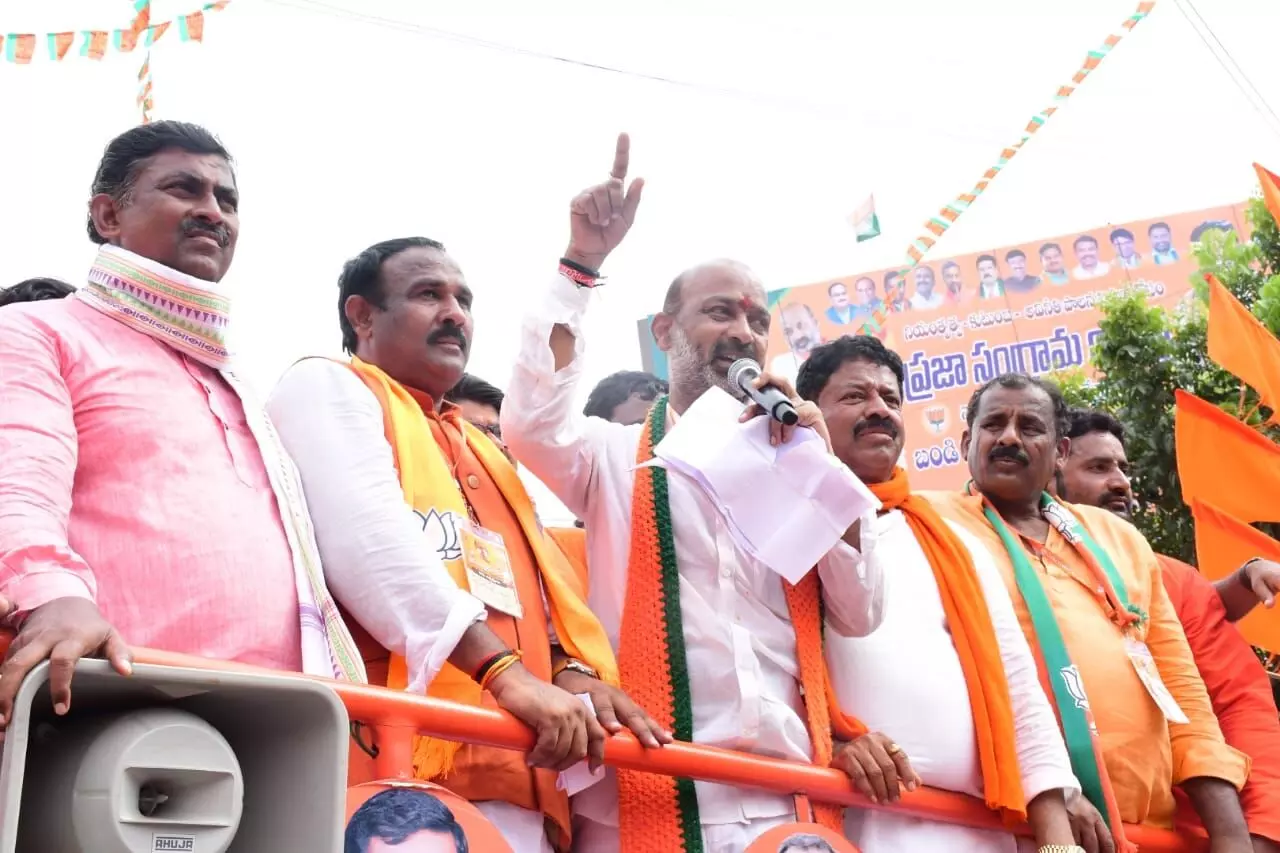 HYDERABAD: Bharatiya Janata Party (BJP) Telangana chief Bandi Sanjay Kumar on Monday alleged that the leaders of the Telangana Rashtra Samithi (TRS) were only interested in land-grabbing and corruption while turning a blind eye to the civic issues troubling the people. He said that the TRS people's representatives deserved to be brought to the Jawaharnagar dump yard so that they would get a first-hand experience of the people's hardships in the area.
Bandi Sanjay, whose Praja Sangrama Yatra 4 had entered the Medchal constituency, on Monday marched on foot from Yapral to Dammaiguda till afternoon. Addressing a public gathering at the Dammaiguda Chowrastha, he made caustic remarks against the ruling TRS and its leaders.
While asking Chief Minister K Chandrashekar Rao (KCR) to personally visit the Jawaharnagar dump yard and understand the problems being faced by the local residents, he promised that the BJP would resolve this long-pending issue once it came to power in the state.
He also took a dig at police officials and district collectors, who he alleged, were resorting to flattery with an eye on plum positions. Claiming that the TRS government was on a ventilator, he alleged that KCR was going on a mortgaging-spree when it came to the assets of the TSRTC. "Why are the TRS leaders here tightlipped about the dump yard which is posing a grave danger to the residents? I will personally visit this place again, after my pada yatra, to resolve the issue. If KCR feels any sense of responsibility towards the hapless people here then, he should visit this place and take steps to safeguard the public health here," he said.
Bandi Sanjay also mocked KCR's recent announcement of 10 percent reservation to the Scheduled Tribes (STs). Describing it as an election gimmick, he alleged that KCR made the announcement with an eye on the by-elections of Munugode Assembly constituency where there were significant ST votes. Referring to the Girijana Bandhu plan, he wondered why the Chief Minister never thought of this during the last eight years of his rule. "KCR's commitment towards STs became evident when he tried to defeat Droupadi Murmu, an ST leader, in the recent Presidential elections. KCR should explain why he is talking of ST reservations and Girijana Bandhu only when the Munugode by-election is round the corner," he commented.
First Published: &nbsp 19 Sep 2022 11:52 AM GMT