Congress goes for overkill with guarantees, apparently bites more than it can chew
The implementation of the schemes would become such a Herculean task that those who calculated the financials for all the six schemes would cast so much of a burden on the State Government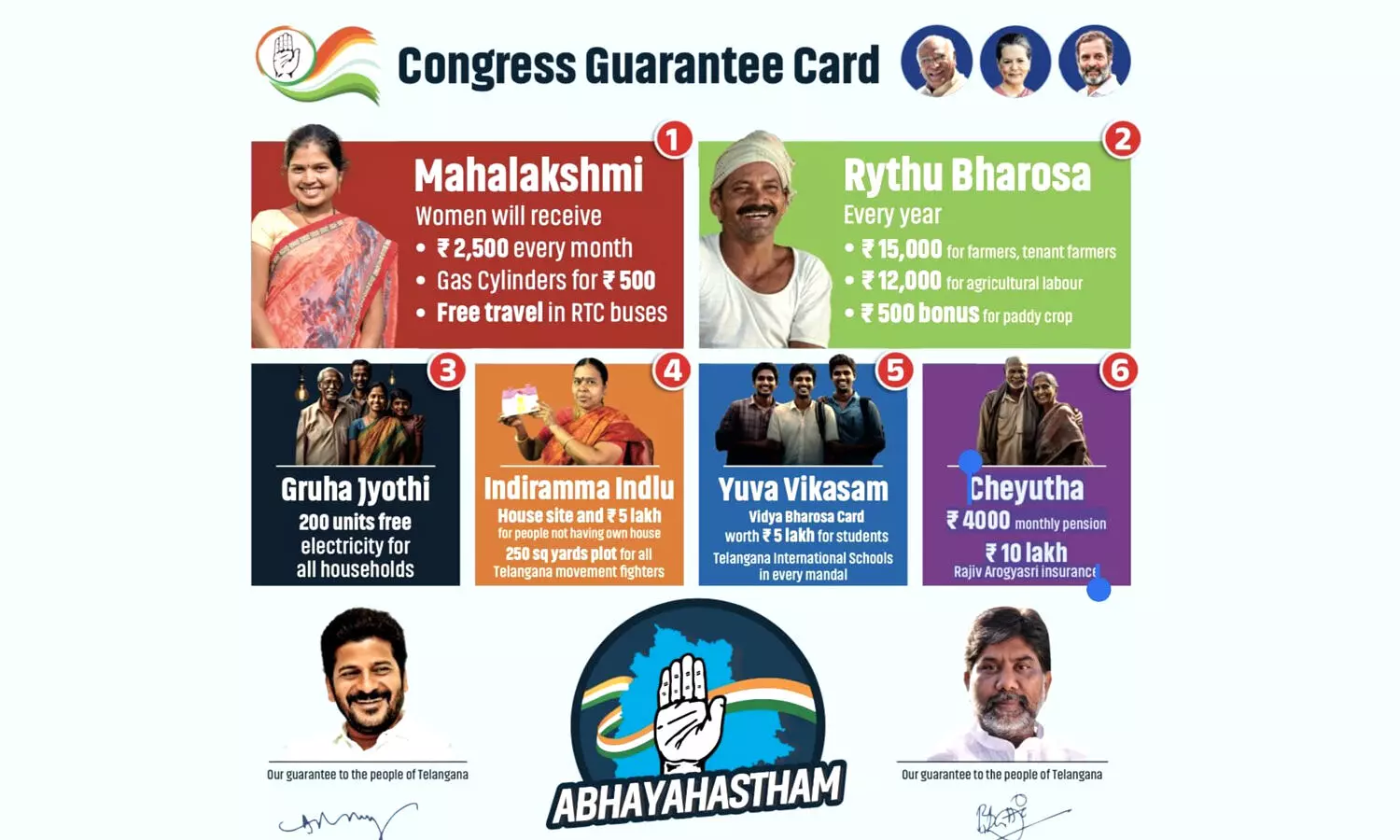 HYDERABAD: The Congress seems to have gone for an overkill with the six guarantees it has promised to Telangana people from the Rajiv Gandhi Grounds in Tukkuguda. The implementation of the schemes would become such a Herculean task that those who calculated the financials for all the six schemes would cast so much of a burden on the State Government that it has bitten more than it can chew.
Below are the promises it has made:
Indiramma Housing - Rs.5 lakh for homeless poor, 250 sq yards house site for Telangana agitators
Mahalakshmi - Rs.2,500 to every woman, Rs.500 per cylinder, free bus travel for women
Gruhajyothy -- Free power for all up to 200 units
YuvaVikasam -- College fee assistance Rs.5,00,000 for coaching
Cheyutha -- Rs.4,000 for old aged people and Welfare -- Rs.10,00,000 health insurance
Rythu Bharosa -- Rs.15,000 per acre for farmers and tenant farmers (as per the poster released officially by the people); Rs.12,000 for farm labourers
The Congress will have to take to the dictum of 'robbing Peter to pay Paul' if it implements the schemes it has promised to implement in Telangana, if voted to power, as it has done in the case of Karnataka.
In Karnataka, the Congress, as soon as it came to power, enhanced power tariff by Rs. 2.89 per unit for those using more than 200 units. This naturally will be imported to Telangana, if the Congress Government came to power in Telangana.
To offset the subsidies it has promised, the Karnataka Government enhanced the prices of liquor by 20 per cent across 18 slabs; drinking water cost which is offered free up to 20,000 litres in Telangana. The Congress government increased Nandini Milk prices by Rs. 3. The guidance value for immovable properties was hiked by 14 per cent. The Government and private engineering colleges too would bear the brunt of hiked tuition fee by 10 per cent to cross subsidise the boisterous welfare schemes. This directly affects the higher education system, if it is replicated in Telangana.
The Congress does not seem to have factored in the costing, because most schemes are not under implementation in the States ruled by the party across India.
'Mahalakshmi Guarantee':
Under this mega scheme, the Congress promised Rs. 2,500 per woman in Telangana is not under implementation in Rajasthan, Chhattigarh at all, while Rs. 1,500 per head is being given in Himachal Pradesh with a niggardly budget allocation of Rs. 416 crore for the scheme while the total number of beneficiaries are 2.31 lakh in the tiny state.
The Congress is not implementing Rs. 500 a gas cylinder for domestic use in Karnataka, while it is in force in Rajasthan with a perfunctory budget of Rs. 1,500 crore. The subsidised gas cylinder scheme is not in vogue either in Chhattisgarh or Himachal Pradesh.
Karnataka Government implemented free bus travel for women at a budget of Rs. 2,800 crore. As many as 16 crore women used this scheme in just one month between June and July. However, this scheme is not implemented in Rajasthan, Chhattisgarh and Himachal Pradesh.
'Rythu Bharosa'
The farm input scheme is not present in Karnataka, Rajasthan and Himachal Pradesh. However, it is being implemented in Chhattisgarh under the name Rajiv Gandhi Kisan Nyay Yojana at the rate of Rs.9,000 per acre.
The assistance of Rs. 12,000 per acre for tenant farmers and famr labourers is absent in any of the Congress-ruled States, except Chhattisgarh where the government is giving Rs. 7,000 each to landless labourers of Rajasthan, Chhattisgarh.
The bonus of Rs. 500 per quintal for paddy is, however, being implemented in rajasthan and Chhattisgarh, while Karnataka and Himachal Pradesh were ignored.
'Gruhajyothy'
Free electricity up to 200 units is being implemented in Karnataka, where tariff was enhanced for other consumers; while it is being extended up to 100 units in Rajasthan. Chhattisgarh is implementing 50 per cent of subsidy in electricity bill up to 400 units. The Chhattisgarh government is also giving free electricity up to 30 units to people below poverty line.
In Telangana, power is free to all farmers for agricultural operations round the clock without any slabs.
'Indiramma Housing'
While eligible people would be provided 85 per cent of construction material free of cost in Karnataka, two-bedroom houses are under implementation for low income groups in Rajasthan. Chhattisgarh is giving an assistance of Rs. 2.50 lakh for the construction of houses and Himachal Pradesh Government announced (not launched) Rs. 1.50 lakh assistance for low income groups.
'Yuva Vikasam'
This scheme is not being implemented in Karnataka, Rajasthan and Himachal Pradesh. However, in Chhattisgarh, the government is offering Rs. 50,000 scholarships to students in higher education and professional education in premier tier 1 institutions.
'Cheyutha'
An assistance of Rs. 1,000 a month for the aged, divorced women, and the handicapped in given in Rajasthan. The Chhattisgarh Government Rs. 350 per person with disabilities and dwarves. It is not being implemented by the State Governments on their own in Himachal Pradesh and Karnataka.
While the State initiative is absent regarding health insurance in Karnataka and Himachal Pradesh, the scheme is implemented in Rajasthan with Rs. 25 lakh per person with a big rider – the applicant has to pay Rs. 850, while the State government would co-pay Rs.850 per person. The Chhattisgarh government offers Rs. 20 lakh for identified rare diseases for ration cardholders.
Though the ostentatious announcement of the bombastic schemes rent the air in Telangana public meeting, the Congress guarantees will have to be read carefully with fine print, lest expectations of people would be dashed.
Interestingly, the housing scheme, free electricity for farmers, education support, Arogya Sri health scheme, pensions for the eligible, and Rs.3,016 assistance for unemployed youth are all under implementation in Telangana.
First Published: &nbsp 17 Sep 2023 3:21 PM GMT