INTERVIEW: Meet SP of Rajanna-Sircilla Akhil Mahajan who initiated 'Message Your SP', DRF teams
Mahajan, a 2017 batch IPS officer, served as Mancherial DCP before being appointed the SP of Rajanna-Sircilla district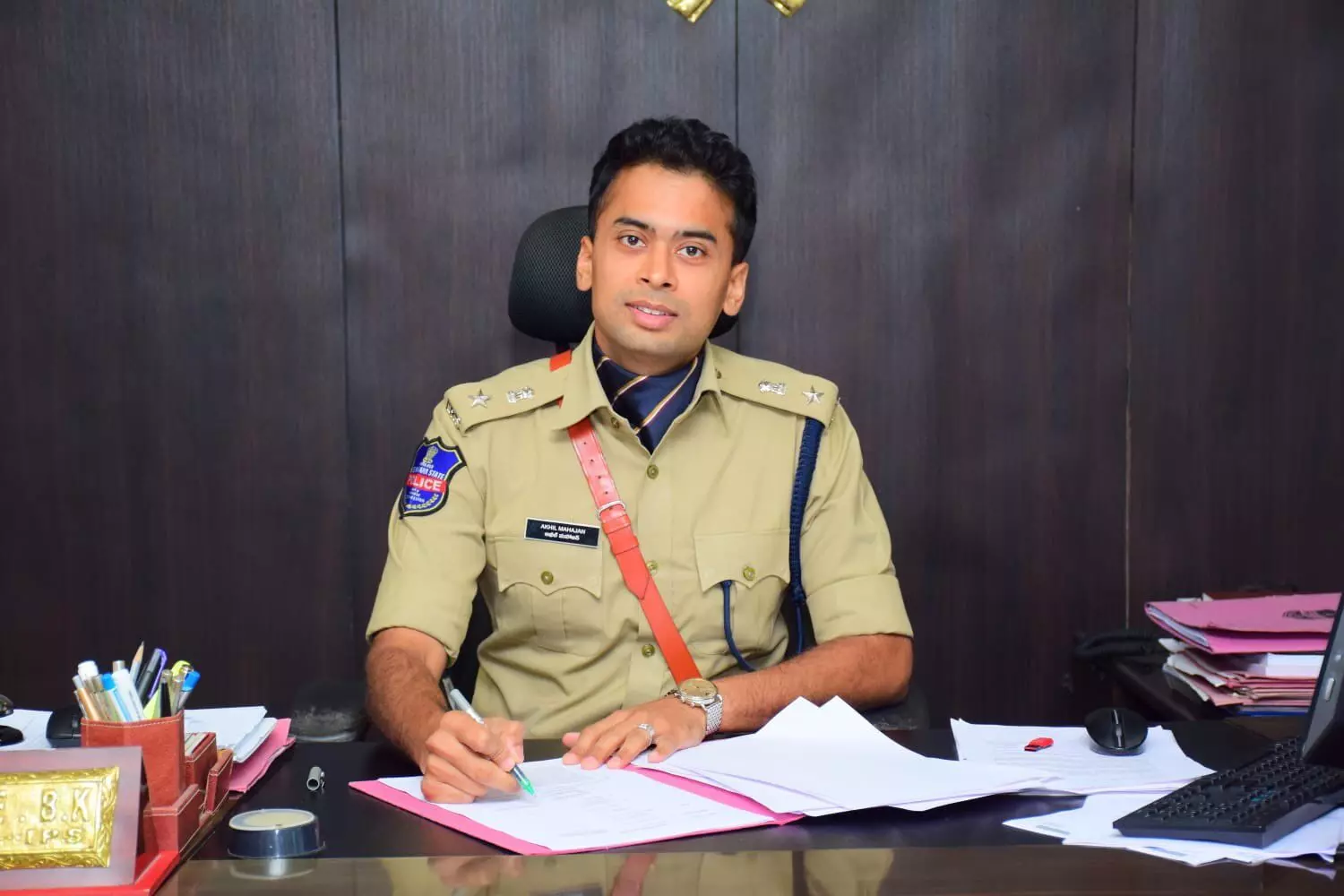 SIRCILLA: Akhil Mahajan has taken over as the new Superintendent of Police for the Rajanna-Sircilla district, succeeding SP BK Rahul Hegde, who was transferred as Malkajgiri DCP on January 27, 2023.
Mahajan, a 2017 batch IPS officer, served as Mancherial DCP before being appointed the SP of Rajanna-Sircilla district. Akhil is a native of Jammu and Kashmir and graduated from Jawaharlal Nehru Technical University (JNTU) in Hyderabad. After a year of working in MNCs and assisting in his father's business, Akhil decided to do something for the nation and took the UPSC exams.
From launching the 'Message Your SP' initiative to establishing a DRF team in Sircilla and launching several community outreach programs, the young officer has taken up numerous initiatives in a short period.
First, tell us about yourself
I'm from Jammu & Kashmir. I finished schooling at my hometown. I was placed in a reputed organisation with a good package after graduating from JNTU in Hyderabad. I got campus placements at Microsoft, ECE Telecom, and Cognizant as well. After working for a year, I was motivated to expand my dad's business. I moved back to Jammu to build my dad's business in 2011. After working with him for 8-9 months, I felt compelled to do something meaningful and positive with my life. So I decided to take the UPSC exams and was posted in Telangana in 2017. I was trained in Siddipet and subsequently became ACP Mancherial, DCP admin Ramagundam, and DCP Mancherial, as well as DCP Peddapalli for a short time.
What inspired you to pursue this career?
After working with my father and assisting in our family business, I felt compelled to do something to give back to society and serve my country. I began studying for the IAS examinations, and in my fourth attempt, I got a rank of 213 in the UPSC 2016. I am grateful to have qualified for the UPSC exams and now have the opportunity to serve in the Indian Police Services(IPS).
You are the new Superintendent of Police for the Rajanna-Sircilla district. How are you finding this new responsibility?
It's obviously challenging since it's a supervisory role, and I need to make sure that everyone in my team isn't stressed out because I see a lot of cops on the field that are stressed out. And because it is difficult for them to give their 100 percent when they are stressed, it is critical that they have adequate time to de-stress. I completely understand the significance of work-life balance, which is why I have told my inspectors and sub-inspectors to take their time off and spend quality time with family and friends to recharge themselves.
Please tell us about your one-of-a-kind initiative, Message your Sricilla district SP?
It helped us in gaining public trust as well as in effective law enforcement. They are providing information on illegal actions, situations where the opposing party is threatening them, case registration, texting about their non-involvement in the case, and so on. I get about 10-12 messages a day on this. So, if and when I observe something, I notify the appropriate inspectors to conduct an investigation.
When I was DCP Mancherial, I noted that many people came to speak to DCPs for assistance, but they did not come to the Superintendent of Police, which prompted me to launch this initiative so that people realise that they can also seek assistance from their SP. Since I launched this initiative, people have begun to visit our place of work.
At a time when the general public is not so inclined to approach police stations or call local cops, Do you think your initiative has helped to establish trust between the community and local police or senior cops?
This initiative has really helped us in gaining public confidence, since we are receiving a lot of complaints on a daily basis. I've also asked our inspectors to file FIRs whenever they receive complaints, in order to build public confidence.
Could you please explain the significance of outreach programmes in policing?
Police community outreach programs are a great way to reach the community and be part of them while listening to their problems.
Tell us about a few community outreach programmes you've started in the districts where you've worked so far?
We began a police outreach programme in Rudrangi to encourage mandal youth to enrol in school, concentrate on their careers, and stay away from ganja and bad habits. We've also begun an initiative called 'Meekosam,' which refers to 'Police for You*,' in which we choose one village each week. We have 13 inspectors, and we organise programmes and speak to the villagers every week along with our inspectors and team. We discuss and raise awareness about current crimes, such as cybercrime, drug trafficking, dial 100, and SHE teams, and inform them about new criminal strategies so that they can avoid crimes.
Was it your idea to form the Sircilla Disaster Response Force (DRF)?
Disasters are becoming more common around the world, and the cops are the first responders. To improve the effectiveness of the police, a Disaster Response Force (DRF) was formed in Sircilla, with members trained by DRF and the GHMC. When I was the Mancherial DCP, there were massive floods there, and it took 36 hours to get a rescue boat from Hyderabad. And I've learned that even Siddipet is prone to flooding, so it's always recommended to be prepared. I had planned to establish a DRF team in Mancherial, but since that was not possible, I decided to accomplish so in Sircilla in advance. We also planned to purchase a boat so that we wouldn't have to rely on other districts for assistance.
Please describe your most difficult posting till date?
Nothing of the sort, because even the most challenging positions teach us good experiences.
Please describe the most intriguing cases you have solved till date?
In Mancherial, I solved a double murder case in 16-17 hours. On June 18, an unemployed man and two contract killers were apprehended for a double murder in Mancherial. The attackers strangled the jobless man's wife and mother-in-law to death. When we questioned the husband, he stated that two people came from somewhere he didn't know and killed the women.
When we questioned him, he said he had contacted them through YouTube comments, where it said, "Please contact us if you want to buy a gun only through Telegram," and they came and murdered the duo. It was difficult to solve this case because Telegram did not provide any information, but because it was a double murder in the same family and it was my first posting, I took it as a challenge and solved it in about 16-17 hours using technology.
Describe a case that was swiftly solved using technology. How is technology assisting in solving interesting cases these days?
Another incident occurred when six people died in a hut fire in Ramagundam. I received a call early in the morning and rushed to the spot. When we examined, we verified all of the petrol pumps within a 10-kilometer radius, as well as the CCTV footage of these bunks. We saw an auto mechanic purchase 50 litres of diesel in two cans. We discovered the same vehicle in a liquor store that had previously purchased a liquor store. We also discovered a spot where they sat and consumed liquor together that day. We discovered the liquor bottles with the same barcode as those sold in the liquor store. Finally, we discovered an auto rickshaw with a hospital advertisement, which took us to the accused who burned the hut and killed everyone as a consequence of illegal affairs and a property dispute. Technology was crucial in tracing down this case.
What main issues or crimes do you believe should be addressed in the Sricilla district?
One of the most major challenges we have is the recruiting of locals to work in Gulf countries through fake agents. We are doing everything possible to educate locals about the fake agents and gulf immigration. We also launched a dedicated number "8712656411" for all such queries, complaints related to gulf agents as a lot of complaints were received about fake agents in Sircilla who took money and escaped. More than 10 FIRs were registered last month. "Message your SP" -6303922572
Are school-based awareness programmes encouraging female students to file SHE TEAM complaints, or are they still hesitant?
It certainly helps because, first and foremost, awareness of the existence of SHE Teams grows, and knowing such things exist is essential in the first place. And SP and DCP personally attending these events and raising awareness is critical in order to develop confidence among students and encourage them to file complaints. That is why I strongly support community programmes.
You seem to be highly active on social media. Do you believe that being active on social media has become a part of your job? Does it additionally help in reaching out to the public and establishing trust with locals?
It is important to share all significant initiatives undertaken by the police because the general public is unaware of a great job done by the police. A police officer's work is the most thankless, and it remains unnoticed. I used to share all important updates and initiatives when I was in Mancherial, which really helped to raise awareness. This is important because it helps in interacting with locals. When people see cases being resolved, they approach us with new complaints, full of confidence. As a result, more people are aware of the good job done by the police, which often goes unnoticed by many.
First Published: &nbsp 4 April 2023 2:00 AM GMT