National Integration Day: Privileged to lead movement, rebuild Telangana, says KCR
KCR said, "Everyone in the country is speaking about Telangana which emerged as a trailblazer with the pioneering efforts of my Government."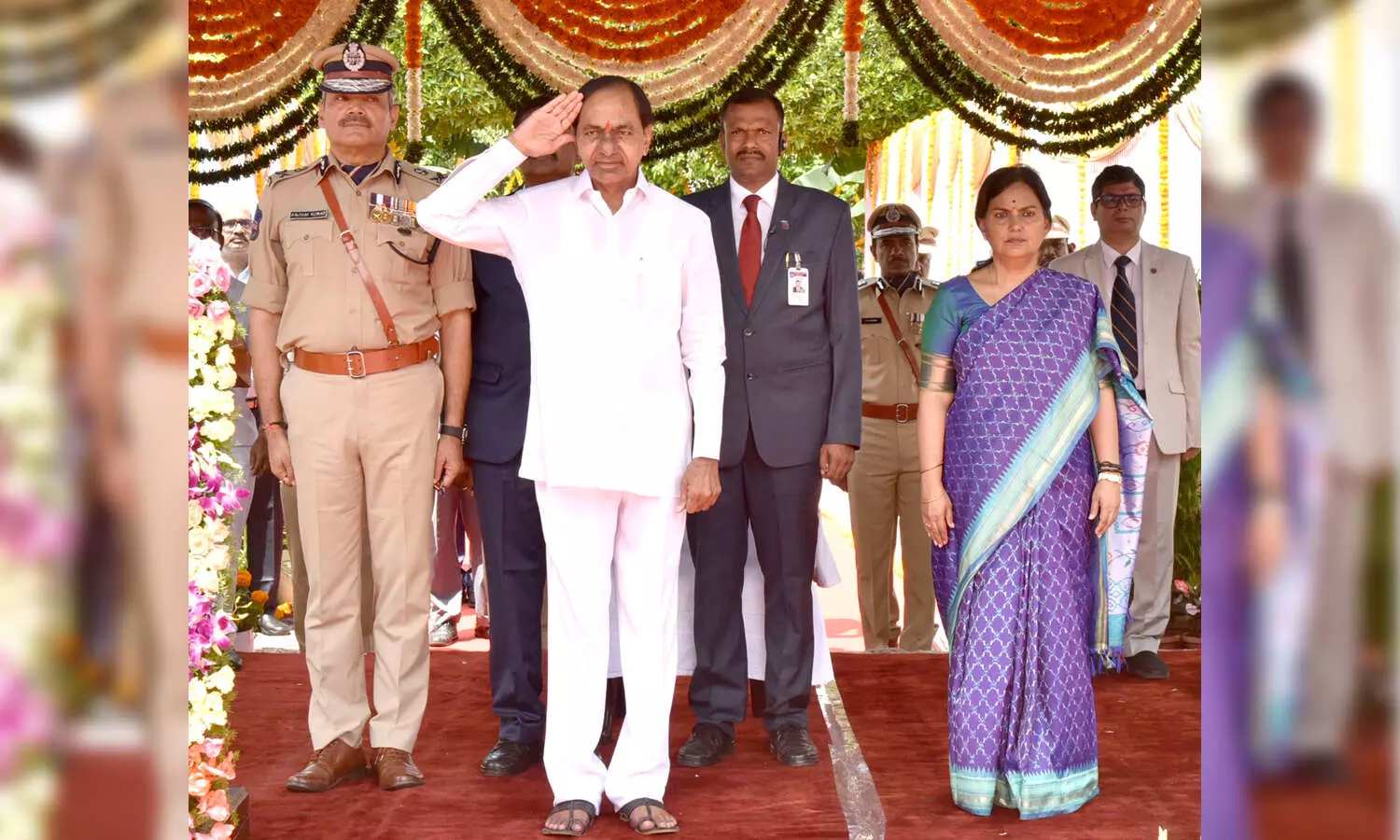 HYDERABAD: Chief Minister K Chandrashekar Rao (KCR) said that Telangana, despite being the youngest State in India, surpassed many big states and registered a huge growth on many fronts in the country.
Participating in the Telangana Integration Day celebrations at Public Gardens on Sunday, KCR said, "Everyone in the country is speaking about Telangana which emerged as a trailblazer with the pioneering efforts of my Government."
The Chief Minister listed out all the welfare and development programmes taken up by Telangana Government.
"The Telangana Government has been formulating and implementing programmes from a humanitarian perspective since 2014. As a result of Government schemes, poverty rate in Telangana which was 13.18 per cent in 2015-18 has come down to 5.88 per cent in 2019-21. On the other hand, Telangana has ranked number one in the country in terms of per capita income," KCR said.
Palamuru Rangareddy Lift Irrigation Scheme (PRLIS)
Listing out achievements of the Telangana Government under various sectors, KCR began pointing out how the Palamuru region suffered in the previous decades, KCR said, "Due to negligence and discrimination of leaders, Palamuru and Rangareddy districts experienced many hardships due to lack of access to drinking and irrigation water for decades. As part of PRLIS, we started pumping Krishna water from Narlapur through 'Bahubali'-sized pumps yesterday (September 16, 2023). This is a golden chapter in the history of irrigation in Telangana. We have been able to realise the dream we have been waiting for decades."
"With this, 12,30,000 acres in NagarKurnool, Mahabubbagar, Narayanapet, Rangareddy, Vikarabad amd Nalgonda district will be irrigated and 1,226 villages will get drinking water. "The target of irrigating a total of 1 crore 25 lakh acres of ayakattu in the State will be fulfilled in the next three to four years," he announced.
Medical colleges in each district
Speaking about achievements in the field of medicines, KCR said, "The Government created history by opening 21 new medical colleges within a decade of the birth of State. In the recent cabinet meeting, 8 more medical colleges have been approved which would be setup next year. With this, Government will soon achieve the target of setting up a medical college in each district."
"As of 2014, only 850 MBBS seats were available in five Government medical colleges, but today the number of seats has increased to 3,915. In 2014, there were only 2,850 medical seats in both public and private sector, but today it has increased three fold. I am proud to inform that 10,000 doctors will soon emerge out of Telangana," he added.
Double Bedroom Houses
"We are distributing nearly one lakh houses to the poor in the city of Hyderabad which have been completed and are ready for inauguration. We have also started the Gruhalakshmi scheme for the poor who want to build a house on their land. Under this scheme, the Government will provide financial assistance of Rs 3 lakh to the beneficiaries for the construction of houses in three phases. In the first phase, we are providing this benefit to three thousand people in each constituency of the State," KCR said.
Pensions
"As soon as Telangana Government came to power, the amount of pension was increased from Rs 200 to Rs 2,016. We have recently increased the amount of pension given to the disabled from Rs 3,016 to Rs 4,016. As of 2014, the number of pensioners were only 29 lakh, but today pensions are being given to 44,00,000 people," KCR said.
Upliftment of poor and weaker sections
"Telangana Dalit Bandhu is a revolutionary scheme introduced by the Government for the comprehensive development of the downtrodden Dalit community. The Government is providing a huge financial assistance of Rs 10,00,000 to each Dalit family under this scheme to enable the Dalit family to take up any profession or business of their choice. No such scheme can be found in any other state in the country," KCR said.
"The Government is also providing financial assistance of Rs 1,00,000 for SC and STs along with minorities," he added.
IT Sector
"Every day a new company is coming forward to invest in the State. At the time of formation of Telangana State, there were only 3,23,039 IT employees in the State. Today their number has increased to 9,05,715. In 2014. IT exports amounted to Rs 57,258 crore. Today it has increased to Rs 2,41,275 crore. We have extended IT to second tier cities like Khammam, Warangal, Karimnagar, Nizamabad, Mahbubnagar and Siddipet and have built IT towers," he said.
Growth of Hyderabad
"We are undertaking and completing strategic road development works at a cost of more than Rs 67,000 crore to avoid traffic congestion in Hyderabad and make it a signal-free city. We have already completed and started 20 flyovers. The Government has decided to expand the metro rail in all directions of the city at a cost of Rs 69 billion. With this, a total of 415 km metro facility will be extended in Hyderabad," he said.
Irrigation Sector
"Telangana's irrigation sector is entering a golden era with the completion of projects like Kaleswaram. Welfare measures like 24-hour free electricity, timely supply of seeds and fertilisers, Rythu Bandhu, Raitu Bheema, waiver of crop loans up to Rs 37,000 crore have given relief to the farmers," KCR said.
"Telangana farmers are rewriting history in terms of cultivation and yield. The grain yield has reached 3 crore tonnes. Telangana is racing towards the first place in the country, surpassing the State of Punjab in rice production," he added.
Saying that it was a matter of pride for all that Telangana is number one in many fields, the Chief Minister warned, "Those who are trying to obstruct the development of Telangana will face dire consequences. Our unity is our strength. Let us raise and strive for Golden Telangana," KCR concluded and said that Telangana's development was a role model for the country.
First Published: &nbsp 17 Sep 2023 8:11 AM GMT