Telangana diamond in India with 3 lift irrigation projects; KCR inaugurates Palamuru-Rangareddy project
Fulfilling the long cherished dream of people of the water-starved region, KCR switched on pumping systems, the first-of-its-kind ever used in the world, commencing its crucial wet run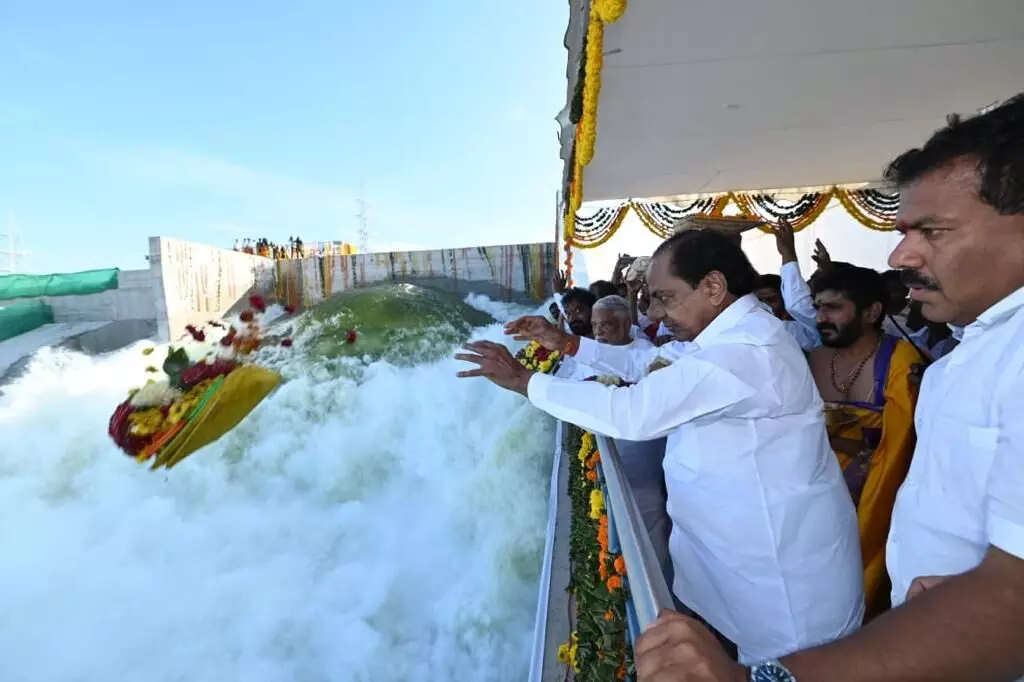 HYDERABAD: Chief Minister K Chandrashekar Rao has announced that once the three major lift irrigation projects in the State- Kaleswaram, Sitarama and Palamuru- are completed, Telangana will be recognised as a diamond in the country for its contribution to rice production.
KCR inaugurated the mega Palamuru Rangareddy Lift Irrigation Scheme at Narlapur reservoir in Kollapur of Nagarkurool district on Saturday. Recognised as one of the most backward regions of the country, KCR said that going forward, Mahabubnagar and Ranga Reddy districts would be written in golden letters in the history of Telangana.
Fulfilling the long cherished dream of people of the water-starved region, the Chief Minister switched on one of the high powered 145-MW pumping systems, the first-of-its-kind ever used in the world, commencing its crucial wet run.
Over 3,200 cusecs of water drawn from the offshore point of Srisailam project and channeled through the mammoth tunnel system and surge pool, was pumped into the Anjanagiri reservoir built as part of the Stage-1 of the Rs 35,000 crore project.
Addressing a massive rally on the occasion, KCR said, "Once people from Palamuru were forced to migrate to Hyderabad as labourers. But today Palamuru farmers are brining labourers from West Bengal, Uttar Pradesh and Karnataka to do the farming. I told this many times in the past that poverty will disappear, funds and employment will come once Telangana is formed and that has happened."
KCR accused Prime Minister Narendra Modi for failing to resolve Krishna River water sharing woes between Telangana and Andhra Pradesh for the last 10 years.
"We do not want to use Andhra Pradesh's share in Krishna River. We want our own share from the river for taking up the projects and meet the drinking and irrigation requirements in Telangana," KCR said and blamed the Congress, the BJP and also the TDP president N Chandrababu Naidu for the delay in completion of projects in the Palamuru region in united Andhra Pradesh. KCR said that the district remained backward for decades because of the failure by those parties to develop it.
The Chief Minister came down heavily on the opposition parties for creating hurdles and delaying the completion of the Palamuru-Rangareddy Lift Irrigation Scheme by lodging complaints in courts against the project. KCR appealed to the public to question the opposition leaders and warned them not to get carried away by their tall promises during the election season.
First Published: &nbsp 16 Sep 2023 2:39 PM GMT