Tamilisai still sulking over KCR opening secretariat, Modi did the same in Gujarat in 2013
Telangana Governor Dr Tamilisai Soundararajan is an unhappy soul ever since KCR unveiled Dr B R Ambedkar Telangana State Secretariat, in Hyderabad on a grand scale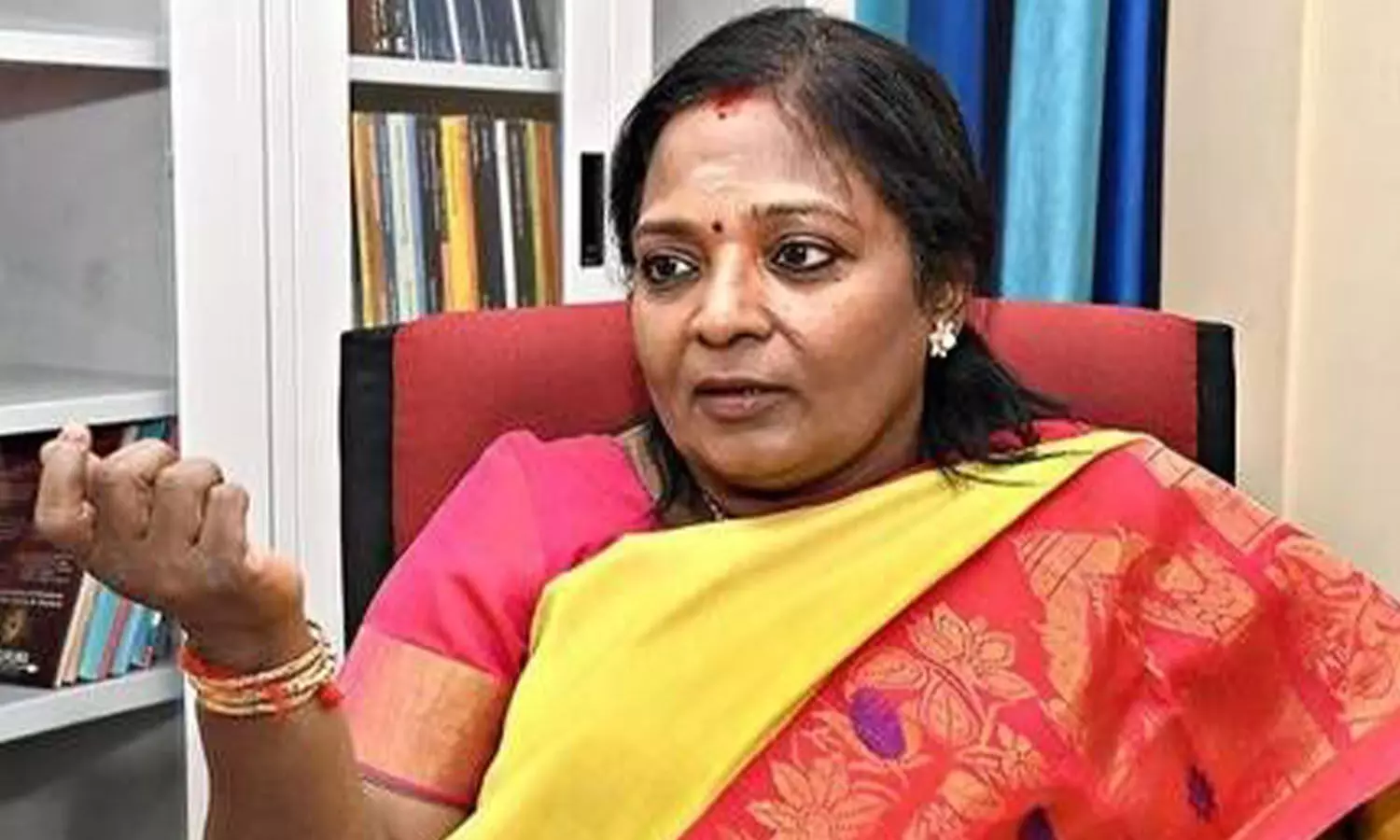 HYDERABAD: Telangana Governor Dr Tamilisai Soundararajan is an unhappy soul ever since Chief Minister K Chandrashekar Rao (KCR) unveiled his dream project, Dr B R Ambedkar Telangana State Secretariat, in Hyderabad on a grand scale. She has been sulking and feeling slighted at not being invited for this mega spectacle that became the cynosure of all eyes a few weeks ago.

Contrary to popular belief, that time is the best healer of everything, Dr Tamilisai Soundararajan, who is often loathed for exceeding her gubernatorial brief and poking her nose into administrative matters with unwarranted criticism, is yet to get over this self-perceived ignominy. So much so that, the 61-year-old feisty 'first citizen of Telangana' is drawing flak for shouting from the rooftop and using every available platform to attack the KCR Government for this so-called indignation.
Already branded as a governor-turned-detractor of the BRS regime in Telangana, Dr Soundararajan found a fresh potent weapon in the controversy surrounding Prime Minister Narendra Modi's decision to inaugurate Central Vista, the new Parliament complex in Delhi, while ignoring President Droupadi Murmu. Even as a swarm of opposition parties are opposing the move, calling it an insult to the institution of presidency, and being inflicted by a sitting Prime Minister, the Telangana Governor is quickly trying to showcase her own 'saga of victimhood' to rebut their contention.
On Thursday, the Telangana Governor, a Tamilian, was among the distinguished dignitaries including Union Finance Minister Nirmala Sitharaman and Tamil Nadu Governor N Ravi, who addressed the media to speak about the installation of a historical sengol (called sceptre in English and rajadandam in Telugu) in Central Vista, the New Parliament Complex. Reacting to a question on the omission of President Droupadi Murmu from the new Parliament inauguration, Dr Soundararajan retorted by raking up what she still believes as humiliation meted out to her by the KCR government.
A rough translation of what she said in Tamil goes like this: "Very recently, Telangana Secretariat was built magnificently, it was inaugurated by the CM (KCR). Everyone questioned whether the Governor was invited. (They said) no, since the CM is ruling. Not even an invitation for that ceremony was given (to me). You (Opposition) say the President is a non-political person but why don't you say this for Governors?."
The Governor may have seemingly scored some brownie points over there but a quick glance at history suggests that, by aiming at two birds with one shot, she had only landed herself in a 'foot-in-the-mouth' pit. The hypocritical myth and political-correctness of this argument, likening apples with oranges, has already been busted abundantly by keen observers and analysts from the realms of media and politics. Enough has been spoken about how leaving a governor aside for a secretariat building opening is not the same as disregarding the President for the new Parliament Complex inauguration, given the varied difference in their roles and their functioning.

Keeping this aside for now, here is the classic proof that runs straight across the face of Dr Tamilisai and makes her squirm in her seat for simply not doing her homework right. In fact, the venerated woman, an appointee of the Narendra Modi-led NDA government in Telangana, is in urgent need of clarifying to the world if her tirade is only, and at all times, aimed at KCR or does it extend to any Chief Minister of this country, past or present, who had 'already belittled' a governor in this fashion.
Here is the anecdote that would help jog Dr Tamilisai's memory and leave her at her wits end. Precisely a decade ago, Narendra Modi, as the Chief Minister of Gujarat, himself inaugurated the new Secretariat block in Gandhinagar housing his office and that of his ministerial colleagues.
This was tweeted by Narendra Modi himself on his personal Twitter handle on April 15, 2013. An article and pictures of the grand inauguration, published by a website promoting the leader, were also shared in the tweet.
"On Monday 15th April 2013, Shri Narendra Modi inaugurated the Swarnim Sankul 1 in Gandhinagar. Swarnim Sankul-1 is situated in the New Secretariat complex where the State Assembly and the Secretariat is situated. The new building will have the office of the Honorable Chief Minister along with the Cabinet Ministers of Gujarat," a portion of the piece published on the website read.
One is not sure, at this moment, if Dr Tamilisai Soundararajan is either too tardy a researcher to get her facts right or had no inkling of the happenings in her backyard – the BJP-ruled states – or is simply brushing them under the carpet in her desperation to paint the KCR government in black at the drop of the hat.

And would she muster the same courage to criticise the Prime Minister, now that she would know about Narendra Modi's similar act in Gujarat in 2013, is anybody's guess.
First Published: &nbsp 25 May 2023 1:26 PM GMT