TSPSC question paper leak: Telangana BJP demands probe by High Court judge, makes five demands
The Bharatiya Janata Party (BJP) has urged Telangana Governor to institute a probe into the question paper leakage of the TSPSC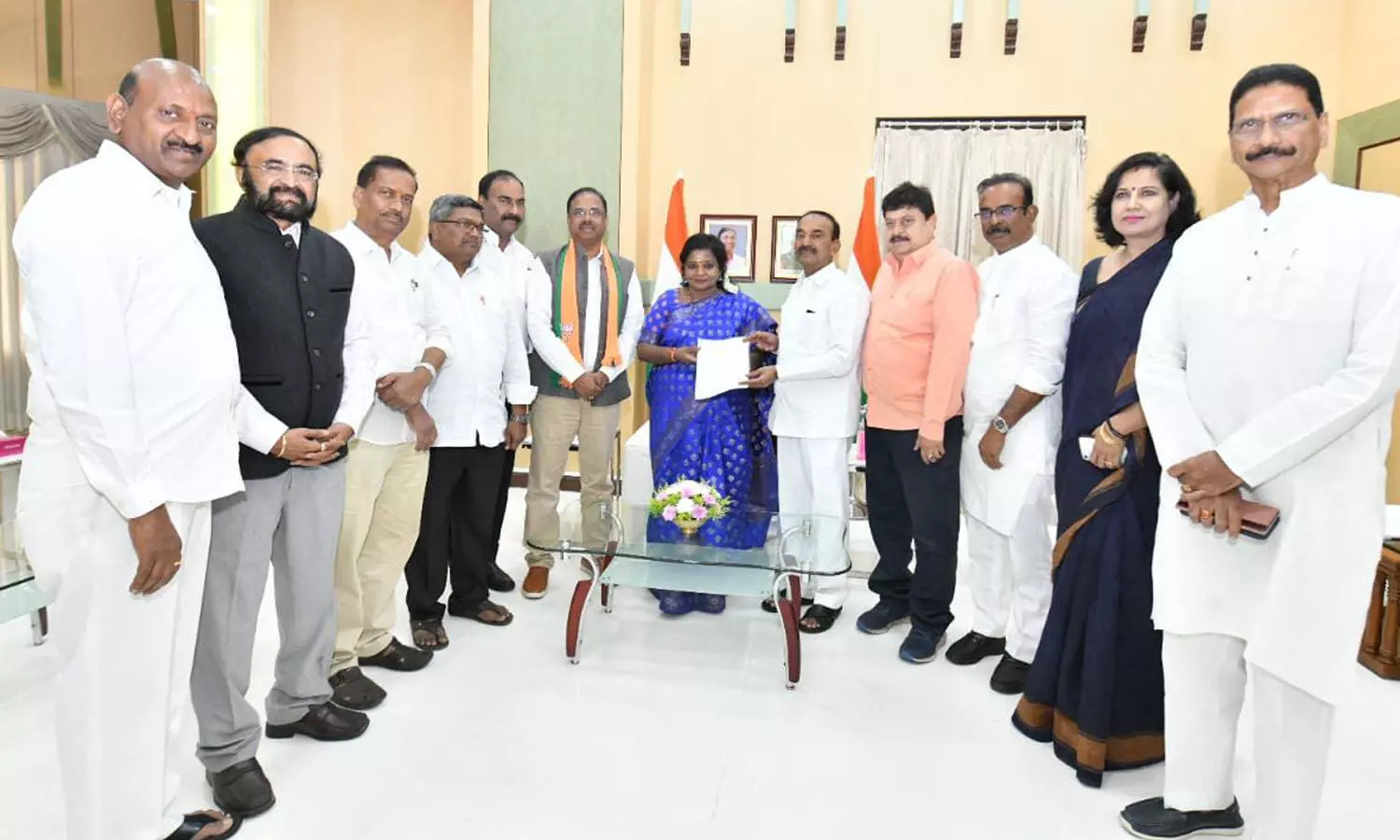 HYDERABAD: The Bharatiya Janata Party (BJP) has urged Telangana Governor to institute a probe into the question paper leakage of the TSPSC. The party has also urged in its memorandum submitted to Dr Tamilisai Soundararajan to "take necessary as per the constitutional mandate."
The BJP leaders alleged in the memorandum that the paper was leaked by responsible persons and employees of the Commission itself. There were reports that in the same manner papers were leaked for the Group-I examination conducted earlier and six other examinations conducted by the Telangana State Public Service Commission.
In the recent case, an FIR was issued in Begum Bazar police station and the investigation was handed over to a special investigation team (SIT). The nine persons arrested were of very low rank and "we strongly believe that the investigation is just an eyewash."
The memorandum was signed by D K Aruna, national vice-president of the party, former minister Etala Rajender, former TSPSC member Ch Vithal, newly-elected MLC A V N Reddy, former Minister Marri Shashidhar Reddy, former MP Boora Narsaiah Goud, former MLC N Ramachander Rao, retired Principal Secretary R V Chandrvadam, retired DGP-rank officer T Krishna Prasad, and others.
They alleged: "We have strong reasons to believe that the question papers have been leaked in the similar manner for the examinations conducted in connivance with the officials of the Telangana State Public Service Commission."
Telangana state BJP put across five "in the interest of the student community and the youth of Telangana state."
The demands were:
1. Chief Minister Sri K. Chandrasekhar Rao under whom, TSPSC functions directly should own responsibility and resign immediately.
2. We believe that this question paper leakage scam is a failure of IT security protocols and therefore the IT Minister Sri K.T. Rama Rao should own responsibility and resign immediately.
3. Similarly, the Chairman, all the Board Members and the Secretary of the Telangana State Public Service Commission should immediately be debarred and should be replaced with a new board for the new commission.
4. We demand judicial enquiry into the matter by a sitting judge of the Hon'ble High Court.
5. The Telangana state BJP demands that all the candidates who prepared for the examination should immediately be compensated with Rs.1,00,000 (Rupees one lakh) each by the state government. This is in view of the emotional trauma and financial loss suffered by them.
They went on to say that the Telangana BJP was deeply concerned about the future of the unemployed youth of the state.
"We believe the TRS government systematically indulging in all kinds of fraudulent activities and preventing the meritorious students and candidates from getting selected."
First Published: &nbsp 18 March 2023 10:45 AM GMT