Why Revanth Reddy has cut short his US visit to rush back to Hyderabad?
Revanth Reddy, who is on a visit to the USA, made a statement about a scheme in Telangana in which the BRS-led government provides 24 hours of free power supply to farmers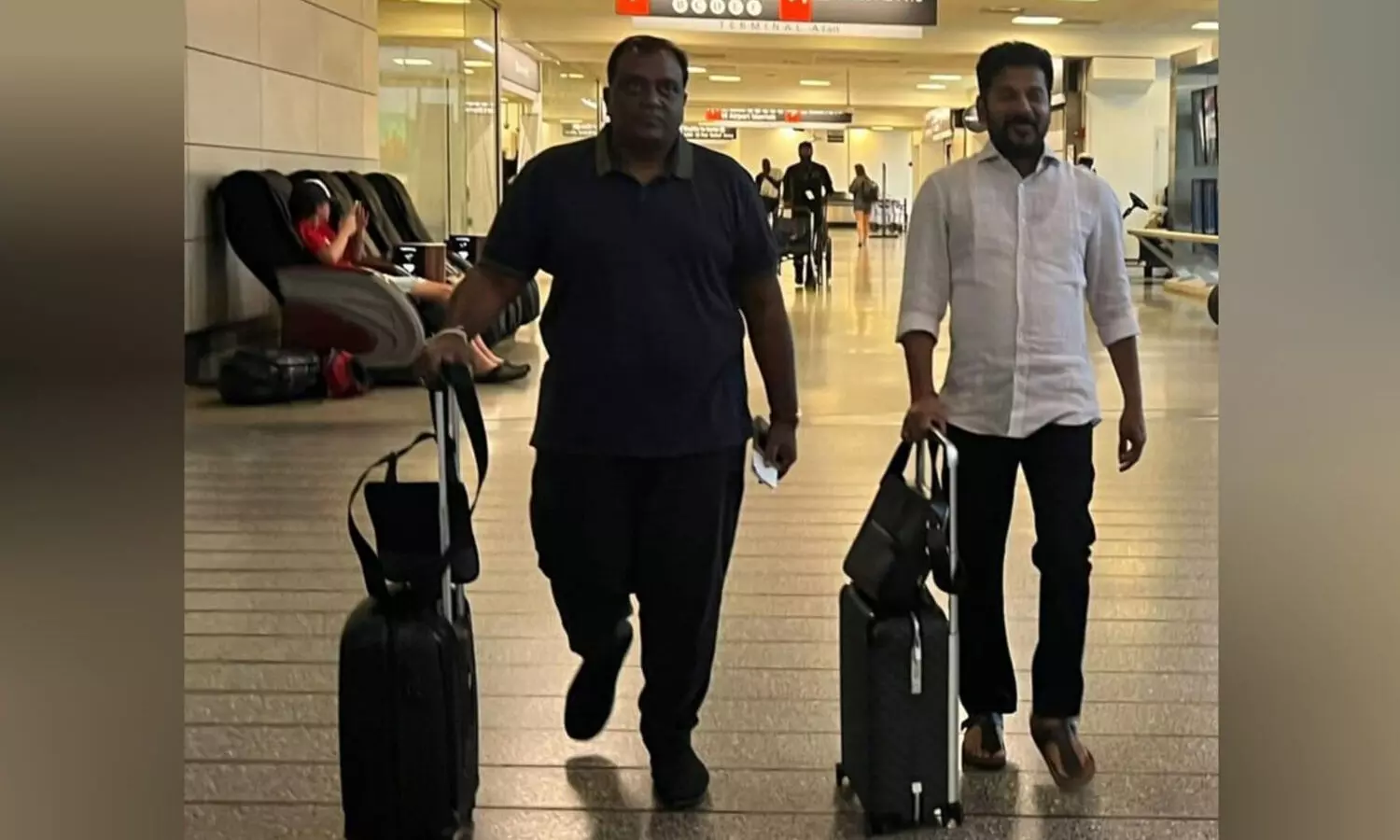 HYDERABAD: On Tuesday, Revanth Reddy, the Telangana Pradesh Congress Committee president, who is on a visit to the USA, made a statement about a scheme in Telangana in which the BRS-led government provides 24 hours of free power supply to farmers. He said that farmers in the State did not need power round the clock and three hours of power was enough for their usage.
This has led to a wide uproar from BRS party leaders and farmers in Telangana.
It was the Congress party led by the late Y.S.Rajashekar Reddy in united Andhra Pradesh, who first promised free power to farmers for 8 hours a day if voted into power. The Congress won the elections that year with a thumping majority. The scheme came into being and helped the Congress regain power for another term.
While there were discrepancies in the execution of the scheme such as non-availability of power for households and industrial usage, the eight hours of power for agriculture getting interrupted and also replete with voltage fluctuations causing motors to get short-circuited and transformers needing to be frequently changed, the scheme was implemented with lacunae.
However, it was largely hailed by farmers and made YSR a household name for many in the state.
Geographically, Telangana is situated on the Deccan Plateau. Water flows in the Krishna and the Godavari that flow through the Telangana region were never utilized because of altitudinal challenges.
The Godavari flows at 90 metre above the mean sea level, while Telangana is situated at almost 500 metres above the mean sea level. For ages, farmers remained hapless spectators as water flowed past them into the Godavari basin. The minor and major irrigation tanks would fill only when there was excess rainfall. This led to farmers becoming largely dependent on borewells to irrigate their fields.
The Government and farmers would sell lands and spend fortunes to sink borewells for water. The cost of farming was high due to this practice.
On January 1, 2018, the Telangana Government led by K.Chandrashekar Rao, announced that farmers in Telangana would receive 24 hours uninterrupted free power supply for their use in the agricultural fields. The scheme has been largely successful as there are no interruptions in power supply to farms, industries or households. The power is also of better quality that has ensured that motors do not get short circuited.
In the elections that ensued in December of 2018, Bharat Rashtra Samithi (then TRS) party, won 88 seats, a drastic improvement from their performance in the 2014 general elections in Telangana.
While it is not entirely because of this one scheme that he won the elections, it did play an important role in his victory.
The Telangana Socio Economic Outlook in 2020, showed that 84% agricultural lands in the state then depended on borewells for agriculture.
Why 24 hours?
Opposition parties and some organisations keep asking this question as to why the BRS government is giving 24 hours of power supply to farmers. They allege that this would dry up the ground water resources in the state. Revanth Reddy even went on to say that one hour of power was enough to draw water and irrigate one acre. Another Congress leader, Addanki Dayakar went on to question why a farmer should be given free power. The Telangana unit of the Congress party, in its "farmer declaration" launched in Warangal by Rahul Gandhi, did not mention free power to the farmers of the state.
All these statements show their deliberate attempt to subject farmers of the state to suffering.
Any person who has seen a farm get irrigated will know that one hour of power supply is not enough to irrigate an acre. Farming is not a job where you have eight-hour shifts to irrigate land.
Even in their attempt to cover up the goof up by Revanth Reddy, the Congress claims that he said "Eight hours of power was enough for a farmer". Imagine what if the government said it would only supply power to households only when the residents were there and impose power cut in the remaining hours. Doesn't it sound absurd.
Farmers are being given power for 24 hours so that they can till the land and use power to cultivate when needed. It is being given for free because the cost of agriculture is already high and power supply should not be a hindrance to a farmer who feeds the country. Such statements by Revanth Reddy or anyone in the Opposition reeks of ignorance. He had to cut short his tour of America and return home to explain his statements.
The dependency on borewells will soon reduce, as the KCR-led BRS government has built major irrigation projects such as the Kaleshwaram Lift Irrigation project filling minor and major irrigation tanks and also replenishing groundwater levels.
But until such time, it would be best if opposition leaders understand the needs of the farmers of the state and refrain from making statements.
First Published: &nbsp 12 July 2023 10:34 AM GMT