BJP left stranded in Andole as Babu Mohan's son Uday Babu joins BRS
After joining the party, Uday Babu expressed commitment to work for the victory of the BRS candidate, Kranti Kiran, in Andole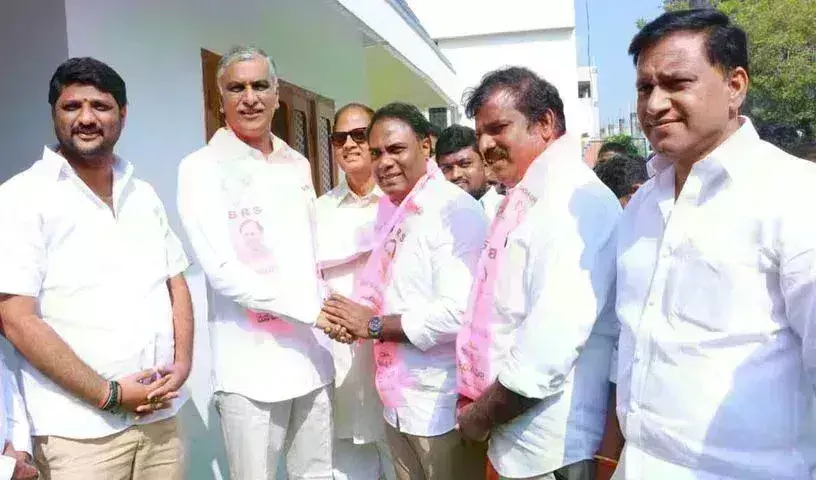 HYDERABAD: In a significant development, the politics of Andole has taken a new turn after BJP leader Uday Babu Kumar, the son of BJP candidate Babu Mohan, joined the BRS in the presence of Telangana Finance and Health Minister T Harish Rao on Sunday.
Uday Babu was initially expected to contest as a BJP candidate from Andole and had campaigned for the party on the promise of receiving a ticket. However, the BJP leadership denied him the ticket and instead gave it to his father Babu Mohan. This decision, along with other differences between Uday Babu and his father, led to dissatisfaction and he ultimately quit the party.
After joining the party, Uday Babu expressed commitment to work for the victory of the BRS candidate, Kranti Kiran, in Andole. This move has put his father, Babu Mohan, in a difficult position as he now has to face the election without the support of party cadre in Andole.
It can be seen as a significant blow to the BJP, as several key leaders, including Komatireddy Rajgopal Reddy, Enugu Ravinder Reddy, Vivek, and Vijayashanti, had already left the party.
Political analysts believe that Uday Babu's decision to join another party without supporting his father's position could have a negative impact.
First Published: &nbsp 19 Nov 2023 9:50 AM GMT