Chandrababu Naidu greeted with wave of protests in Kurnool
TDP national president Chandrababu Naidu, who is on a visit to Kurnool as part of his districts' tour, was greeted with a series of protests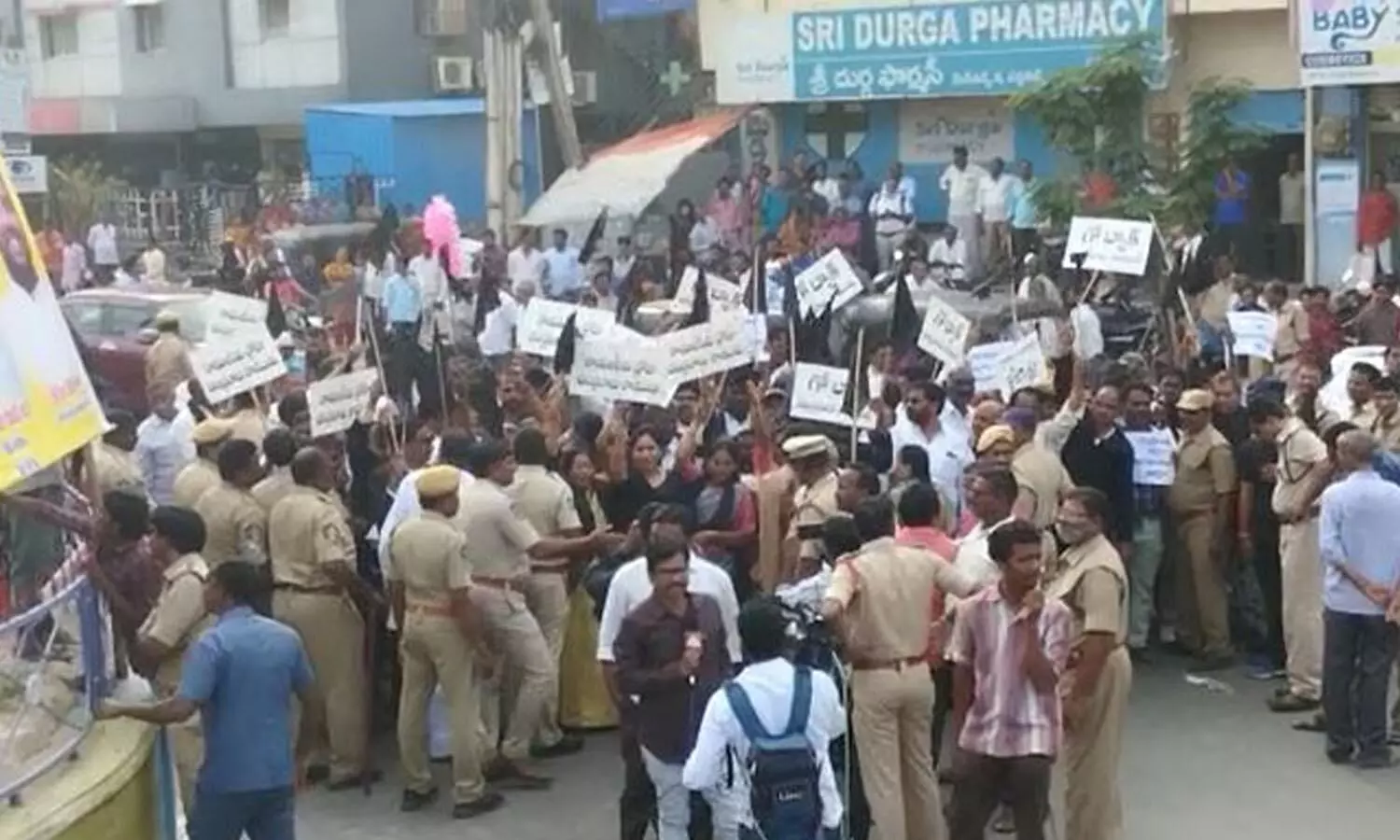 KURNOOL: TDP national president Chandrababu Naidu, who is on a visit to Kurnool as part of his districts' tour, was greeted with a series of protests on Friday. First, it was a group of advocates who staged a protest holding black flags outside the TDP district office.
Displaying placards, they raised slogans against Naidu for his support to Amaravati as the only capital of Andhra Pradesh besides the establishment of the High Court in Kurnool as per the Sri Bagh Agreement. Tension prevailed there for some time as the protesting advocates raised slogans 'Chandrababu Naidu go back', which led to mini-clash with the TDP activists. Both the sides hurled chappals at each other on this occasion.
The advocates expressed their anger at the TDP chief for opposing the proposed judicial capital at Kurnool and felt that Naidu had no right to visit Rayalaseema.
Retaliating to this, the TDP ranks also carried out counter-protest on the orders of Naidu, which led to a brief altercation. Unable to stomach the humiliating experience, Naidu spewed fire at the agitating advocates while asserting that he would not be cowed down by the 'PayTM batch of Jagan'. "I am not a traitor of Rayalaseema. YS Jaganmohan Reddy is the one who is deceiving the people of Rayalaseema," Naidu alleged.
Protests were also galore at a few other places during Chandrababu Naidu's rally in the district on Friday. Representatives of students' and youth organisations also tried to block Naidu's onward journey to register their protest against the TDP chief's visit. They raised slogans 'Chandrababu go back' and tried to hold up the convoy before TDP activists and security personnel whisked them away.
At one of the foot-over-bridges in Kurnool city, yellow welcome banners put up by the TDP were torn apart by some protesters resenting Naidu's visit to the district.
First Published: &nbsp 18 Nov 2022 11:40 AM GMT