Pawan Kalyan lashes out at YSR Congress leaders, uses abusive language
Pawan Kalyan frequently referred to his political adversaries (read YSCP ministers and MLAs) as 'naa kodakallara'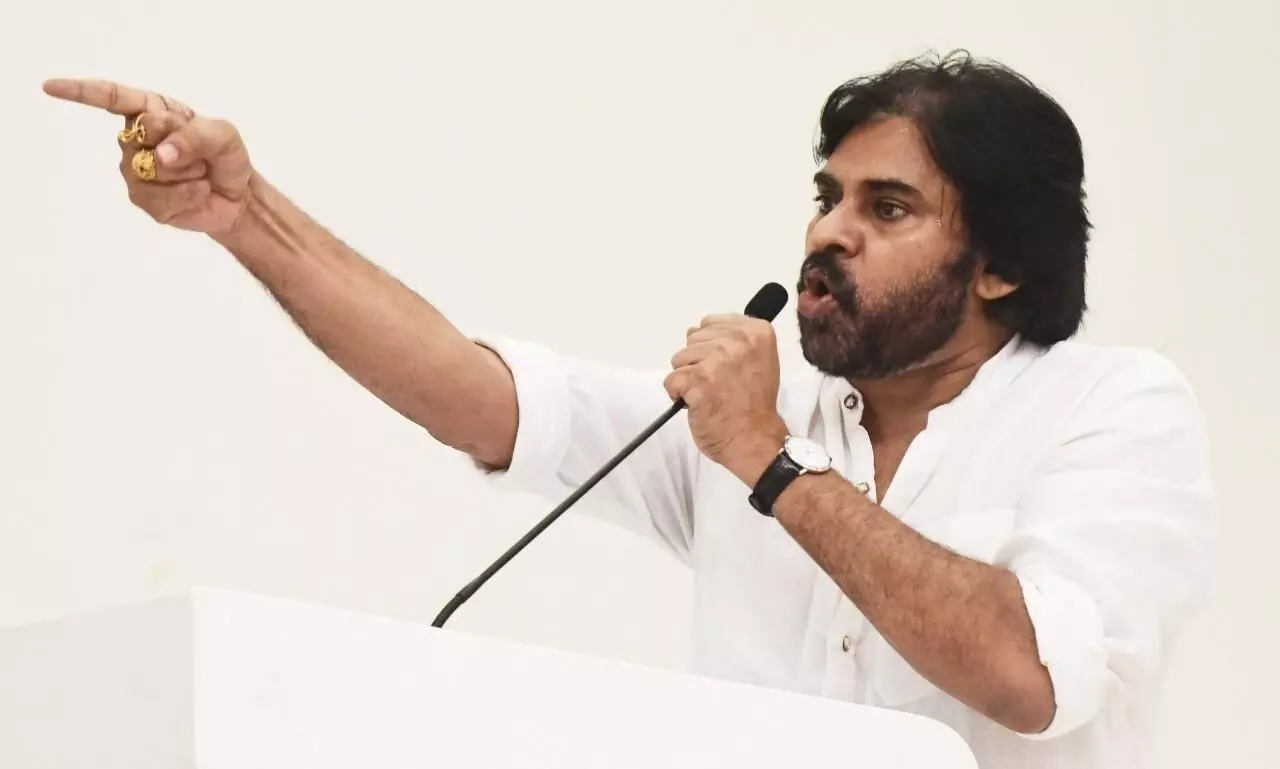 MANGALAGIRI: Jana Sena president Pawan Kalyan on Tuesday was at his vituperative best hurling his choicest invectives at the YSR Congress leaders. In a vitriolic reaction to the sequence of events that led to his confinement to his hotel room, the fracas outside the Visakhapatnam airport – YSR Congress leaders accused the Janasena activists of perpetrating violent attack on the carcade of ministers – and also the way police laid siege to the hotel, the filmstar lost control over his language and resorted to tongue-lashing.
Dignity, anyhow, is now a passe in Telugu politics, worse still in Andhra Pradesh. Pawan Kalyan joined the brigade of motormouths gushing out abuses while addressing his own party men. His barbs went to the extent of brusque warnings like "rods or stones, we are ready for a war from now on."
Blowing the conch of an open war against the YSRCP, the actor beckoned the ruling party leaders for a street-fight, in an unprecedented show of anger and belligerence. At the meeting at Jana Sena's central office in Mangalagiri, Pawan Kalyan trained his guns at the YSRCP leaders, especially those belonging to his own Kapu community. Marked by his characteristic hysteria and laced with choicest epithets that would only be used in street-brawls, Pawan Kalyan took serious exception to the YSRCP leaders calling him names like 'package star' and mocking his personal life, including his three marriages.
And here is how he vented his ire and objection: He frequently referred to his political adversaries (read YSCP ministers and MLAs) as 'naa kodakallara' and 'kodakallara' – cuss words of the filthiest order. Flashing his footwear, he warned that he would treat the YSRCP leaders with his chappal (cheppu tho kodatha) and even 'throttle them to death' (gonthu pisiki champutha).
With the delirious cheers of his supporters incensing him even more, the Power Star went the whole hog, thundering and belting out raunchy one-liners, one after the other, something that he is so used to doing on-screen. His more-than-one-hour-long speech resembled a compilation of his smash-hit dialogues as the mercurial leader appeared determined to devote all his time for kinematic histrionics rather than adding any political substance.
In yet another stunner, cheerfully received by his followers, he audaciously declared an open war against the ruling YSRCP and its leaders, starting Tuesday. Frequently using the cuss word (rey kodakallara..), he dared the ruling party legislators and other leaders to lock horns with his party for a street fight. "Whether you come armed with rods or stones, I'm ready for an all-out fight," thundered Pawan Kalyan in a war-cry of sorts that would only be associated with street-fighters and not with a budding politician – leave alone being seasoned – politician aspiring to become a chief minister.
First Published: &nbsp 18 Oct 2022 10:29 AM GMT