President Draupadi Murmu worships at Tirumala temple
President Draupadi Murmu worshipped Lord Sri Venkateswara Swamy at the Tirumala temple on Monday morning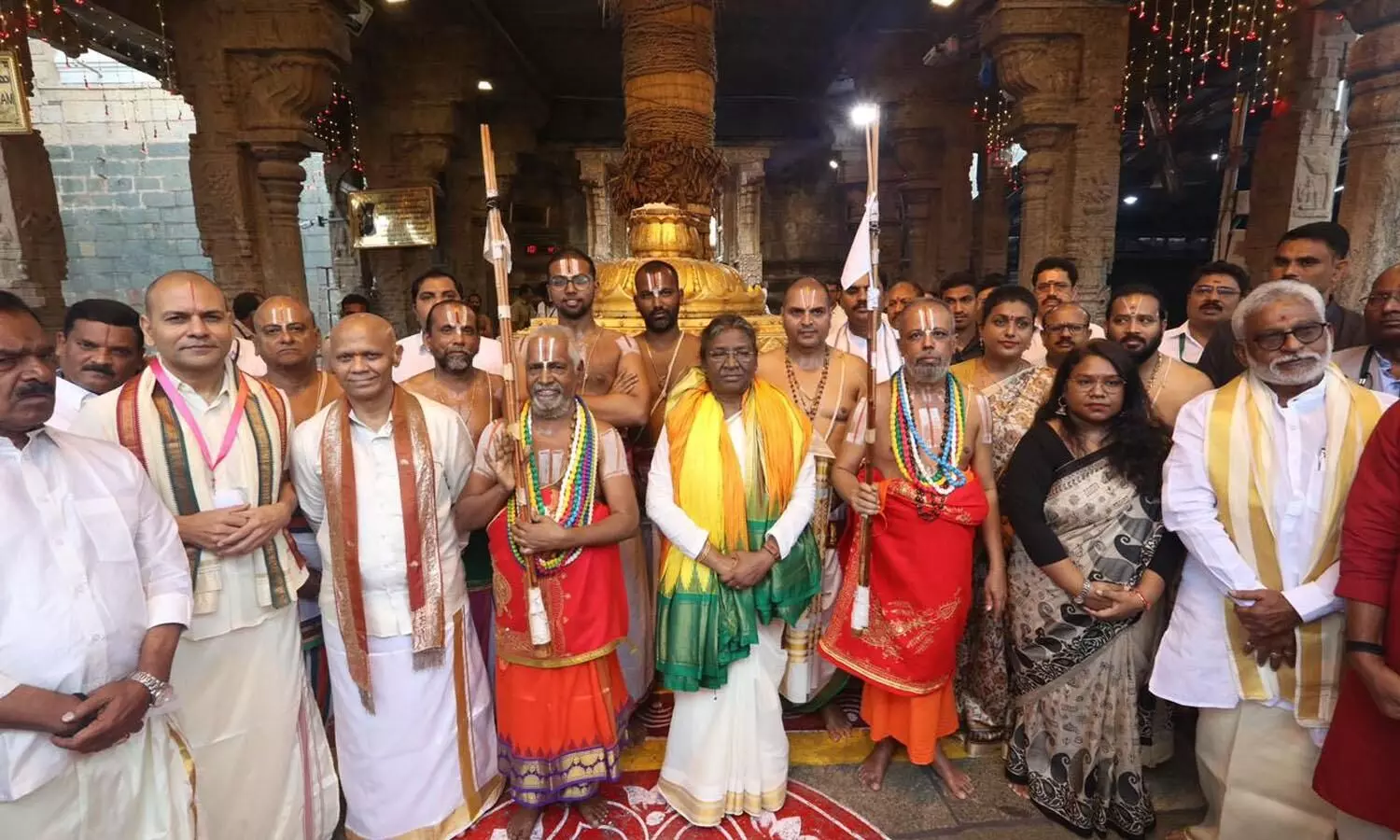 TIRUMALA: President Draupadi Murmu worshipped Lord Sri Venkateswara Swamy at the Tirumala temple on Monday morning. The President, who left the Sri Padmavati Rest House in Tirumala at 9.30 am, was offered sacred water at the temple Pushakarini as per the Tirumala Kshetra tradition. Draupadi Murmu first visited Varahaswamy and arrived at the Tirumala temple to offer prayers to the presiding deity Lord Venkateswara Swamy.
The President was accorded a traditional welcome by the TTD authorities and temple priests. TTD Chairman Y V Subba Reddy and EO A V Dharma Reddy, along with temple staff, cordially received President Draupadi Murmu as per protocol. After paying obeisance at the Dwajasthambam in the temple, the President had the darshan of the presiding deity. On this occasion, Sri Venugopal Deekshitulu, one of the chief priests, explained to the President the importance of Tirumala temple and other nearby temples.
Following the darshan, a group of priests gave her ceremonial blessings by chanting vedic hymns (Vedasirvachanam) at the Ranganayakula Mandapam. The officials handed over a portrait of Lord Venkateswara to the President while the Chairman and EO together felicitated her with Shrestha Vastra and Teertha Prasadam to Draupadi Murmu.

Peddajeeyangar Swamy, Chinnajeeyangar Swamy, Union Tourism Minister Kishan Reddy, AP Deputy Chief Ministers Narayana Swamy, Satyanarayana, Minister RK Roja and Endowments and TTD officials were present on this occasion.
First Published: &nbsp 5 Dec 2022 7:43 AM GMT